The evolution of light and thin ultra-mobile products
Sponsored content
Monday 9 July 2012
It was hard to imagine in the past of ultra-mobile devices. But as panels, storage devices, batteries, chassis, and cooling modules have become lighter and thinner along with their appearances and contour becoming more refined, we are looking forward to a future where various kinds of mobile devices can be presented to the market.
From bulky computer to mobile cloud computing
Speaking at the recent DTF 2012 Ultra Mobile & Ecosystem Forum, Asustek deputy general manager, Shubin Hu, started his presentation by showing an oxcart pulling the first computer ever in Taiwan in 1957. The computer had a memory capacity of 2KB. Hu said any of the present smartphones or mobile devices is much superior to that in terms of efficiency or memory.
In the 1980s, PCs worked independently, whether it was word processing or engineering computing, and file transferring had to be done through floppy disks, a modem, or a LAN that connected them. In the 90s, PCs were able to get on the Internet when Web 1.0 first came out, which set off an era of one-way information collecting.
The Web 2.0 era came around 2004-2005. The appearance of YouTube and Facebook allowed people to share pictures, video and other information in multiple interactions with their peers on the Internet. After Web 3.0 came in 2006, there has been more of an emphasis on more diversified mobile devices with notebooks, tablets, smartphones, e-book readers and TVs able to connect to cloud computing servers.
Thinner and lighter mobile devices are accelerating IT development cycles
According to Gartner statistics, desktop computers will increase to 156 million units by 2016 from 144 million in 2010 while notebooks will increase to 423 million units from 204 million during the same time, creating a 13% compound annual growth rate. Tablets meanwhile will increase to 369 million units by 2016 up from 17 million in 2010, for a compound annual growth rate of 66%.
Overall desktop computer shipments have remained stable at yearly sales of around 150 million units, while notebook shipments began surpassing desktops in 2009, and tablet sales will surpass notebooks from 2013 onward, indicating a continued trend with mobile computing.
Since mobile devices are becoming thinner and more diversified, IT products are being replaced faster and faster. It took 26 years from 1975 to 2000 to reach the 100 million shipment mark for desktop computers while it took 23 years from 1985-2007 for notebooks to do the same.
More so, it took feature phones 15 years from 1983 to 1997 to reach the 100 million shipment mark and the same was for PDAs from 1993 to 2007. But it will only take three years from 2010 to 2013 for tablets to reach that mark.
In the past PC meant "personal computer," but now it means "personalized computing" for each individual person. In today's SoLoMo (social/ location/ mobile) era, people use location signaling such as GPS, digital compasses and Google Maps along with social networking sites such as Facebook, YouTube, Twitter, Google+ along with many others. Moreover, system platforms have gone from Wintel's PCs to using ARM and x86 SoC designed dual-core or quad-core smartphones and tablets.
There is cloud computing everywhere in the world and people are accustomed now to being "always on and always connected." Ultrabooks/notebooks, Eee PCs/netbooks, tablets, smartphones and a variety of mobile devices are connected to cloud computing services via different transmission technologies, from the earliest Wi-Fi, to 3G and to LTE. Now there must be an even faster wireless network to accommodate the growingly diversified content.
In an era where people are constantly mixing work and life and are even checking their email via a smartphone, tablet or notebook while on vacation, everyone needs an ultra-mobile device in order to keep up with their work and leisurely lives.
Reacting to ultra-mobile trends: Asus' design and product solutions
At last year's Computex, Asus and Intel released the Asus Zenbook, which had an 11.6-inch screen, was 7mm thick, weighed 1.1kg and had an Instant On time of two seconds. In December of 2011 the EeePad Transformer Prime tablet was released, which was 8.3mm thick and weighed 586g. Also, after adding a keyboard and battery it is able to become a notebook. At CES 2012, Asus also released a PadFone that combines cell phone, tablet and notebook functions all into one.
PCB and IC packaging has gradually gotten smaller from DIP in 1985 to QPF in 1995 followed by BGA in 2000. It then went to CSP by 2005 and then to SIP in 2009. PCB has gone from the traditional 2- and 4-layer structure towards HDI as well. Asus's Transformer Prime and UX21 use SIP and HDI design, which is as small as the area of only two name cards. Improvements in computing performance have followed the development of semiconductor processes, which are increasing mobile devices cloud computing capabilities.
The progression of key components and materials technology: Reshaping the new style of ultra-mobile devices
In the past the development of systems went from CPU, Northbridge and Southbridge chips; then there was an additional GPU chip or graphics card, followed by Northridge chips, GPU and CPU chips bound together. At present a CPU's entire Northridge chip and GPU function only need two chips within its system. In the future when we enter the SoC era, the entire system will only need one chip. In addition, there have been chip packaging improvements with MCPs and POPs, LCD thickness has gone from 13mm in CCFL backlighting to 7mm in LEDs, and since 2011 when the Ultrabook used LED with open cell assembly the thickness has dropped to 5.5mm.
Storage devices on the other hand have gone from 3.5-inch hard drives in 1983 to 2.5-inch (7mm) ones in 2009 and then to 3.8mm-thick SSDs in 2011. Batteries have also gone from traditional 18650 lithium batteries that are 18mm in diameter and 65mm long to lithium polymer ones. Chassis materials have also transformed from traditional plastic, to metal and CNC metal, as well as fiberglass. CPU cooling modules have gone from a thickness of 10mm to 5.5mm for use in the Ultrabook and the connectors have been changed into FPC to reduce thickness. Through changes in these modules and components, ultra-mobile devices are able to become even lighter and thinner while not sacrificing efficiency.
Looking at the digital convergence trend and providing user-friendly products and service
Using the Eee Pad Transformer Prime as an example, it has a thickness of 8.3mm, weighs 586 grams, and has warm vocal and balance tone sound experience, providing 600nits of luminance and a wide viewing angle. It also has a built-in eight mega-pixel camera with a F.24 lens and LED flash, providing continuous AF shooting, full HD recording and nighttime recording mode. Stand-by time is 50 days.
Semiconductor processes are evolving, display panels are becoming thinner and bendable with high resolution, batteries are getting denser along with the growing adoption of solar cells; and chassis are becoming slimmer and more robust. The evolution of these components will further change the size and look of digital devices.
After desktops, notebooks, PDAs, smartphones, padphones, netbooks, tablets and the Ultrabook, the future will see "touch on clamshells." So what is the nest wave of mobile devices? Hu said within the current wave of digital convergence of PC/notebooks, tablets and smartphones, Asus will provide consumers with user-friendly products and services.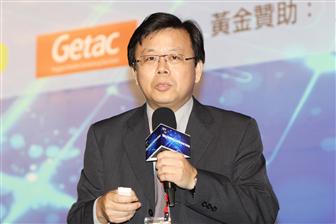 Asustek Computer deputy general manager, Shubin Hu