The battle of 0.1mm: Thinning down LCD and touch panels
Sponsored content
Tuesday 10 July 2012
In order to create light and ultra-thin ultra-mobile devices, panel makers are looking to thin down their LCD and touch displays to as small a mere 0.1mm, which is a major task. In addition, when ultra-thin, transparent and flexible OLED panel technology becomes more common, mobile device designers will be able to utilize the thin panels to look even more different.
Speaking at the recent DTF 2012 Ultra Mobile & Ecosystem Forum, AU Optronics (AUO) vice president & mobile product career group general manager, Wu Dagang, first played a short film depicting the future of display technology applications. In the film, a group of students sitting at an outdoor and discussing academics. One of students takes out a display device that resembles a transparent plastic plate. Not only can the device display clear images and videos, it is also flexible and bendable. A burst of wind then blows the display device together with a pile of paper to the ground; however, because of its thin, flexible and tough material, the device doesn't break. Another student comes to the intersection on a bicycle where the device has flown to, picks it up, clicks on the panel GPS's navigation option and gets directions. This is the new generation of flexible displays that AUO would like to introduce.
Returning back to his presentation, Wu talked about handsets and how they compare with present ones, saying that handsets were invented only 20 years ago and were as large as a kettle, whereas today, they can be held and controlled with one hand and can easily fit into a pocket. When a device's limitation has been changed, its technology creates many new demands, added Wu.
Device requirements: From movable, to mobile to 'pocketable'
Wu said when cloud computing and services become more widely accepted, all things can be shared, stored and accessed through a centralized server. More so, people will expect portable and mobile devices to be "pocketable." The most classic representation of this notion is the increase in mobility from personal desktop computers to notebook computers, and then from ordinary mobile phones to smartphones. But we still hope that devices can be even smaller, be pocketable, and able to access information anytime and anywhere.
The benefits of having a slimmer display panel are that it can increase battery capacity and battery life. The progress of existing lithium battery technology is rather slow but indispensable and its power storage capacity and supply time is proportional to the battery size. If an LCD module thickness is reduced by 25%, the leftover space will allow lithium capacity to be increased by 10%. If a smartphone has a 1,200-mAH lithium polymer battery, an extra 120mAH is equivalent to adding power enough for two hours of video watching, added Wu.
Another benefit is weight reduction. When a display panel's LCD module thickness is reduced by 10%, the weight of the whole device can be reduced by 15%, and will further push devices to become slimmer. Aside from Apple products having a simple-to-use interface, stylish designs are also selling points. A few years ago there was more emphasis on product features and specifications, but now that emphasis has gradually transformed into daily-life applications and even into stylish design products for women.
Flexible and bendable disaplay panel designs
According to statistics, 20% of mobile phones that are sent back for repair are due to screen rupture. To make display panels that are thin and not easy to break, in fact, is a challenge as the two features conflict with one another. AUO's Slim Solution targets four main areas: OLED (organic light-emitting diode) displays, slim touch solutions, flexible and bendable solutions and slim modules. Making OLEDs is a very delicate process and the thin display technology is very forward-looking and revolutionary.
Wu further elaborated that since LCD itself cannot emit light, it needs a filter glass coupled with a reflective sheet, which will increase thickness by at least 1.5mm. OLED on the other hand is a self-luminous device that can be reduced the 1.5mm. LCD modules also have the possibility of becoming thinner. Slim touch solutions allow touch panels to reduce the two-glass structure to a one-piece structure, and then become in-cell touch that further reduces the thickness by 0.4-0.5mm.
Ultrabook further drives panel thinness
Intel estimates that 40% of laptops will use the same standards as its ultrabook in the future, and that 10% of notebooks sold in 2012 will be ultrabooks.
Generally a notebook's cover thickness is 19-30mm, whereas the ultrabook's has dropped to 18-19mm and has a total body thickness of 21mm for 14-inch and above models and 18mm for models below 14 inches. The display module has also been significantly reduced in thickness to 3mm and is expected to drop to 2.8mm by 2013.
Taiwan-based companies have a positive attitude toward the ultrabook. Asus, Lenovo, Toshiba, along with other vendors have ultrabook products, indicating that the ultra-thin notebook will be an important selling point in the second half of this year.
The iPad is also becoming thinner. The first generation iPad had a thickness of 13.4mm, with a 3mm thick display panel; the second generation iPad2 saw the body thickness reduced to 8.8mm with a 2.5mm ultra-thin panel.
Key components of ultra-thin display panels
A display panel is composed of ITO, CF and TFT array glass on the upper layer, and film, LED/LGP components on the lower layer. First, the glass thickness has gone from 1.1mm 25 years ago all the way to 0.5mm at present and is predicted to drop to 0.3mm for tablets and 0.2mm for mobile phones in the future. In addition, light guide plates (LGPs) used in notebooks will have a thickness of 0.6mm from the present 0.8mm, whereas LGPs used in tablets will drop to 0.4mm. Notebook LED backlights will drop from 0.8mm to 0.6mm as well while tablet-use LED backlights will have a thickness of 0.4mm, a drop from 0.6mm.
AUO has key technology to solve the problem of luminosity when the current density is increased. AUO can reduce the thickness of LGP/LED components without increasing the current density.
In terms of touch panels, older cell phones adopted the glass-film (G/F) structure and tablets adopted a glass/glass (G/G) one. What once was G/G later became the one-glass solution (OGS) and then in-cell touch, with the sensor layer located between the CF and TFT array.
At present, AUO's thinner G/G structure has a cover glass of 0.7-0.55mm and sensor glass of 0.4mm, reducing the overall thickness by 1.2mm, and can be used in notebooks, all-in-one PCs and tablets. OGS can be reduced to a thickness of 0.4mm and can be used in tablets and 27-inch flat-panel displays. Wu estimates that 5 to 10% of ultrabook shipments this year will have built-in touch.
Wu added that designs of flexible displays and touch screens, as well as notebooks and digital cameras that have no protective glass, must adopt in-cell touch. The technology is compatible with existing TFT panel processing and only a few more steps need to be added for producing the sensor layer. However, currently it will be more suitable for touch panels of six inches and smaller due to the noise issue of in-cell technology.
AUO displays AMOLED panels, challenging Samsung's dominance of the technology
Wu also mentioned that last year the Samsung Galaxy S2 used an 8.49mm AMOLED panel to make the world's thinnest cell phone; but this year at the CES 2012 exhibition, China-based Huawei and Japan-based Fujitsu exhibited their Ascend P1S and F-07D handsets that are 6.68mm and 6.7mm in thickness, respectively, due to AMOLED panels that were used in the designs. According to data from DisplaySearch and TSR, up to 127-201 million AMOLED panels will be shipped in 2012, and approximately 320-455 million panels by 2016.
Last year at the FPD 2011, AUO exhibited its 4.3-inch qHD (540x960, 257ppi) high-resolution AMOLED panel, its 4-inch WVGA (800x400) AMOLED with on-cell touch, and its 6-inch transparent AMOLED panel. Technology for thinning AMOLED panels has gone from 1.2 mm in the form of encapsulation glass coupled with TFT OLED glass, to 0.6mm in the single-glass type that has an encapsulation film and TFT OLED glass, and further to only 0.3mm in a bendable, water-proof and anti-shock form adopting TFT OLED films. Moreover, at the FPD 2011 AUO displayed a plastic film-designed 4-inch VGA (640x480) high-resolution flexible AMOLED display that is 0.3mm thick.
Wu concluded that AUO offers a full range of thin panels and modules, and provides a full range of 3-27 inch OGS touch panels. He also said flexible AMOLED is the future trend for smartphones, and that embedded touch technology will add to the flexibility of displays.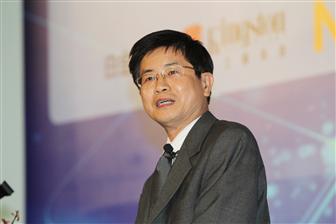 Photo: AU Optronics (AUO) vice president & mobile product career group general manager, Wu Dagang