Enabling the smart digital lifestyle
Sponsored content
Thursday 12 July 2012
As the trends for cloud computing and mobility intensify, online video streaming often experiences serious lags. Now consumers are asking for flash storage devices of larger capacity and faster performance. Leading flash memory vendors are well aware of the demand for faster performance from upstream servers, midstream access networks and downstream mobile terminal devices, and they keep offering comprehensive performance-boosting solutions. Competitiveness coming from memory technology, system expertise and production capacity is the key to sustainable leadership in this cut-throat market of flash memory.
Device mobility boosts demand for flash memory
One of the IDC forecasts quoted by Dan Inbar, senior vice president and general manager of OEM Business Unit at SanDisk, estimates that the digital world of data will grow to 2.72 zettabytes by 2012, when more mobile devices with extreme performance are scheduled to launch. Data centers are expected to become more responsive, as by 2016 each mobile device will have an average capacity of 38GB.
Inbar said according to statistics published by Gartner in first-quarter 2012, global smartphone shipments reached 500 million units in 2011, with an average flash capacity at merely 7GB per device. Global handset shipments are expected to hit 1.35 billion units by 2016, and the average flash capacity will rise to 26GB. In 2011, nearly 70 million tablet PCs were sold with an average flash capacity at 24GB per device. Tablet shipments are estimated at nearly 380 million in 2016, and the average flash capacity will increase to about 46GB per machine.
As for SSDs, only 17 million notebook PCs were shipped with SSDs in 2011 with an average SSD capacity at 126GB. By 2016, global shipments of SSD-equipped notebooks will reach 100 million units with an average 319GB flash capacity.
For enterprise SSDs, only five million servers with SSDs were shipped in 2011, with an average 214GB SSD capacity. The shipments are expected to surpass 20 million units by 2016, and the average SSD capacity per server will rise to 1,248GB, increasing nearly six-fold from 2011.
Enabling faster data transfer
Inbar pointed out that SanDisk has enabled faster data transfer by launching a 64GB, UHSI-compatible Class 6 micro memory card, microSDXC, with 30MB/s read speed. A 64GB ultra mini USB drive that can be directly inserted into USB ports is also available now. According to market surveys conducted by SanDisk itself, UBS flash drives sold as tie-ins with mobile devices or via retail channels neared 500 million units in 2011, and the figure is expected to grow year by year to over 700 million in 2015.
Inbar mentioned that a combination of maximum-performance enterprise servers and storage is the first node for cloud computing service. Access networks that provide data, in 3G, 3.5G, 4G WiMAX or LTE, are the middle node, while end devices are at the last node with maximum mobility. For content delivery at YouTube, Amazon, NetFlix and Hulu, online shopping/payment mechanism and client analytics of Walmart and VISA, or cloud service providers like Facebook, Google and iCloud, cloud data needs to be delivered in a faster manner. Flash memory technology will redefine performance.
Solutions for faster delivery by devices/networks upstream, mid-stream and downstream in the cloud
Inbar said a second-quarter 2011 Bytemobile Mobile analytic report found 60% of total mobile data was video in 2011, but users complained that there was a 40% chance of experiencing lags while streaming videos. In a bid to address these challenges of video lags, SanDisk has come up with a set of solutions to problems from upstream to downstream.
First is the solution for enterprise servers. SanDisk found that while only one third of CPU capacity is utilized at any time, disk I/O is often almost in full load with over 90% utilization. If flash I/O is properly applied, the load for server CUP and disk I/O can be simultaneously reduced to below 50%. This will double the density of virtual server to increase the efficiency of cloud services.
The second solution concerns client computers. Installing a SanDisk iSSD, with small package size at 0.5mm pitch 156Ball BGA and capacity ranging from 8, 16, 24, 32 64 to 128GB, will help. It is also equipped with SATA 6Gbps high-speed interface and a max read up to 450MB/s and max write 350MB/s. With SanDisk's nCashe cache technology, core OS, log files and recent data can be stored in iSSD and accelerate operation of the entire system.
The third solution is for access networks. Through a time shifting strategy during peak and off-peak time of mobile base station utilization, most of the day time is allocated for communications while the off-peak network bandwidth at night is used for massive data transmission. Mobile devices can also adopt smart caching technology to store streamed content into flash, and transfer the data to DRAM with rule-based caching. Lastly, when a mobile device is brought home for downloading, it can automatically detect wireless gateways/routers and use the PC for side loading. Preloading of possibly useful multimedia files/documents via Wi-Fi of higher bandwidth can also relieve the burden of mobile download.
Flash memory companies are rising to the challenges
Inbar believes there are four key elements for flash memory companies to cope with these ever-expanding challenges: the first is memory technology, and the second is system expertise. SanDisk has a good command of controllers, firmware, algorithms and ECC that support various chipsets, OSs and leading industrial standards. For example, the 50MB/s eMMC v4.2 specified by JEDEC in 2009 was mostly applied in feature phones, smartphones, tablets, digital still cameras and video recorders.
From 2010 to 2011, JEDEC raised the eMMC v4.3/v4.4 transfer speed to 100MB/s so the application extended to larger-size and dual-core smartphones, tablets and digital camcorders. With the eMMC v4.5 standard being drafted by JEDEC from 2012 to 2013, the transfer speed will be raised to 200MB/s and an IOPS interface for multitasking I/O will be included so that it can be applied to ultrabooks, multi-core tablets, smart TVs and cloud servers. SanDisk will offer a complete series of flash memory products for various devices ranging from PNDs, e-book readers, budget feature phones, potable multimedia players, portable game consoles, digital camcorders, superphones, tablet PCs, x86 tablets, and other ultrathin devices.
SanDisk has conducted a cloud server test, finding that without optimization, there were a large number of inconsistency occurrences while doing 256KB writes. The system's latency mostly falls between 300ms and 1,600ms with some cases even reaching 5,500 ms. After being optimized with flash acceleration technology, the number of inconsistency occurrences were greatly reduced.
The third key element is the integration of manufacturing capability and capacity. In addition to its existing 200mm wafer plant, a 300mm fab at Japan's Mie Prefecture in a joint venture between SanDisk and Toshiba started mass production in July 2011. With sufficient supply of flash memory wafers, SanDisk also set up a packaging/testing plant in China in 2007 to cater to demand in the local mobile device market.
The fourth key element mentioned by Inbar was an eye on the future of storage. By 2016 each tablet will require an average flash memory capacity of 46GB, and the key solutions include high speed memory card, eMMC and SSD with COB or traditional flash IC designs.
Average capacity of smartphones will reach 26GB by adopting high speed memory card, eMMC and iSSD as key solutions. Average capacity of notebooks, ultrabooks and PCs will reach 319GB with eMMC and SSD being key solutions. Capacity of most memory cards and USBs will increase to an average 25GB, offering up to 128GB capacity limit and 95MB/s speed in COB or flash IC designs. Finally, average flash capacity of data centers/servers will rise to 1,248GB, providing high-end, high-speed SSD solutions such as SATA, SAS and PCIe.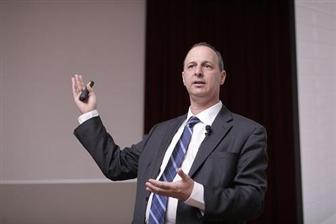 Dan Inbar, Senior Vice President and General Manager of OEM Business Unit at SanDisk
DIGITIMES' editorial team was not involved in the creation or production of this content. Companies looking to contribute commercial news or press releases are welcome to contact us.