Connector technology enabling next generation slim consumer devices
Sponsored content
Tuesday 17 July 2012
According to an IDC survey, 645 million smartphones, 225 million notebooks and 105 million tablets are expected to be shipped in 2012 and, from 2012 to 2015, the compound annual growth rates (CAGR) of smartphones, notebooks and tablets are expected to be 17%, 13% and 20%, reflecting a strong demand for such consumer electronics.
According to Eric Wang, Global Strategic Marketing Manager, TE Connectivity, increasingly prevalent cloud services over the past few years have changed the scenarios of how consumer electronics are used. Now massive data can be accessed and used online anytime to provide briefings to customers, share photos with friends, enjoy MP3 music outdoors, and use smartphones to complete transactions. Because data need not be stored on devices in advance, people are more willing to use various consumer electronic devices to enjoy their convenience.
Critical influence of connectivity
As each consumer electronic device used to have only one function, users had to carry many different devices with them when they were on the go. They carried cell phones, digital cameras, MP3 players, handheld game consoles, GPS, and/or notebooks in order to meet different needs and wants.
Technology advances have helped integrate many functions onto a single device. Camera, game playing, and music downloading/playing functions built in on smartphones, tablets or ultrabook are increasingly common, according to Wang, and this indicates the product design orientation of consumer electronics has been shifting to platform design orientation, and how to help systems and the data on devices integrate and work smoothly on iOS, Android, Windows CE, and Symbian is a focus of attention among device manufacturers.
Moreover, multiple function devices have been increasing data traffic. According to the Cisco VNI 2010 report, the CAGR of mobile data from 2009 to 2014 would be as high as 34% and, by 2014, near 70 exabytes of data would increase monthly around the world. Consumer electronics would generate 87% of such data while business activities only 13%.
To address the situation, it is necessary to increase devices' speed of internal and external data transmission, while the specs of existing data transmission interfaces such as USB, HDMI, Display Port, Ethernet, SATA, PCIe, Thunderbolot are being rapidly upgraded to prevent bottlenecking devices. Wang stressed that connectivity is critical to the efficiency of various consumer electronic devices.
Many special connector designs as a must for new generation slim devices
At the same time, new generation consumer electronics becoming increasingly slimmer is an obvious trend, which can be observed from the desktops in the 1970s, ensuing old-fashion notebooks, cell phones, modern notebooks, and smartphones, tablets, and ultrabook debuting in the 21st century. Nowadays a device can be as thin as 1 inch or even 0.5 inch.
According to Wang, given the very limited internal space of increasingly slimmer devices, installing various components and parts for heat ventilation, power supply, storage, touch control, as well as PCB while integrating camera, game, GPS, and music functions can be resolved by improved connectivity between components and parts in addition to redesign, changing component shapes (e.g., replacement of cylinder batteries with square ones), and using new components and parts that are smaller but more powerful (e.g., replacement of conventional hard disks with SSD).
In sum, the connectors for slim devices should not only provide a high speed of transmission but also have a high pin count and fine pitch in order to meet the requirements for both thinness and execution efficacy of new generation consumer electronics.
Therefore, TE Connectivity - the world's largest manufacturer of passive electronic components as well as a world leader of network solutions, undersea communications systems and other specialty products - has launched its Ultra Low Profile SODIMM, Ultra Low Profile NGFF, USB RJ45 Hybird, and Fine Pitch Dock, which can sharply decrease the connector height in consumer electronics by 30%. According to Wang, these new products can enhance data transmission efficiency in addition to enabling even thinner devices and design flexibility.
Component height reduced by TE Connectivity with transmission speed remaining unchanged
Ultra Low Profile SODIMM Connector, for example, features a 0.6 mm pitch, 204pos, and thickness lower than 3.0 mm to support single-sided memory chips, provide both versions of STD and RVS, and enable bevel insertion as well as an ultra low profile. Compared to the existing 4.0 mm connectors, Ultra Low Profile SODIMM Connector reduces its thickness by at least 25%, making devices 5-10% thinner. It is very suitable for the motherboard sizes of the latest ultrabooks, notebooks, all-in-one PCs and tablets.
Ultra Low Profile Docking Connector - because of its 0.5/0.6 mm pitch design and multiple applications - provides 30-80 anchorages and complies with HDMI, USB, and DisplayPort protocols. It saves PCB space by more than 30% and decreases connector thickness by 25% to enable increasingly thinner devices. It is suitable for not only ultrabook and tablets but also for various handhelds.
As to USB and RJ45, the standards commonly used for external transmission, TE Connectivity provides its USB/RJ45 Hybrid Connector support. The product has 17 pins, with four of them supporting USB 2.0, five supporting USB 3.0, and the other eight supporting RJ45. Therefore, single-port support to MagJack RJ45, USB 2.0, and USB 3.0 can be simultaneously provided while the speed can be maintained at higher than 1G/bps. The speed is not compromised because of the multiple specification support.
Moreover, port height is reduced by 30% to make devices 15-20% thinner to provide even more compact and lighter computers. TE Connectivity also plans to help develop thinner DC jacks, HDMI, DisplayPort, CPU sockets, flexible printed circuits, and board-to-board connectors.
Manufacturers' preference for TE Connectivity, which exceeds consumer expectations
TE Connectivity is a world-leading supplier of connectors, fiber optics, precision wires and cables, antennas, as well as sealing and protecting and circuit protection solutions. The company now helps the world's top-10 manufacturers of consumer electronic devices develop many new functions for their next-generation products to make such products work even better and faster.
According to Wang, TE Connectivity can lead the markets of game consoles, PCs, smartphones, and tablets by providing the advanced technologies that change consumer expectations. The company's well-designed and crafted connectors help develop even more compact and lighter products for the mobile device market.
According to Wang, a wide variety of point-to-point connectivity solutions provided by TE Connectivity often exceeds customer expectations and provides pleasant surprises to consumers. As a result, many companies have decided to partner with TE Connectivity, because TE Connectivity solutions provide multiple options and customization services to meet the needs of designing diverse light and slim devices.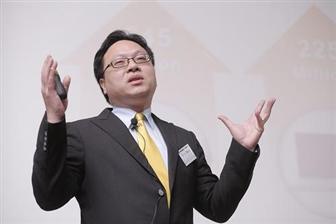 Eric Wang, Global Strategic Marketing Manager, TE Connectivity
DIGITIMES' editorial team was not involved in the creation or production of this content. Companies looking to contribute commercial news or press releases are welcome to contact us.