Atmel XSense goes beyond the edge
Sponsored content
Wednesday 18 July 2012
Brett Gaines, Director of Marketing and Business Development, Touch Materials of Atmel Corporation, said since Apple Inc lauched iPhones and iPads several years ago, smartphones and tablets have been widely accepted by consumers due to their intuitive and interesting way of operation. Touch screens also become an indispensable component of most consumer electronics devices.
Currently, nearly 100% of new smartphones and tablets from various vendors are equipped with touch screens instead of traditional I/O. The emergence of application software and operating systems supporting touch screens is also accelerating growth of the touch screen panel market. For example, the upcoming new Microsoft OS is likely to follow strategies in the past and expand its touch screen technology to wider applications such as ultrabooks, convertible PCs and all-in-one (AIO) PCs.
Various software/hardware demand from consumers triggers growth in global touch screen market
According to statistics from ITRI's IEK, touch screens will achieve a 100% penetration in the AIO market in 2012. AIO PCs adopt touch screens due to considerations of better exterior, thinness, lower cost and multi-media capability. Just as NPD DisplaySearch said in its latest Touch Panel Market Analysis report, this is also the result of the fact that Microsoft has the Metro interface for touch screen functions in Windows 8 and enables consumers to sustain the same user experience with different end devices. This will lead to a revolution in touch screen panel design for tablets and notebooks, and the total output of relevant modules is also expected to double from US$2.9 billion in 2011 to US$5.7 billion in 2015.
Due to the ever-increasing penetration of touch screens, vendors have to seek differentiation through other channels in order to stand out amid fierce competition. Comparing several popular models of consumer digital products in the market, we can find that in addition to the convenience, practicality and fun brought by touch screen functions, appealing exterior with chic design is of even greater importance.
Many market research reports indicate that while consumers used to focus on products' functions, quality and practicality, these key considerations have been replaced by exterior design and aesthetics as technology matures. In order to cater to various demand on product exterior and operations, vendors now have more brand-new ideas and concepts about the characteristics of touch screens, said Gaines.
Chic exterior and smooth user experience are key to competitiveness
For example, Gaines believes touch screens will evolve toward sleek, edgeless forms in larger sizes for minimalistic exterior that can provide users visual effects on larger screens without interruption from screen frames (especially for glaze frames.) Better noise immunity is also a requirement as touch control sensors are more susceptible to electromagnetic interference from display at the bottom and cannot detect the signals due to thinness of the screen.
Indispensable features for new generation of touch screens include: lower power consumption of touch screen controllers that will offer mobile devices longer battery life after recharging; faster, more precise touch control capability for more complex multi-touch features while remaining smoothness of operation; and strong/flexible material that can bent according to exterior and enables versatile design of consumer electronics products.
However, as traditional touch screen panel technology may cause embrittlement, it's impossible to meet all the requirements for the new generation of products. In view of this, Atmel introduced a film-based, highly flexible touch control sensor, Atmel XSense Touch Sensors.
Gaines said the product features new characteristics by using highly flexible material, stack-up of ultra-thin sensors and wider screens. It delivers better performance with narrower borders, narrower bond area, lower sheet resistance, better and more precise touch recognition, and stronger touch pen functions. Existing supply chains are available to supper higher production of sensors so overall system costs can be reduced. The new product will help vendors accelerate development in the new generation of smartphones and tablets, and expand touch control to other new industrial products and consumer electronics products.
Multiple edges of Atmel XSense touch sensors will help vendors explore new frontiers in product design
Taking product design as an example, new models of consumer electronics products will eventually face the following problems amid emergence of sleek, edgeless design: How can the glass surface be fully utilized? How can the mechanical parts of devices be reduced or eliminated? How can we achieve the most edgy product exterior in the industry?
Gaines said in order to meet various needs for the exterior of new products, XSense Touch Sensors can be mounted on curved surfaces and wrapped around the display, or even integrated with capacitive controls on the side of the display as part of the sensor. XSense Touch Sensors, whose thickness is less than one third of traditional sensors and the bond area is less than two thirds of those, offers consumers better touch control experience while improving device reliability and reducing total system cost.
Using its patent roll-to-roll metal mesh technology, Atmel makes rolls of XSense Touch Sensors through circuitization in various processes such as sensor layout and sensor mask, and then delivers the rolls to downstream touch screen makers, who will use the materials, together with flexible print circuit (FPC) and cover lens from other vendors, in lamination and bond before assembling the sensor modules with Atmel's touch controllers.
"This kind of manufacturing technology and stock-up production process can not only enable characteristics of wide screens, narrow bezel, versatile exterior, narrow bond, better noise immunity and lower power consumption for products adopting XSense Touch Sensors, production of sensors will also be accelerated with larger output, which eventually will help reduce products' manufacturing costs."
Atmel has long been committed to innovation as its business philosophy
Atmel Corporation is a worldwide leader in the design and manufacture of microcontrollers, touch sensor capacitive IC, ASIC, non-volatile memory, radio frequency components, etc. Major products include EEPROM, EPROM, flash, PLD, microcontroller, FPGA, AVR, USB, ASIC, WLAN, VOIP, DSC, RF, BT, smart card and security products. With US$18 billion global revenue a year, the company owns offices in 27 countries with a total of 5,100 employees around the world.
With its long-time commitment to innovation, Atmel will continue to help vendors develop excellent products with more functions, smaller sizes, higher intelligence and greater cost efficiency by providing clients with excellent development tools and best technology solutions, so they can gain advantage and leadership in the highly competitive market.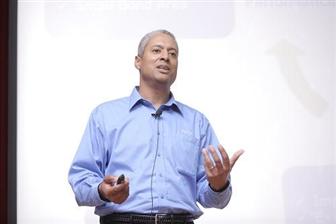 Brett Gaines, Director of Marketing and Business Development, Touch Materials at Atmel
DIGITIMES' editorial team was not involved in the creation or production of this content. Companies looking to contribute commercial news or press releases are welcome to contact us.