Mobile workstation to help produce a clearer vision of disaster sites - Seamless integration of information and communication can be deployed quickly to help make effective decisions
Sponsored content
Monday 20 August 2012
Global climate changes and over-exploitation of forests has caused natural disasters to continue to occur. Hurricane Katrina in the US; volcanic eruptions in Iceland; Tsunamis and the Fukushima nuclear disasters in Japan caused by an earthquake on March 11, 2011; and disasters in Taiwan brought by Typhoon Morakot have not only created great losses in people's property and life, but the aftermath has also resulted in serious man-made disasters due to poor communication and failure to deliver disaster information in a timely manner and allow effective judgments to be made about how to evaluate the disaster status.
Of course, natural disasters have always caused chaos, with both electricity and communication often being cut off, according to Richard Lee, Manager, Marketing Department, Getac Technology. Lee pointed out that a disaster site usually lacks manpower and there is a race against time to process and integrate information and execute emergency measures. Therefore, computers are required to make sure the right equipment is sent to the site as soon as possible, while computers can also help avoid resource misallocation or waste.
Integrating disaster prevention and relief information helps foster timely judgments
The Getec concept of IT applications being adopted in disaster prevention and relief is built around its C4ISR architectural architecture framework. The "C4" stands for Command, Control, Communication and Computer, while "I" stands for Intelligence; "S" stands for Surveillance; and R stands for Reconnaissance.
The most important concept of the C4ISR framework is to allow commanding officers, through the previously described system, to collect, deliver and display information, while sending out orders and instructions at any time and from any place. The computer that plays the role of the system's brain is not only the technical basis of the automated command system, but also the core of the C4ISR framework.
The Command system is like a human's central nervous system, while the Control system is like a human's hands and legs, and the Communication system is like a human's neural pathways; the Intelligence, Surveillance and Reconnaissance systems are equivalent to a human's eyes and ears. To make sure all these systems carry out their functions smoothly requires a brain that is in charge of integrating all the systems. If the computing speed of the relevant computer is not fast enough or does not run stably, the various systems are unlikely to achieve an optimal performance, however strong other capabilities may be.
With the technological advancement in multimedia communications, it is not difficult for a commanding officer to directly view the live status of a disaster site, but to deliver high quality images at a fast speed will depend entirely on the operational performance of the C4ISR system.
Meanwhile, since a disaster could happen at any time and any place, the C4ISR system needs to maintain its flexibility, so the introduction of mobile designs is required. In other words, the focus of C4ISR system development has gravitated toward mobile workstation designs. If used for the purposes of disaster prevention and relief, the functional demands of the mobile workstation will be different from those of traditional PCs, while performance demands will also need to be stricter.
Lee used typhoon as an example and pointed out that the mobile workstation must feature a waterproof design, but since the typhoon season is during the hotter times of the year, addressing the issue of heat dissipation created by the mobile workstation's waterproof design will become a test of the mobile workstation vendors' expertise.
Furthermore, in order to make accurate decisions quickly, a disaster prevention system's visual and communication performances are very important. In fact, during disaster prevention and relief situations, how to receive accurate information has always been one of the most important challenges. Wen-Ray Su Ph.D., of the Information Division of the National Science and Technology Center for Disaster Reduction (NCDR) has pointed out that the traditional method of recording disaster information is through writing things down on paper and then having each government ministry informing the control center about the disaster status and their respective remedy recommendations to provide relief. Though the information is all real-time data, most of the data is represented as text, which is relatively difficult to process and integrate in order for commanding officers to make accurate decision.
However, to allow commanding officers to simultaneously watch more than 10 surveillance videos with all of them running smoothly would require a mobile workstation with very powerful system performance. At the same time, global disaster prevention and relief systems process classified pictures of disaster sites that could be deemed top secret by the government, and there may be restrictions on distributing the materials without proper evaluation and processing.. Therefore, all transmitted data will require encryption and decryption, which would naturally further increase the performance demands of a mobile workstation.
Sharing information to allow seamless communication
Transmitting a disaster site's information to a back-end database using IT, while sharing information to all other units that participate in disaster prevention and relief actions would also help establish a disaster relief cloud structure. NCDR's soon-to-be-online decision support system (DSS) for disaster is designed to integrate real-time disaster information such as basic data, surveillance data, disaster status data, modeling data and telemetry figures, through a geography information system which then crafts a combat map of the disaster site that graphically renders a three-dimension display to help commanding officers make effective decisions.
Su pointed out that disaster information in the past was unable to be integrated and applied to add value because the data was all separated by the different government ministries, while the disaster response and command center lacked a platform to help integrate and analyze data, leaving each ministry no other options but to present their information through a traditional slide show type of meeting. Therefore, it is important to establish an application service platform of disasters where status data can be gradually collected by all government agencies, while also connecting all the front-end detection data and synthesizing them within a unified system interface for the use of decision support. The data can also be shared with all participating units in a disaster relief action so there is more complete control of real-time information.
However, Yao-Min Fang, Ph.D. of the GIS Research Center at Feng Chia University believes it is not necessary for all the original disaster prevention data to be sent out instantly, but the goal should be to store all the basic information through an IT system for future analysis.
In addition to disaster prevention and relief purposes, an IT system's storage and surveillance image process functions can be used to preserve evidence. Fang pointed out that the River Management Office under Water Resources Department of the Ministry of Economic Affairs (MOEA) has already been using the technology to prevent illegal sand and gravel mining. Using smartphones, personnel on patrol can receive images from surveillance cameras and even directly record crime scene video that can be provided to law enforcement and investigative units and treated as evidence.
Fast deployment with quick response
Another major advantage of a mobile workstation is a fast deployment speed to the site. For example, the development of a simple observation station - that the Soil and Water Conservation Bureau under the Council of Agriculture, Executive Yuan outsourced to the GIS Research Center of Feng Chia University - integrates observation equipment, communication network support, power control, human-machine interface and an information process module (the mobile workstation) all into one rugged cabinet. The cabinet can be carrying on a person's back or dragged to a location, with the time needed for assembling or disassembling the station being below 10 minutes.
Fang pointed out that a mobile surveillance system's information mainframe connecting to different type of sensors can be used for many different applications, such as bridge and dip slope surveillance, while the system can also be used for crop investigation, and illegal sand and gravel mining prevention and security.
The command vehicle used by the Taoyuan County Police Department's for its mobile police station project supports a connection of the information system with the vehicle's sphere camera to monitor an environment 1km around the camera. During large public processions, the police can quickly change the vehicle's position and still observe and transmit important information while on the move.
Integrating technologies from devices such as a WiMAX Pico base station and WiMAX receiver module, the Information and Communication Research Laboratories of Industrial Technology Research Institute (ITRI) has designed and developed a WiMAX mobile disaster relief command system. The system can be activated within five minutes and can be used to transmit real-time images from a disaster site. The system pairs a WiMAX visual and audio transmission system that is deployed to front-line personnel and command vehicles with a back-end WiMAX visual and audio management system at the command center to help commanding officers make more effective and comprehensive decisions and resource allocation deployments based on the real-time images.
Major challenges for the mobile workstation
To protect the safety of a mobile workstation deployed on the front line for disaster prevention and relief purposes, the system must be fully automated. Lee emphasized that the mobile workstation must have the ability to recover automatically - any malfunction caused to the system requires that the system be able restore itself without needing to be controlled remotely.
Meanwhile, stability of the mobile station is also very important. Fang pointed out that an unstable information system requires the responsible government unit to deploy more human resources for maintenance, while opening up the possibility that any problem could even lead to a loss of human life since a disaster site is prone to sudden changes.
Weight and power supply issues are also problems that the mobile workstation needs to overcome. Since the mobile workstation needs to monitor a site all day long regardless of weather conditions, Lee believes a system's usage time needs to be at least more than four hours, and the adoption of a spare battery design is a must to extend the usage time . In the future, the system should add design features to support wind or solar power recharging capability to allow the usage time to be extended to as long as possible.
Although the power issue of the mobile workstation can be easily resolved by adding more batteries, the increased weight will affect the mobile disaster relief system's mobility. Therefore, development units such as Feng Chia University and ITRI have already developed mobile command vehicles to help supply power to the system.
To help improve a system's mobility, the fourth-generation mobile surveillance system developed by Feng Chia University is able to be fully offloaded from a vehicle once it is transported to a site. The vehicle can then move to other sites for other purpose and reduce the manpower needed for operation.
Meanwhile, to be able to integrate various software and hardware designs, the disaster prevention and relief system's connectivity interfaces and data formats will also need to adhere to global standards. For example, Getac's mobile workstation features full military-level I/O interfaces, while ITRI's Information and Communication Research Laboratories and Feng Chia University both adopt Open Geospatial Consortium (OGC) information exchange standards such as Sensor Web Enablement (SWE) to integrate the different information standards of each disaster prevention and relief device; for example, integrating the reading, transmission, saved data format and publishing of information produced by a sensor.
Developing disaster prevention and relief systems: The advantage of Taiwan's technology industry
Due to Taiwan's location on the circum-Pacific seismic belt, more than 4,000 large and small earthquakes occurring in the country each year, with the number of felt earthquake being as high as about 200. The United Nations has placed more than 7,000 detection systems in Taiwan to conduct seismic studies. Since Taiwan has a rather complicated topography that is at risk of being impacted by wind disaster, flood and landslide brought on by the plum rain season or by a typhoon, it is difficult for disaster prevention and relief activities to be implemented in the country.
However, Lee pointed out that the scenarios described above have in fact allowed Taiwan's IT industry to have strong advantages for developing disaster prevention and relief applications. Despite Taiwan not being large and being able to be traversed in only four hours, any terrain or weather pattern can be found in the country, making Taiwan an ideal location for conducting tests for different types of disaster prevention and relief systems.
Meanwhile, to develop disaster prevention and relief system, the local government must be able to cooperate and provide all the needed information - such as water levels, weather and tides - to allow the system to be fully applied in real situations. Currently, NCDR's collected information for disaster - through its decision support system (DSS) - already has a wide reach and its surveillance data already includes typhoon status, rain volume, tidemarks of rivers and reservoirs and post-disaster real-time telemetry photos. In the future, the system may even include mechanisms for online disaster status reports, combining information from communities and media to make Taiwan's developing disaster prevention and relief system reach have more reliable test figures and results.
Through disaster prevention and relief systems, combining technologies such as mobile workstation, GIS and communication, government units can quickly provide any kind of disaster surveillance data to help raise the accuracy and speed of judging the potential impact of a disaster, while reducing losses in human life and property. Since Taiwan is a rarely-seen natural site for experimentation, while the country also has strong industry resources for network communication and government and education departments that are willing to invest in the related resources, the country has the potential to take a strong position in the world in terms of disaster prevention and relief applications in the future.
For more information, please visit Getac's website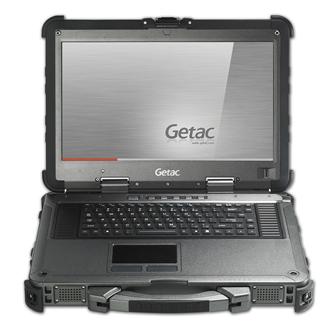 Getac X500 mobile workstation allows disaster relief activities to become more mobile
Photo Company