Handset demand drives growth, diversity operational stability - Chilisin achieves outstanding financial results
Press release
Wednesday 3 October 2012
While Taiwan's passive component makers generally saw poor performances during the first half of this year, Chilisin - Taiwan's largest inductor manufacturer - was the exception, achieving excellent results in terms of both revenue growth and earnings per share (EPS). With revenue growth of 10% and EPS growth of 26% for the half year, Chilisin outperformed all other inductor manufacturers.
Chilisin's ability to grow in face of weak economic conditions is closely connected to its entry into the handset market in 2009. Chilisin progressed from having no products at all in the handset sector to it contributing more than one fifth of the company's overall revenues up to August 2012, making Chilisin a global supplier in all international major mobile phone markets.
According to forecasts from Topology Research Institute, smartphones shipments in China will reach some 188 million in 2012, with a year-on-year growth of 36.2% to drive-shipments to reach 256 million in 2013. The rapid growth rate means that the China smartphone market will become one of Chilisn's main drivers for sustainable growth.
Chilisin has a complete portfolio of inductors and technologies – thin-film processes, multilayer printing processes, molding processes, and wire wound processes
Chilisin's new products are designed for greater precision, miniaturization and thinness to meet the requirements of handheld, slim and lightweight portable devices. Chilisin will begin mass production of its TFL Series RF thin-film chip inductor for usage in high-end smartphones in the fourth quarter of 2012, using a thin-film process. The company also has three product categories for power solutions to serve handheld devices: miniature molded power inductors (AME/MHCD Series, compatible with the TOKO DFE Series), miniature magnetic-resin shielded wire-wound power inductors (LVF Series), and multilayer power inductors (MPB Series). This wide product range enables Chilisin to cater to customer requirements with three different types of technology. Chilisin believes that power consumption will be an even greater challenge in coming years, as dual-core and quad-core processors become the norm; as a result, current-related applications will cause a significant increase in demand for power inductors.
Chilisin aims to continue its strategy of diversification by opening up new markets. It has already begun taking orders from new regions including Russia and other parts of Eastern Europe. Chilisin has indicated that it will strive to operate through partnerships in regions such as these that are focused on developing niche markets including solar power and security equipment.
Market conditions are ripe for a push into the Japanese market
Japan is another focal point for Chilisin's market development activities this year. Chilisin has been building close contacts with numerous Japanese clients through strategic alliances with leading distributors in the country, and its products have been very well received. Chilisin has stated that development in the Japanese market will center on demand for consumer electronics products. Chilisin's factories in China's Dongguan, Suzhou and Henan regions are close to-and capable of supporting the China factories of its Japanese clients. Chilisin's comprehensive product line, range of technologies, ferrite-core and powder materials development technology, and strong vertical integration capabilities make Chilisin unique among Taiwan-based inductor manufacturers. Many Japanese manufacturers have therefore given the highest praise to Chilisin for the diversity of its products and the maturity and sophistication of its technology.
Chilisin stresses that the development of these new markets will become its growth engine in the near future. Chilisin's revenue results are likely to move up a step from the fourth quarter of this year or the first quarter of next year, with the firm's penetration into the global market becoming broader, deeper and more international.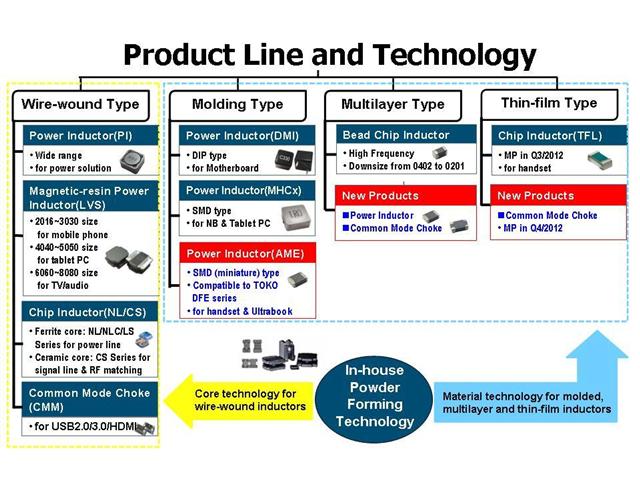 Chilisin has a complete portfolio of inductor and technologies – thin-film processes, multilayer printing processes, molding processes, and wire wound processes
DIGITIMES' editorial team was not involved in the creation or production of this content. Companies looking to contribute commercial news or press releases are welcome to contact us.