NTI software plays a key role in creating product differentiation: An interview with Bill Yao, President/CEO of NTI
Sponsored content
Friday 26 October 2012
Since the firm's founding in 1995, NTI has remained strong, growing steadily despite a few industry cycles of ups and downs. The firm currently has a solid position in the Hard Disk Drive (HDD)-related software market. This is due to the firm's two core competitive advantages: first is a mastery of software technologies for file management and back-up storage, as well as the capabilities to develop applications on multiple platforms; and the second is the firm's solid reputation due to years of experience and track record in this field.
Commenting on this, Bill Yao, President/CEO of NTI, said, "NTI has good professional ethics and commercial reputation. Over the years, NTI has never been involved in any legal disputes regarding intellectual property rights, or experienced any financial problems. These are very important to our business partners." In fact, NTI maintains long-term partnerships with many tier-one IT hardware firms. In addition to the HDD and PC sectors, NTI will introduce software products for smartphone applications in 2013 and plan to enter the smart TV sector in 2014.
Using software to realize innovations
Looking at the development trend of the entire IT industry, software firms seem to be edging closer and closer to becoming the core of the supply chain, because compared to hardware, software has the advantages of being flexible, low-cost and highly efficient. Therefore, many innovative ideas can be realized through software. In particular, for NTI's target sector, HDDs are massively-produced commodities that rely on software to create product differentiation.
Citing NTI's cooperation with Toshiba as an example, Yao indicated, "Our backup software, NTI Backup Now EZ, is customized for Toshiba and can run only in Toshiba's hard disk drives. This type of bundle, due to the stickiness of backup software, can greatly increase the number of repeat purchases for Toshiba's hard disk drives." NTI also added some specially designed features to this software. For example, when the storage capacity reaches a certain level, the software will remind end users to buy Toshiba HDDs.
According to an end-user market survey conducted by Toshiba, 88% of its customers are satisfied with NTI's software and more than 80% of the them note that when buying HDDs, the software embedded is second only to price as the most influential factor when making purchase decisions. This survey shows that the added value created by software to a hardware product is quite significant.
NTI's current product portfolio mainly covers two areas. One of them mainly focuses on backup and cloning features, such as NTI Backup Now, cloning software Echo , real-time backup and synchronization software Shadow, and data encryption/ protection software Ninja. In addition, NTI has cloud-based backup software-as-service, NTI Cloud, which is an integration of software and cloud-storage services. The other area that NTI covers is Digital Media software. NTI's main product in this area is Media Maker. Since 2000, Acer has been bundling this software with its branded PC, and up to now, more than 200 million copies have been sold. Furthermore, NTI also provides Mac-version Shadow and Dragon Burn.
Making sure powerful functions can be easily enjoyed
Emphasizing that NTI's design philosophy is "Power with Simplicity," Yao noted, "We firmly believe that powerful functions are only meaningful when their designs are implemented through a simple and easy-to-use GUI and work flow to allow end users to pick up easily." For instance, NTI's cloning software Echo emphasizes that it can greatly simplify the cloning of HDDs or SSDs, so cloning is no longer something that only geeks know how to do. Echo allows ordinary end users to achieve cloning easily. This software has been recognized and bundled with products from international firms and brands such as Toshiba, PLDS Lite-On, and Verbatim.
Also, apart from the current NTI Cloud services, private cloud products and services will be NTI's next major move. Yao noted that compared with public cloud, private cloud allows end users to personally and independently control and manage their cloud storage. Through NTI's software, a local HDD can become a cloud storage device that allows users to share and access from anywhere at any time. In addition, the cloud storage will be controlled solely by the end user without safety and privacy problems that may occur when using public cloud. At the end of this year or beginning of 2013, NTI plans to introduce private cloud products, and develop multiple apps on a single platform for mobile devices and PCs, providing end users a better private cloud user experience.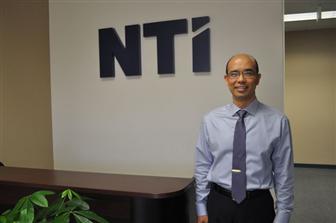 Bill Yao, President/CEO of NTI
DIGITIMES' editorial team was not involved in the creation or production of this content. Companies looking to contribute commercial news or press releases are welcome to contact us.