Memoright to showcase full series of ruggedized and industrial storage solutions at Eletronica 2012
Press release
Monday 12 November 2012
Memoright, a Taiwan-based developer of SSD (solid-state drive) technics, will showcase its ruggedized and industrial storage solutions at Eletronica 2012 (Hall A6 #168) in Munich, Germany from November 13 to 16, 2012. Featured ruggedized and industrial storage solutions, including the new released QuadLife-25, M1500 eMMC and the whole series of MLC wide temperature ruggedized SSD solutions will be unveiled to meet the needs of low power consumption, wide temperature, long life cycle, cost efficiency and high performance SSD solutions.
Memoright's new eMMC solution M1500 series applies latest eMMC 4.5 standard. The standard upgrade gives the M1500 series a huge leap in data transmission speeds – from 52MHz to 200MHz. Also, the sequential read and write performance has been accelerated.
With exclusive patent of firmware algorithm, Memoright's QuadLife 2.5-inch SSD solution sharply raises the read/write times to up to 20,000 times, four times more than current MLC SSD solutions. Moreover, all the flashes inside Memoright's solutions have been authorized to ensure the quality. It can remain the full function from minus 40-degree to 85-degree Celsius. Wide temperature endurance and cost efficiency make Memoright's MLC solutions a perfect option for IPC.
Memoright's ruggedized and industrial SSD solutions are well recognized for their stable performance and advanced life cycle. They are widely used by European and American military units, air and maritime transportation system, photographic equipments of Hollywood movies. All the solutions from Memoright have passed strict wide temperature and SPOR (Sudden Power off Recovery) tests to ensure the efficiency, stability and reliability.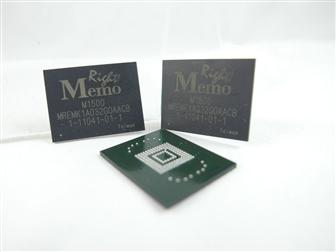 Memoright eMMC M1500
Photo: Company