Advantech and Medtel Partnership Delivers Point-of-Care to Public Hospitals in Australia
Press release
Thursday 10 January 2013
Queensland Health organization in the state of Queensland, Australia provides a network of fifteen health service districts and the Mater Hospitals. The organization delivers a range of integrated services including hospital inpatient, outpatient and emergency services; community and mental health services; senior care; and public health and health promotion programs. Medtel, established in 1965, is the foremost supplier of high technology and medical systems to the Australasian region.
They are a long-term partner of Advantech and together the two have teamed up to deploy four generations of specialized medical equipment including medically-certified hardware, specialized software, and operational support. With a history of reliability and success, it is little wonder that Queensland Health turned to Medtel and Advantech for a solution to enhanced automation and control of perioperative processes throughout the hospital group. They were looking to replace paper-based systems and capture clinical data in real-time. They wanted a slim, easy to maintain, easy to clean device certified for use in a medical environment.
Solution
Advantech's POC-S157 Slim Point-of-Care terminal was chosen for the 500 unit deployment throughout the state's 32 public hospitals. The system runs Medtel's Winchart application, specifically developed and designed by medically-trained doctors at Medtel to capture clinical information from patient monitoring equipment and peripheral medical devices. The data displayed graphically in real-time, is stored in a customizable database, and the system can be interfaced with external hospital information systems and other applications. The POC-S157 terminals were deployed for use in all phases of the hospital's perioperative treatment, using various software modules of the Winchart application, as well as for electronic patient record keeping, and for medical administration. Since the system is integrated and connected to the hospital information system network, data is available to specific applications in real-time. Doctors and medical staff no longer need to record data after the fact relying on memory or quickly scrawled notes.
System
Medtel's Winchart running on Advantech's POC-S157 Slim Point-of-Care terminals replace paper-based systems and give staff the ability to capture and display real-time information throughout the various phases of the hospital's perioperative environment. Anesthetists can enter information about drugs, fluids, and take other notes. Data accuracy is greatly improved and time is managed better, allowing them to focus on patient care. The POC-S157 point-of-care terminal has a large 15" panel equipped with a touchscreen to graphically display data. It is UL60601-1/ EN60601-1 certified with electrical isolation of LAN and power connections. POC-S157 features an IPX1 water resistant enclosure and an IP65 dust-tight front panel. It can be kept clean with hospital antiseptic cleaners, reducing bacteria and the chance of contamination.
Benefits
Queensland Health has reported that the many benefits to the Advantech/Medtel solution have surpassed expectations and they are very satisfied with the results so far. Early estimates show a savings of 90% of the staff's time over the previous paper-based systems. In addition the POC-S157 running Winchart software has brought the hospital:
ĦE Reduced liability
ĦE Improvements in patient care
ĦE Improved data legibility, consistency and accuracy
ĦE A tool for data analysis to facilitate research and budgeting
ĦE Improved risk management
ĦE Decision-making and educational information to the point-of-care
Advantech and Medtel's long-term partnership leveraging experience, quality, reliability and support capabilities have brought Queensland Health a comprehensive platform to solve the advanced needs of their medical organization.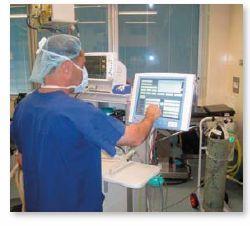 Advantech's POC-S157 Slim Point-of-Care terminal was chosen for the 500 unit deployment throughout the state's 32 public hospitals.
Finding more case study articles
DIGITIMES' editorial team was not involved in the creation or production of this content. Companies looking to contribute commercial news or press releases are welcome to contact us.