FPC makers testing PICs, eyeing new opportunities: Taiwan-based FPC solder mask maker steps up R&D for PICs
Press release
Tuesday 22 January 2013
Flexible printed circuit (FPC) coverlays are meant to overlay and protect the fine circuits, giving them flexibility and sheltering them from damage by temperatures, humidity, pollutants and erosive substances. Coverlay development has so far resulted in three types: the dry-film coverlay, screen-printing coverlay and photoimageable coverlay (PIC).
Dry-film and screen-printing coverlays generally involve low yield rates, high costs, imprecision and poor flexibility, and more importantly, these solutions do not thoroughly address the quality issue of through holes filling. PICs are technologically more advanced than the other types and can more precisely locate the position for soldering on flexible circuit boards, making it a superior solution for precise soldering for the creation of fine-pitch circuits and an even coating thickness. PIC is used to fill through holes by lamination instead of a coating with ductile solder mask ink. Currently, US-based DuPont, Japan-based Hitachi, Coastes ASI, Taiyo Ink Mfg., Asahi Chemical and Taiwan-based TeamChem Materials have all been engaged in R&D and production of PICs.
Lamination for PIC through hole filling process
For Taiwan-based FPC makers, the filling of through holes has been the biggest technological challenge hindering their advancement to the high-end of the precision FPC market. If Taiwan-based FPC makers want to enter this market segment, which is dominated by Japan-based FPC makers and covers applications such as hard disk drives (HDDs), inkjet printers, precision medical instruments and aerospace devices, they must resolve the technological challenge of through hole filling. The solution, however, entails three precision procedures. First, a ductile solder mask needs to be precisely coated over FPCs to make the FPCs soft and flexible, and the mask also needs to seep into the through holes to form a protection layer there. Second, FPC makers' expertise is required for using either the screen printing or roller coating coverlay process or there will be a high chance of seeing products with poor quality. Third, production efficiency should be high; without an efficient production, the output scale and production schedule will both be stranded. Advanced material R&D companies in the US and Japan, which are pioneers in the FPC industry and have a large portion of the global FPC market, now use lamination to solve problems faced with the through-hole filling process. Using this type of solution can shorten the time for manufacturing FPCs, reduce material cost by one-third and increase yield rates and production efficiency.
The importance of PIC for the FPC industry
PICs are important because they can change the FPC production model as well as the FPC industry ecosystem by affording Taiwan-based FPC makers the opportunity to compete against Japan- and US-based makers in the high-end precision FPC market. TeamChem Materials, headquartered in Taoyuan, northern Taiwan, in early 2012 decided to step into development and production of PICs with a goal of resolving issues associated with Japan- and US-produced PICs, such as implementation difficulties, high equipment costs, time-consuming manufacturing processes, and high unit prices. TeamChem Materials chairman Todd Yeh points out that the company wants to provide a type of PIC that is based on a low-temperature manufacturing process utilizing FPC makers' existing equipment, with a low price point below NT$400 (US$13.7) per square meter.
In early 2013, TeamChem Materials already completed its pilot production for PICs and is now ready for mass production. R&D personnel at some FPC makers are already testing TeamChem's coverlays on their communication antenna and light bar FPC products for tablets and smartphones. Commenting on PICs' future development, some R&D engineers at FPC makers have pointed out that traditional FPC production consists of 11 steps - micro-etching the circuit, pre-tacking, lamination, baking, hole punching, sandblasting, applying photoimageable solder masks, pre-baking, exposure, developing and baking again. With TeamChem Materials' new PICs, the process can be reduced to only five steps - micro-etching the circuit, lamination, exposure, developing and baking - a streamlined process that saves time and personnel costs. Moreover, makers will not have to purchase expensive vacuum laminators, greatly increasing their competitiveness in obtaining OEM/ODM orders.
TeamChem PIC R&D focuses on ease of use
TeamChem Materials is the first Taiwan-based maker to have successfully developed ductile solder masks specifically for use in FPCs. It has been working with various handset FPC makers to develop specialty ink, and has also identified key problems FPC makers face using PICs. Current PICs are expensive, with costs escalating even more when vacuum and high pressure laminators are necessary for their production. There are other problems, such as: poor image development, which could fail to leave a clear land pattern on the FPC; and material absorption during the back-end electroless nickel immersion gold (ENIG) and gold plating processes due to weak chemical resistance. These problems have deterred PIC use from becoming popular among Taiwan-based FPC makers due to inexperience in handling such processes. Sunny Han, president of TeamChem Materials' sales and marketing department, points out that the company has many years of experience working with major FPC makers and has for many times developed special inks exclusively for certain FPC clients. TeamChem believes that its initiative to start R&D and production of PICs will create a win-win model for itself and FPC makers. FPC makers can provide specification requirements and product samples, and the FPC solder mask expert TeamChem Materials will be happy to work with them.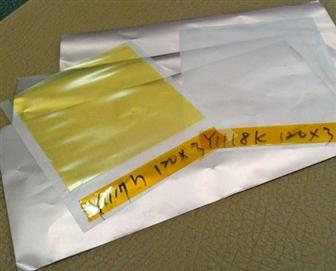 TeamChem Materials' PIC
DIGITIMES' editorial team was not involved in the creation or production of this content. Companies looking to contribute commercial news or press releases are welcome to contact us.