TriQuint enables gigabit Wi-Fi and 4G coexistence for next-generation smartphones and tablets
Press release
Tuesday 19 February 2013
TriQuint Semiconductor, Inc., a leading RF solutions supplier and technology innovator, is enabling next-gen 802.11ac Wi-Fi and a superior wireless user experience with the introduction of three new high-performance WLAN front-end modules and two advanced Wi-Fi / 4G coexistence filters.
The company has captured smartphone design wins with its two 5 GHz 802.11ac Wi-Fi RF modules, as well as its new 2.4 GHz product. Thanks to advances in output power technology, all three TriConnect Wi-Fi modules provide extended operating ranges when compared with earlier products. For Wi-Fi users, that means the freedom of wireless connectivity across longer distances.
Rounding out the company's expanding WLAN product line are two new specialty 4G / Wi-Fi coexistence filters. These specialty filters serve as electronic traffic guards to keep signals in the crowded 2.4GHz spectrum isolated from one another. They leverage TriQuint's advanced bulk acoustic wave (BAW) technology to address some of the industry's toughest filtering challenges.
"TriQuint is the only RF supplier that is currently delivering all three WLAN device components - the 5 GHz and 2.4 GHz front-end modules as well as multiple variants of coexistence filters - to provide a superior consumer experience," explained Shane Smith, Vice President of Global Marketing for Mobile Devices at TriQuint. "We're enabling 802.11ac Gigabit speeds and solving Wi-Fi / LTE coexistence problems simultaneously, for smartphones, tablets and other wireless devices."
Ubiquitous Wi-Fi evolves to the next level
As demand for Wi-Fi proliferates, consumers have developed an ever-growing appetite for faster mobile data rates to support video streaming and other multimedia applications. With data rates up to 1.3 gigabits per second, the new IEEE 802.11ac standard will deliver transfer rates three to four times faster than current-generation 802.11n Wi-Fi.
"TriQuint introduced the industry's first 802.11ac-ready module for mobile devices last year," Smith said. The award-winning dual-band product was selected by a major manufacturer for its next-generation smartphone and was included on a reference design by a leading chipset supplier. Smith added, "Our 802.11ac technology expertise also expands our future market opportunity for infotainment applications such as in-home video distribution."
In addition to power amplifier modules that enable faster speeds, demand is surging for high-performance Wi-Fi / LTE coexistence filters. Today's high-end smartphones house a growing number of cellular and Wi-Fi bands to support 2G / 3G / 4G voice and data services, as well as global roaming. At the same time, the global spectrum crunch is leading governments around the world to squeeze new 4G bands next to pre-existing Wi-Fi spectrum, often with minimal guard bands. Advanced filter technology is needed to mitigate the resulting interference issues.
All products are sampling now, and scheduled for production in the second quarter. Visit TriQuint in Booth 6E-84 at the 2013 Mobile World Congress in Barcelona on Feb. 25-28 for more information about the company's Wi-Fi connectivity products. To locate one of TriQuint's distributors, resellers or field sales representatives, please visit http://www.triquint.com/sales.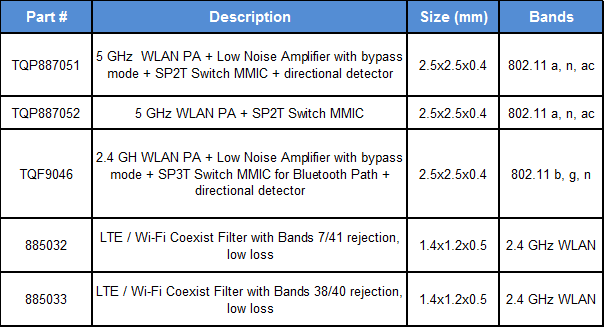 TriQuint product details
DIGITIMES' editorial team was not involved in the creation or production of this content. Companies looking to contribute commercial news or press releases are welcome to contact us.