Strategies for developing Taiwan smart handheld device industry
Sponsored content
Tuesday 30 April 2013
In line with a set of guidelines for industrial development through 2020, the Taiwan government aims to build up a smart handheld device industry having a production value of NT$1.68 trillion (US$56 billion) and accommodating a total of 150,000 employees by the end of the next decade, according to Jang-hwa Leu, deputy director general of the Industrial Development Bureau (IDB) of the Ministry of Economic Affairs (MOEA).
The guidelines also call for more efforts to develop a number of key components, such as application processors, AMOLED panels and high-end touchscreens, to strengthen cooperation among various industry supply chains, and to enrich their pools of related patents, Leu added.
While about 50% of key components including RF chips, processors, memory devices and sensors used in Apple's iPhone 5 are supplied by international players, Taiwan-based makers are also included in the iPhone 5 supply chain: TPK Holding (touch panels); Fortune Grand Technology (acoustic components); Acbel Polytech and Delta Electronics (power supplies); Simplo Technology (batteries); and some camera module makers, Leu noted.
Local manufacturers enrolled into HTC's smartphone supply chain include: VIA Telecom (baseband chips); Catcher Technology, Ways Technical, Chenming Mold Industrial, and Ri-Teng Computer Accessories (cases and chassis); TPK, Young Fast Optoelectronics, and J Touch (touch panels); AUO and Innolux (flat panels); Lite-On Technology, Foxconn Electronics and Primax Electronics (camera modules); Dynapack (batteries); Unitech Printed Circuit Board, Compeq Manufacturing, Unimicron Technology, Tripod Technology, Flexium Interconnect and Career Technology (PCBs and FPCBs); and Largan Precision (camera lenses).
For the production of iPad family devices, Taiwan also boasts a spectacular supply chain in support of the Apple tablets: Foxconn and Pegatron Technology (assembly); AUO and Innolux (displays); Wintek, TPK, and Innolux (touch panels); Simplo and Dynapack (batteries); and others such as Catcher, Unimicron, Zhen Ding Technology Holding, Foxlink, Largan and KYE Systems.
Asustek Computer also leads a supply chain for the production of Google's Nexus 7 tablets: Quanta Computer, CPT, Wintek, TPK, Simplo, Celxpert Energy and Ju Teng International (casings); HannStar Board and Gold Circuit Electronics (PCBs); Aces Electronics (connectors); Elan Microelectronics (touch controller ICs); and Realtek Semiconductor (audio ICs).
Taiwan makers rolled out a total of 220 million smartphones worth NT$445.5 billion in 2012, including 34.82 million units of branded models, 34.58 million units of ODM models and 151 million units of EMS products. Taiwan's production value of smartphones is expected to grow 21.2% to NT$537.2 billion in 2013 with output of 39.34 million branded devices, 40.27 million ODM units and 188 million EMS items, Leu indicated.
Taiwan's production of tablets totaled 105 million units worth NT$34.4 billion in 2012, increasing 124.8% from the previous year thanks to orders for the iPad, the Kindle Fire and Nexus 7. Looking forward to 2013, Taiwan's production of tablets will grow over 50% to 159 million units in terms of volumes and gain 4.1% to NT$35.8 billion in terms of value, driven by shipments for the iPad mini and other brands.
To speed up the development of smart handheld device industry in Taiwan, the government will also motivate related investments up to NT$20 billion in 2015 to ramp up the production value of the industry to NT$1.28 trillion in that year. The production value will increase to NT$1.55 trillion in 2018 and to NT$1.68 trillion in 2020.
The MOEA's Department of Industrial Technology will also assist the development of high-end mobile technologies and applications, including 3D ICs, MEMS/sensors, advanced memory devices, low power technologies and application system architectures. Additionally, the National Science Council (NSC), academics and related industries will cooperate in developing multi-core CPUs and GPUs, computing subsystems, web browsers, compiler systems and low-power communications devices.
While Samsung Electronics currently accounts for over 98% of global production of small- and medium-size AMOLED panels and has also begun trial production of flexible AMOLED products at its 5.5G lines, Taiwan-based AUO and Innolux have also entered the segment recently. IDB have policies that are aimed at helping local makers ramp up their yield rates for the production small- and medium-size AMOLED panels and AUO's AMOLED panels have found their way to HTC's supply chain.
Through assistance provided by corporate bodies, the IDB will also help local makers develop related technologies, materials and equipment and enter the supply chain of AMOLED and flexible AMOLED products. The IDB will also work with academics to develop new display products such as temperature-resistant flexible substrates and oxide thin-film transistors.
Taiwan currently accounts for 48.4% of global shipments of touch panels, with OGS (one glass solution) solutions enjoying a leadership position in the segment. The IDB will continue to push for the advancement of high-end touch panels using OGS, in-cell, roll-to-roll and IGZO (indium gallium zinc oxide) processes.
For the battery industry, the IDB is working to enhance cooperation between Taiwan- and Japan-based makers, encouraging large-scale local companies to tie up with battery cell makers in Japan such as Sony and Panasonic to develop next-generation batteries, including ultra-high capacity, high output, super thin and ultra long-life models.
For the development of application software products, the IDB has commissioned the Institute for Information Industry (III) to establish an application e-park in Taipei designed to accommodate and assist local R&D teams or companies to develop application software. A total of 44 such software teams have received related services, with seven of them already transforming into corporate entities. The local governments in Kaohsiung and Taoyuan are also evaluating the possibility of establishment of comparable application e-parks.
Global production of LTE-enabled terminal devices (including smartphones) reached NT$425.5 billion in 2012, with Taiwan's production accounting for a 10.3% share. It is estimated that the number of LTE telecom operators will increase to over 350 globally in 2017 with a total of 870 million subscribers. In response to the growing LTE market and a call from local network equipment makers, the government plans to establish a multi-mode heterogeneous network testing environment to facilitate local markers' participation in the TD-LTE testing market. The government will also motivate telecom operators to offer mobile broadband services of over 10Mbps, aiming to allow over 50% Taiwan's citizens to access 10Mbps services by 2020. Together with assistance from academic organizations, the government will inject resources to develop B4G technology.
In terms of intellectual property rights, Taiwan paid others US$5.8 billion in 2011, but only received US$800 million. The IDB is considering setting up IP funds or companies in order to secure key patents. Backed up by academic analyses, the government will also push for the development of advanced technologies to enrich the country's pools of patents.
A task force set up by the MOEA for the promotion of smart handheld device industry is currently serving as a platform for cross-industry exchanges and cooperation; the task force will initiate international cooperation, motivate innovative developments, spur industrial integration and improve market environments for the industry, Leu concluded.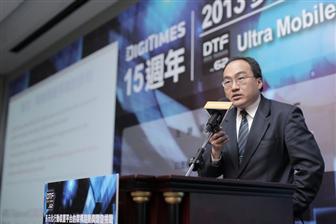 Jang-hwa Leu, deputy director general of the IDB of Taiwan's MOEA