H.C. Starck: choice vendor of hot zones for ARC Energy CHES systems
Press release
Thursday 2 May 2013
H.C. Starck recently announced that it has been chosen by ARC Energy to supply hot zones and furnace components fabricated from high performance technology metals for ARC Energy's CHES furnaces.
"ARC Energy is pleased to announce H.C. Starck has passed our rigorous qualification process for supplying furnace components," said Dr. Rick Schwerdtfeger, Co-Founder and Chief Technology Officer for ARC Energy. "Authorizing H.C. Starck gives CHES furnace customers more choices, yet assures the same quality and performance to meet the original furnace specifications."
"We are delighted to enter into this agreement with ARC Energy and become their authorized hot zone vendor. ARC Energy's unique on-axis process delivers tremendous advantages for large size substrates, but also requires precision and highest quality of critical system components such as hot zones. With our fully operational capabilities in Taicang, China, we are in a unique position to service the CHES platforms installed in Asia and allow the end users to benefit from our manufacturing excellence and global capabilities," said Dmitry Shashkov, Member of H.C. Starck's Executive Board and Head of the Business Unit Fabricated Products.
Further enhancing H.C. Starck's secure material supply chain in China is the joint venture with Jiangxi Rare Metals Tungsten Group Holding Co. Ltd. (JXTC). Once operational, the facility will provide higher quality tungsten products to H.C. Starck's vertically integrated supply chain, a distinct advantage to serve the fast growing markets in Asia.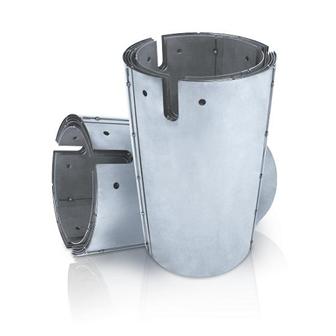 Molybdenum and tungsten fabricated hot zones for high temperature furnace applications
About H.C. Starck
The H.C. Starck Group is a leading global supplier of technology metals and advanced ceramics, and serves growing industries such as the electronics, chemicals, automotive, medical technology, aerospace, energy technology, and environmental technology industries, as well as mechanical engineering companies and tool manufacturers, from its own 12 manufacturing facilities located in Europe, Americas, and Asia. As of December 31, 2012, the company had 2,926 employees in the United States, Canada, Great Britain, Germany, China, Japan, and Thailand. For more information about H.C. Starck, visit http://www.hcstarck.com/.
About ARC Energy
Headquartered in Nashua, N.H., the Advanced Renewable Energy Company, LLC (ARC Energy) was founded in 2007 to commercialize cutting-edge technologies for LED and other clean energy markets. For additional information about ARC Energy, please visit http://www.arc-energy.com/.
DIGITIMES' editorial team was not involved in the creation or production of this content. Companies looking to contribute commercial news or press releases are welcome to contact us.