The bright future of Taiwan optoelectronics industry
Sponsored content
Friday 3 May 2013
The semiconductor industry, particularly the wafer foundry segment, is one of the most competitive industries in Taiwan. However, the global optoelectronics industry has also been growing at a fast pace since the beginning of the 21st century, which is likely to be named the era of optoelectronics industry, according to National Taiwan University Professor Ching-Fuh Lin.
Global revenues of the optoelectronics industry totaled US$400 billion in 2011, of which Taiwan accounted for US$65 billion or 17%; Taiwan's contribution to the segment is rather significant given Taiwan's population accounts for only 0.35% of the global population.
The rise of solar energy, growing demand for energy-saving lighting devices and ever-improving display technology together have contributed to the sustainable growth of the optoelectronics industry. Taiwan happens to boast a considerable degree of advantages in the solar energy, lighting and display industries, which will enable Taiwan makers to continue playing an important role in further integrating the electronics and optoelectronics industries in the future.
High prices were the main reason for the slow popularity of solar energy previously. Solar module pricing stood at as high as US$76/W in 1977, Lin said, citing data from The Economist. However, quotes for solar PV modules have dropped to US$0.74/W on average recently. The availability of cadmium telluride thin film solar cells and the rise of solar module makers in China have contributed to the steep fall of solar module prices. However, there is still room for further reductions in solar energy prices. The total system cost of solar power stood at US$8/W in 2004 and has descended gradually to US$3-4 or even lower recently. Solar energy providers aim to bring down the system cost to US$2/W. Eventually, solar energy will be able to compete effectively with fossil-fuel power if the system cost of solar power can be reduced to US$1/W, Lin commented.
Taiwan has been channeling its resources to the development of electronics and semiconductor industries, but has yet to commit significant investments to the energy industry, which is larger than the semiconductor industry in terms of market scale.
Taiwan-based oil company Chinese Petroleum Corporation (CPC) and electricity supplier Taiwan Power Company (Taipower) posted revenues of US$31.1 billion and US$15.5 billion, respectively, in 2011, compared to the US$14 billion recorded by Taiwan Semiconductor Manufacturing Company (TSMC) during the same period. Powered by a workforce of 84,000, Exxon Mobil generated revenues of US$486.4 billion in 2011, during which Intel posted revenues of US$54 billion with its workforce totaling about 100,000.
Global production value of flat display products reached US$173 billion in 2012, with TFT-LCD panels accounting for over 93% of the total value. Within the industry, the production of OLED devices has been growing at a CAGR of over 23% during a period that covers 2009 when the global economy was hit hard by a financial crisis. In light of opportunities for a number of display products, including e-paper, 3D displays and portable display devices, the global display industry is set for robust growth in the future.
While a number of makers have begun developing curtain- or wallpaper-type flexible roll-to-roll displays, production costs and reliability of the products still remain a major concern of the industry. Having control of key technologies and components such as light-emitting devices and transparent transistors will be essential to lowering the production costs and reliability of flexible display devices.
In the field of solid-state lighting, Taiwan makers have the highest potential utilizing related LED technologies they have. According to Morgan Stanley, demand for LED lighting products will grow by a CAGR of 31% during the period from 2007-2020. But the local LED industry still needs to tackle some issues.
While a LED bulb with an efficacy rate of 20% is able to deliver a brightness of 900lm/W at 15W, it is estimated that only 3W of the power is utilized to deliver the brightness and the remaining 12W is used for heat dissipation.
However, if the efficacy can be ramped up to 80%, the bulb will just need to consume 0.75W for heat dissipation. As a result, a reduction in thermal design can help bring down the cost, while saving more energy.
Taiwan's LED industry is also facing challenges in terms of production equipment and patents, as a bulk of production equipment needs to be imported, and it stands in an unfavorable position in the cross-licensing trade-offs.
Issues concerning the availability, prices and related patents of fluorescent powder, a major material for the production of LED devices, are also unfavorable to Taiwan makers. Local manufacturers should develop new fluorescent technologies without the use of rare earth as well as new crystal growing equipment to enhance their competitiveness in the LED lighting segment.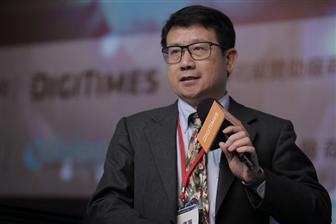 National Taiwan University Professor Ching-Fuh Lin