Merck inaugurates its New Business R&D and Application Lab in Taiwan
Press release
Wednesday 8 May 2013
Optimistic about Taiwan's display and IT industries, Merck has unveiled its New Business R&D and Application Lab in Taoyuan, Taiwan. The Lab will provide key materials and first-rate services for the development of OLED panels, LED lighting, 3D technology and flexible displays.
Merck KGaA Executive Board member Bernd Reckmann noted that the company chose to build the lab in Taiwan because of Taiwan's leading position in the production of notebook computers, smartphones, LCD TVs, semiconductors, and touch panels, as well as its sound investment climate, outstanding human talent, and comprehensive industrial supply chains.
Taoyuan County Magistrate Wu Chih-Yang, speaking at an event where the lab was unveiled, remarked that his county provides an excellent investment environment because of its various infrastructure and economic developments, such as the opening of the Wugu-Yangmei Overpass, the establishment of the free trade port and free trade demonstration zone, and the Taoyuan Aviation City project.
Merck established an ITO sputtering line in Taiwan back in 1993 and the Liquid Crystal research center in 2005. Lin Chiun-Neng, director general of DoIT under the Ministry of Economic Affairs (MOEA), noted that the new lab is expected to add further momentum to implement Taiwan's industrial development policies, helping industries turn their operations from "efficiency-driven" to "innovations-driven" ones.
Providing real-time services and accelerating products' time to market
The New Business R&D and Application Lab will enable Merck Display Technologies to offer timely, professional and innovative technology services to customers, said Merck's Taiwan Managing Director Dick Hsieh. The lab will provide immediate interaction with clients to understand their needs, resolve their problems, and directly engage in supplying needs for materials, Hsieh said. He stressed that speed is a very important factor behind the birth of new applications, and the new lab could help Merck's customersto shorten their new product development lead-time by as much as one to one and a half years.
Merck showcased many products using its materials and technologies at the event. There was a 55-inch OLED TV with a thickness of only 0.4cm and priced NT$300,000 (US$10,000). When asked about OLED and Ultra HD TV (4K2K) pricing differences, Hsieh said that when ink-jet printing technology can be used to mass produce OLED panels, OLED will start to thrive in the market.
Merck has already begun developing ink-jet printing for mass producing OLED TV panels in cooperation with Taiwan-based panel makers by providing materials. No timetable has been set yet for mass production to begin, depending on market trends. Hsieh pointed out that compared to vacuum evaporation, ink-jet printing has lower costs and is able to perform production more quickly, which would greatly cut costs for producing OLED panels. Merck is among the few companies that can supply OLED material for both vacuum evaporation and ink-jet printing processes to fulfill Taiwan-based panel makers' requirements.
OLED enables a diversity of applications
Meanwhile, Director of Marketing & Sales for Merck Liquid Crystals Business Unit John Lee said combining 4K2K and OLED technology will give OLED TVs an advantage in the market, and if the price lowers in the future, a wide penetration in the market will be possible. Lee also said OLED panels are ultra-thin, bendable, and have high color saturation and contrast, allowing them to enter market segments that LCD cannot enter.
OLED is also being used in lighting applications due to its even light spread, high CRI, adjustable colors, and double-side lighting capabilities. OLED can be used for interior design purposes, such as ceiling lights, interactive mirrors and even digital wallpaper applications.
According to research by Prof. Jou Jwo-Huei at the Department of Materials Science and Engineering at National Tsing Hua University, when exposure to LED lighting reaches 13 minutes, people's melatonin secretion begins to reduce by approximately 50%. Jou added that if people use low-color-temperature lighting similar to candlelight, they would be able to ensure their secretion of melatonin would reach at least 80%. OLED is able to provide lighting environment that is most suitable for human to take a deep rest in the evening.
New materials to realize Displaying Futures concept
With 3D optical films and polarizer form a smart application of easy to clean window blinds that will become an alternative to conventional curtains.
Merck also provides solid state lighting materials and high-efficiency phosphorus mixtures for LED products that provide customized color temperature and CRI solutions. These solutions enable high-quality light sources that opens up to a vast LED lighting application.
To enable the development of future displays, Merck offers organic semiconductor materials that can be used for flexible plastic substrates when undergoing low-temperature production. They also provide low-cost printing solutions to realize large-size panels, and will allow electronics products to become thinner, lighter, flexible or even transparent in the future.
Merck, as a material supplier, held its Displaying Futures symposium in Taiwan late last year, discussing with industry players, government officials as well as architects and designers to visualize future life style and how the technology industry can move ahead and prepare to meet user needs.
Reckmann also said it is best to consider future demand before thinking of future panel applications. Using this concept, Merck aims to engage in discussions with industry players from various segments to push the uses and depth of technological applications, which will not only allow panel makers to find a new Blue Ocean, but also let people improve their quality of living.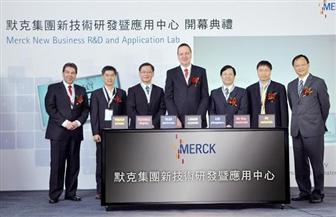 Merck New Business R&D and Application Lab inaugurates in Kuanyin, Taoyuan County.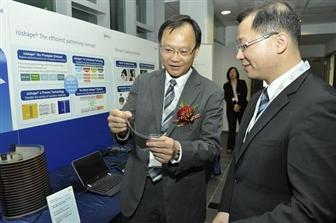 Managing Director of Merck in Taiwan Dick Hsieh (left) shows some of Merck's material applied in the latest technology to Taoyuan County Magistrate Wu Chih-Yang (right).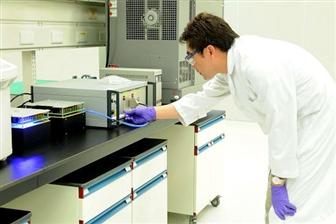 Merck's new lab provides real-time services to assist customers in shorten their R&D process.
DIGITIMES' editorial team was not involved in the creation or production of this content. Companies looking to contribute commercial news or press releases are welcome to contact us.