The evolution of Ghost: U-Reach releases HDD image backup copier
Press release
Wednesday 5 June 2013
For IT/MIS departments, they usually need to perform multiple backups on computer servers. This requires a combination of USB hard drives and complex software to accomplish the task. The most commonly used backup software is Norton Ghost or Acronis, to save as an image onto the HDDs with a proprietary backup extension (.gho or .tib).
With Goblin HDD Image Copier, there is no need for PC or sophisticated backup software. The press of one button will start the job quickly. Just take out the source HDD and use Goblin to connect to the target HDD, and press the button to start saving multiple images on the target. Additionally, Goblin supports 15GB per min (250MB/sec) high transfer speed; the high speed will give IT/MIS departments more confidence in getting their tasks done on time with a more reliable backup archive.
One hard drive to backup several source drives
A normal duplicator or clone machine will require one hard drive for one source. Therefore, you will need several HDDs for cloning multi-sources. However, with Goblin, it does not require a different HDD for each computer. It can save multi HDD source images as many as you wish. Goblin even supports RAID storage as source or target HDD; the source/target capacity can be expanded up to 32TB max.
Easy to restore source image back to its original HDD
It is very easy to restore the source HDD back to its original; just select the specific image you need, and restore it back to its original one.
No data compression, which means no risk of data loss
Goblin supports NTFS, Linux (ext2/3/4), exFAT, FAT16/32, HFS, HFS+ and HFSX formats' data duplication. Therefore, it can quickly save a HDD's system and file instead of cloning the whole HDD. It does not compress the HDD image and will keep the entire original file system.
As the worldwide market leader in DVD, HDD and flash duplicator manufacturing, U-Reach always values customer feedback, and guarantees their satisfaction through attentive customer service and continuous innovation. U-Reach is introducing new products and sharing our experiences at booth J0632 at Nangang Exhibition Hall during Computex 2013.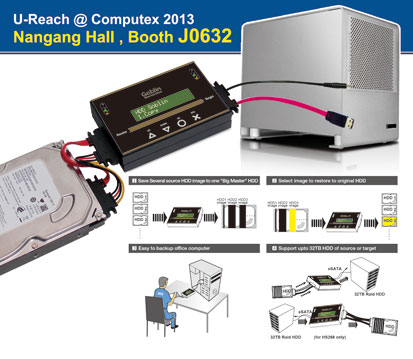 The expert of data equipment - duplication, inspection and sanitization