SAPPHIRE PGS to Display Digital Signage and Remote Graphic Solutions at COMPUTEX 2013
Press release
Friday 7 June 2013
Sapphire PGS is displaying various professional solutions at Computex 2013 at Nangang Exhibition Hall 5F meeting room No. 503.
The digital signage concept is still the display focus of Sapphire PGS for this year. The ideal solution that digital signage SI or customers want the most has three focuses. First is that they want to use a minimal number of system units to control the maximum number of high definition displays in order to save energy and prevent cross-systems of different units from affecting the stability. Secondly they want the high graphics performance to execute the high resolution or heavy loading content to catch the audience's eyeball. Third, they want the solution to include a simple, flexible, and easy to use scheduling software.
Sapphire PGS is displaying a set of 18X1 Portrait mode arrangements at the exhibition, which only uses one system along with 3 AMD FirePro W9000 6 output graphics card to display a 19440 x 1920 resolution. A long strip arrangement is a very common digital signage arrangement: for example, electronic clothing catalog, menu display at restaurants, flight information billboards or artwork display at museums etc. This 18-monitor digital signage display works along with the PowerCastX software which was developed by Sapphire itself. The user interface of this software is very intuitive and simple, and allows users to define many sets of schedules with automatic looping and playback. It can also support the playback of multiple 1080P videos, and supports outputs including flash, dynamic websites and audio, etc. This set of displays will provide a best new selection for many digital signage integrators.
Another display is the current development trend cloud concept. The demonstration is a remote graphics solution, which uses the AMD FirePro R5000 remote graphics card integrated with the newest 28nm GCN architecture and the PCoIP techonology from Teradici. This allows the remote (client)-terminal to directly own the hardware equipment and graphic functions of the host-terminal, and supports up to fur displays at the remote (client)-terminal. The usage of remote graphics will allow the host-terminal company to vastly save on hardware equipment fees, and simultaneously achieve the data access confidentiality function.
There will also be multiple professional graphics software set on-site, such as Dassault Solidworks 2013, CREO 2.0 from PTC, and the newest Premiere Pro from AdobeE, allowing all professional CAD/CAM/M&E users to experience the stunning optimized performance of the all new W series on-site.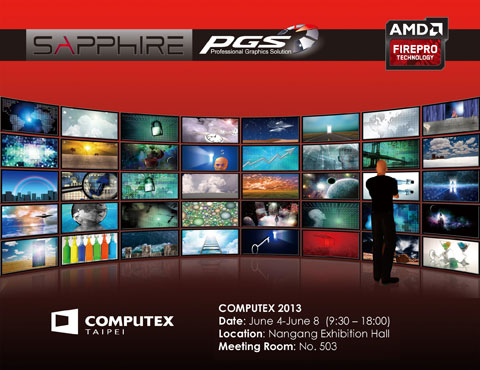 SAPPHIRE PGS to Display Digital Signage and Remote Graphic Solutions at COMPUTEX 2013
SAPPHIRE Technology at Computex 2013
Date: June 4- June 8 (9:30-18:00)
Place: Nangang Exhibiton Hall 5F
Meeting Room: No. 503