Supermicro debuts Intel Xeon E3-1200 V3 based MicroCloud and motherboards
Press release
Friday 7 June 2013
Super Micro Computer, a global leader in high-performance, high-efficiency server, storage technology and green computing is exhibiting its latest energy efficient server and storage solutions this week at Computex 2013. The showcase will focus on maximizing performance and capacity per watt with innovations in power saving, higher density server and storage systems.
At the show, Supermicro will launch a full line of Intel Xeon processor E3-1200 V3 family based desktop and server motherboards along with its new high-density, power-efficient 3U MicroCloud featuring 12x independent hot-swappable nodes, each supporting 13W-80W CPUs. Exhibits will also feature versatile and power saving FatTwin and Twin Architecture based systems, 4U SuperStorage featuring 72x 3.5-inch external hot-swap HDDs and an exclusive look at Supermicro's new Mid-Tower Hyper-Speed Gaming System. HPC optimized GPU server solutions, high performance workstations for HFT and digital media, SuperBlade for the enterprise, embedded systems and over 50 single, dual and quad motherboards to match any specific application will also be on display. Additional products include 10/1GbE networking solutions, Battery Backup Power (BBP) modules, SuperRack and System Management Software Suite for complete integrated solutions.
"With energy and expansion costs rising worldwide, data centers and cloud service providers need server, storage and networking solutions that offer greater savings in terms of operating efficiency and capacity," said Charles Liang, president and CEO of Supermicro. "Our new MicroCloud delivers on all fronts with improved performance, support for 13W low power processors and higher density with 12 independent hot-swap nodes in a 3U form factor. Alongside our new line of Intel Xeon E3-1200 V3 based products, power saving FatTwin architecture and full range of energy efficient server and storage solutions, Supermicro is leading the market with server-building block solutions that save energy, cost and in the long run, our Mother Earth."
Intel creates energy-conscious technologies for tomorrow and our Intel Xeon processor E3-1200 V3 launch embodies this pursuit, according to Intel. With this processor launch, Intel delivers to market lower power consumption with higher performance and new feature sets. Supermicro is one of the leaders in server innovation and its launch readiness with products from X10 motherboards to its new 3U 12/8 node MicroCloud server supporting Intel's latest processors emphasize Intel's combined commitment to expanding green computing.
Supermicro exhibit highlights at Computex:
- 3U 12-Node MicroCloud (SYS-5038ML-H12TRF) 12 independent hot-swappable nodes, each supporting Intel Xeon E3-1200 V3 13W-80W CPUs, 32GB memory, 2x 3.5" or optional 4x 2.5" HDDs and MicroLP expansion
- 4U FatTwin
* Data center power saving - 8x hot-plug nodes, front I/O (SYS-F617R3-FT) 16% lower power consumption with an innovative air-flow optimized design, shared cooling and power resources, Platinum Level high efficiency (94%) redundant power supplies
* GPU for HPC - 4x hot-plug nodes, front I/O (SYS-F627G3-FT+) 12x GPU/Intel Xeon Phi coprocessor (3x per node)
* Hadoop Big/Data - 4x hot-plug nodes, front I/O (SYS-F617H6-FT+) 12x fixed 3.5-inch HDDs plus optional 2x fixed 2.5-inch HDDs
- 4U high-density Double-Sided Storage (SSG-6047R-E1R72L) 72x 3.5-inch external hot-swap HDDs with 2x internal (optional 2x external) 2.5-inch fixed HDDs
- Mid-tower hyper-speed gaming system (SYS-5038AD-T) featuring Intel Xeon processor E3-1200 V3 series with overclocking and water cooling support ready, triple-display output, Thunderbolt, 3x PCI-E 3.0 x16 slots and 2x 5.25-inch optical drive bays, 3x 3.5-inch internal HDD bays, 2x 3.5-inch external hot-swap HDD bays and optional 4x 2.5-inch HDD bays
- 4U MP SuperServer for enterprise (SYS-8047R-7JRFT) supporting quad Intel Xeon processor E5-4600 series, up to 768GB DDR3 1600MHz ECC memory in 24x DIMMs, 8x PCI-E 3.0 x16 slots, 24x 3.5-inch hot-swap HDDs, 2x 10GbE LAN ports, 10x USB 2.0
- 7U SuperBlade solutions - The all-in-one SuperBlade features 94%+ power efficiency and high bandwidth connectivity through optional network switch modules, including 56Gb/s FDR IB (SBM-IBS-F3616M), FCoE (SBM-XEM-F8X4SM), 10GbE (SBM-XEM-X10SM) and 1/10GbE (SBM-GEM-X3S+)
* Dual-node DP TwinBlade (SBI-7227R-T2 and SBA-7222G-T2) offering the highest compute density with up to 120 dual-processor servers per 42U SuperRack achieving an unrivaled 0.35U per DP node
* 64-core AMD G34 4-way MP Blade (SBA-7142G-T4)
* 3 TFlops GPU blade (SBI-7127RG)
* 9.6TB storage blade with HW RAID & BBU (SBI-7127R-S6)
* PCI-E 3.0 x16 expansion workstation blade (SBI-7127R-SH)
- High bandwidth 10-Gigabit Ethernet top-of-rack switches, 24-port SSE-X24S and new 48-port SSE-X3348T/TR 10GBASE-T switch for RJ45 connections over copper CAT6 cable.
- System management software suite NMView providing sophisticated power management down to clusters, servers or processors and additional out-of-band management utilities that provide batch BIOS updates without interrupting application performance.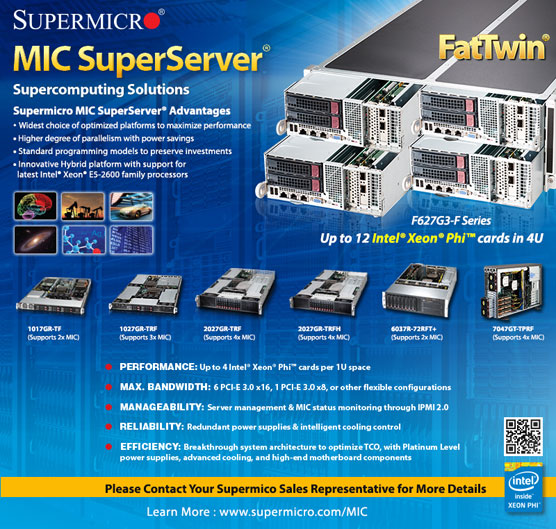 Visit Supermicro at Computex 2013 at the Taipei World Trade Center (TWTC) Nangang Exhibition Hall, Booth #M0820 (4th Floor) or browse Supermicro's total line of high performance, high-efficiency server and storage solutions at http://www.supermicro.com/.