PowerByProxi aims to cooperate with Taiwan makers to explore wireless power market
Press release
Thursday 20 June 2013
With unique loosely coupled wireless power technology, New Zealand-based PowerByProxi has been a promising up-and-comer in the industry recently. According to Greg Cross, Chaiman & CEO of PowerByProxi, the company has taken the lead to develop in-device charging solutions for consumer applications with better safety and efficiency.
In order to expand this new market, he is looking for the opportunity to work with Taiwan makers by leveraging Taiwan's strong manufacturing capabilities and supply chain advantages.
PowerByProxi was founded in 2007, and has raised USD 10M in funding in 3 rounds. The company is based in New Zealand with its R&D center, and has already set up sales office in Silicon Valley, US. It is planned to establish a new office in Taipei in the near future.
"PowerByProxi was a spun-out of University of Auckland, the leading wireless power research center over 30 year", Cross said. "We lead the industry with the most comprehensive technology and over 100 patents worldwide."
Wireless charging technology with unique advantage
He emphasizes that PowerByProxi focuses on delivering more practical solutions for customers. For the wide adoption of wireless power, functionality will be a major driver to boost the take-off of the new applications.
PowerByProxi has been delivering its solutions for industrial customers for four years to work in demanding mission critical environment from wind turbines to process automation. It is proved that its technology can perform with high level of efficiency from power source to device even in demanding variable load applications.
As for consumer electronics, the company started an R&D program three years ago. "Unlike the existing tightly coupled solutions, our miniaturized loosely coupled or highly resonant wireless power can be integrated in even the most space constrained CE devices", Cross said.
"It means that CE devices can be charged with any orientation. With this spatial freedom, our solution really helps maximize customers experiencer with wireless power."
Another feature of PowerByProxi's technology is that its industry-leading transmitter has the ability to charge one to multiple devices simultaneously. Moreover, it can intelligently detect foreign objects, so even conductive objects won't get hot. "This high level of safety and flexibility is the key to the wide adoption by consumers", he stressed.
Promising outlook for consumer applications
PowerByProxi has developed the world's first wireless rechargeable AA battery, Proxi-Fi AA. Cross explained that AA batteries are widely used in various CE devices, such as TV remote controllers, digital cameras, and hand-held game consoles. This solution can make in-device charging a ubiquitous reality for literally millions of existing devices.
As for smartphones, PowerByProxi has also developed an integrated solution that meets safety standards. According to Cross, current wireless power solutions for smartphones are provided as an accessory rather than a built-in solution, which has slowed its wide adoption. PowerByProxi's technology, which is featured with miniaturization and effective heat management, can be directly integrated into a smartphone.
With PowerByProxi's integrated receivers and Proxi-Fi AA wireless rechargeable batteries, Cross believed that, the in-device charging solution will be getting more popular as the technology matures. As a result, there will be a new product category such as transmitter stations emerging in the future.
Cross foresees that, in the future, many wireless charging stations will be required in every household, so that consumers can put their TV remotes, cell phones, game controllers or cameras on/or in the station for charging at any time.
Seeking for partnerships with Taiwan makers
PowerByProxi is ready to offer the technology solutions, and the company is now ready to move into commercial production. Eyeing the strong manufacturing capabilities and supply chain advantages that Taiwan has, Cross believed that it is important for PowerByProxi to develop commercial opportunities with Taiwan's OEM partners in smartphone, tablet and battery markets.
Cross has been visiting Taiwan frequently in recent times and they have begun talks with several local makers. In addition to building up partnerships, PowerByProxi also has plans to establish a product development center here. Moreover, he is looking at the potential of an IPO in Taiwan, as it represents a strong and knowledgeable market for hi-tech companies like PowerByProxi in terms of manufacturing and capital raising.
In particular, he believes that the wireless power transmitter will become a whole new industry. "The demand will be huge as more in-device wireless charging solutions are available", Cross said. PowerByProxi will take the lead to drive the readiness of this new product and expects to work with Taiwan OEM partners in transmitter manufacturing and distribution in the future.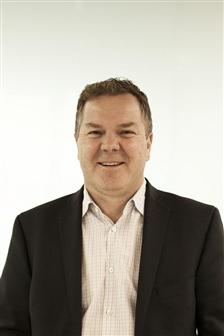 Greg Cross, Chaiman & CEO of PowerByProxi
DIGITIMES' editorial team was not involved in the creation or production of this content. Companies looking to contribute commercial news or press releases are welcome to contact us.