Chilisin eyes strong prospect of tablet market, expects strong growth
Press release
Thursday 20 June 2013
Having established an early entry into the smartphone market, Taiwan-based power inductor manufacturer Chilisin delivered strong revenue performance in 2012. To sustain this growth momentum, Chilisin is now targeting the tablet market, a prominent and growing segment in the portable device market.
According to the latest forecasts by the research institute, Gartner, tablet shipments will reach 197 million units in 2013, representing a year-on-year growth of 69.8%. Optimistic about the tablet boom, Chilisin notes that the tablet market is still at its high-growth stage and compared to makers from other application segments, tablet firms give priority to steady components supplier, hence pricing competition is not as severe. Chilisin has been establishing a strong position in the tablet market, and expects the tablet segment's share of total revenues to increase from 3% to 10-15%. Consequently, it expects the handheld device segment, including smartphones, to contribute 30% of the company's overall revenues.
Miniaturized power inductors in demand to fit limited space in tablets
Tablet shipment data has shown that 7- and 8-inch models are becoming mainstream. Chilisin provides various solutions such as power inductors, common mode filters, and high-frequency inductors for comprehensive tablet products. Chilisin states that because two thirds of the space inside a tablet is occupied by battery, the space left for circuit board is limited. Even a tiny fraction of an inch makes a big difference. As such, components must be shrunk to the smallest size possible.
Catering to the miniaturization trend, Chilisin has developed shielded power inductors as small as 2.5x2.0x1.0mm specialized for large currents. Chilisin has also developed shielded low-DC-resistance power inductors as small as 4.0x4.0x1.2mm. In addition, Chilisin offers miniaturized closed magnetic circuit power inductors and ultra-small high-frequency power inductors. These power inductors effectively support the reduction of the PCB surface area and satisfy the growing demand for lighter, thinner, shorter and smaller devices offering higher performance yet consuming less power.
In response to the growing demand for Full HD content, Chilisin is also introducing a solution for MIPI interfaces – the CMF11, a multilayer common mode filter that can reduce common mode interference. Chilisin emphasizes that compared to traditional wire-wound common mode filters, the CMF11 is produced using magnetic materials and multilayer technology. The multilayer technology allows the component to be soldered after etching, thereby accelerating production and effectively reducing cost.
Comprehensive technologies enable one-stop shopping
Chilisin has various types of production technology capable of providing comprehensive inductive solutions to its customers. In addition to wire-winding and multilayering technology, Chilisin also has the molding technology. Among inductor manufacturers, few firms are capable of boasting all three types of production technology. To make its product portfolio even more comprehensive, Chilisin has also been developing thin-film power inductors specializing in higher precision inductance. The newly developed thin-film inductors are expected to enter into mass production stage in the fourth quarter of 2013.
One of Chilisin's key competitive advantage is its technology and ability to produce key materials such as ferrite powders and ferrite cores in-house. The mixing of raw materials can be tuned to cater to suit different products, applications and customer needs. Having a well-established vertical integration is one of the key factors that have helped Chilisin to serve many international brands.
Dynamic and flexible strategy to target Japanese and South Korean markets
A while before the smartphone boom, Chilisin was early to foresee that the PC market was on its decline, setting the path for an early entry into the handheld sector. Leveraging the foundation it has laid in the smartphone market, Chilisin aims to focus on both China and other major brands in South Korea and Japan.
Chilisin currently supplies power inductors in volume to various notable Chinese tablet brands. Chilisin is expecting Northeast Asian market shipment growth in the second half of the year. As smartphones and tablets continue to penetrate the consumer electronics industry, product life cycles will continue to shorten as product launches occur frequently. As such, demand for miniaturized power inductors has been consistently growing. With a comprehensive product portfolio and a sharp sensitivity for market trends, Chilisin expects equally strong performance in the tablet market.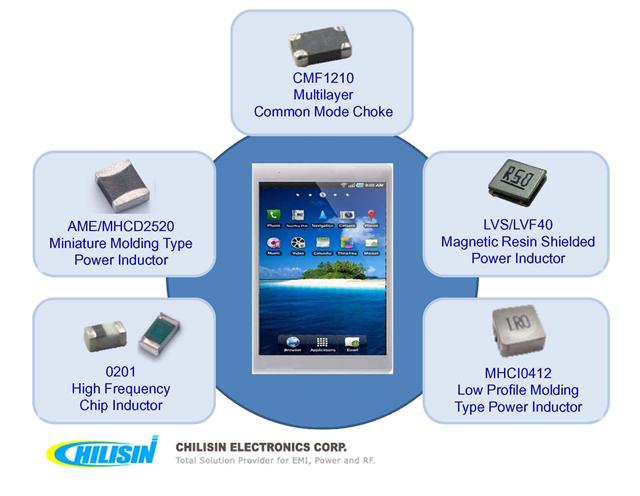 Chilisin eyes strong prospect of tablet market, expects strong growth
DIGITIMES' editorial team was not involved in the creation or production of this content. Companies looking to contribute commercial news or press releases are welcome to contact us.