Indium8.9HFA Solder Paste sees accelerated adoption for miniaturized assemblies
Press release
Tuesday 2 July 2013
Indium Corporation's Indium8.9HFA Solder Paste is a versatile, halogen-free, Pb-free, solder paste with leading print performance on miniaturized components. Assemblers and OEMs are adopting this remarkable new product at an accelerating pace.
Print performance is especially critical for manufacturers of mobile phones and other personal electronics devices as they struggle to contend with sub-8 mil challenges associated with continuing miniaturization in the electronics assembly industry.
Indium8.9HFA Solder Paste provides:
*Low cost of ownership & high print yields
- Unsurpassed transfer efficiency for consistent, full volume print deposits (8 mil) results in reduced frequency of insufficients and high first-pass print yields
- Low print pressure and excellent response-to-pause saves time and money on stencils and line changes
- Solvent-free dry-wiping reduces costs
*Increased throughput
- Higher print speed and reduced wipe frequency enables short cycle time, high up-time, and high throughput printing
Dr. Ning-Cheng Lee, Vice President of Technology for Indium Corporation's Research and Development commented, "Indium8.9HFA represents the culmination of years of research into optimizing rheological properties to obtain the industry's best printing solder paste."
Tim Jensen, Product Manager for Indium Corporation's PCB Assembly Materials noted, "The fast ramp of Indium8.9HFA with personal electronics manufacturers is driven by the product's ability to enable high print yields. Customers really value its high throughput performance. We have not seen adoption rates this fast since the introduction of NC-SMQ92J in 1999."
Indium8.9HFA Solder Paste is part of Indium Corporation's Indium8.9 series of solder pastes. The series was designed to provide multi-faceted performance characteristics, bringing the right balance of solder paste attributes tailored specifically to customers' manufacturing process. Each paste in the series was developed to optimize print performance and mitigate common defects faced by manufacturers of personal electronics, such as QFN voiding, head-in-pillow, and graping.
For more information about Indium8.9HFA or the Indium8.9 series of solder pastes, visit www.indium.com/indium8.9series or email askus@indium.com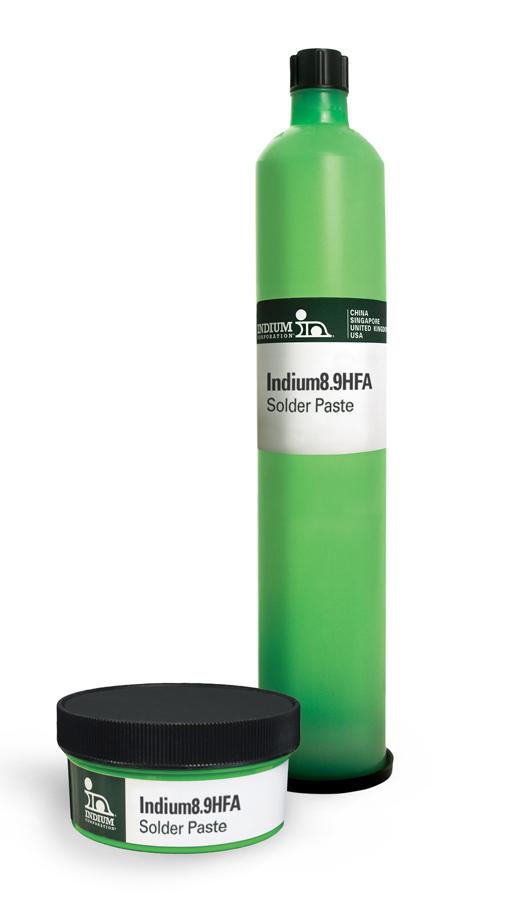 Indium8.9HFA Solder Paste
DIGITIMES' editorial team was not involved in the creation or production of this content. Companies looking to contribute commercial news or press releases are welcome to contact us.