It's good to be in touch
Sponsored content
Monday 29 July 2013
Silver nanowire technology can help reduce the thickness of the conductive layer on touch panels, enhancing the development of flexible panels for new-generation touch applications.
Searching for materials to replace ITO
John LeMoncheck, president and CEO of Cambrios Technologies, indicated that smartphones and tablet PCs are now common devices, and Windows 8 will drive demand for touch-enabled Ultrabooks and all-in-one (AIO) PCs. It is estimated that the touch sensor chip market will grow from 20 million units in 2011 to 85 million units in 2015.
Meanwhile, the industry is searching for low-cost, bendable/flexible materials with high conductivity to replace the indium tin oxide (ITO) conductive layer on touch panels. Candidates include metal mesh, silver nanowires, carbon nanotubes and nanobuds, conducting polymers and graphene. Among them, Cambrios' ClearOhm created using silver nanowires looks the best candidate: it has high transmission (> 98%) and high conductivity of 30 ohms to150 ohms per square foot.
LeMoncheck explained that silver nanowires have high conductivity and high transparency. They are low-cost and easily applied to devices. They can already be found in commercially available applications, and there are already supply chains in support of the technology.
Leading manufacturers of transparent conductive materials
LeMoncheck noted that Cambrios, founded by scientists from the University of California, Santa Barbara and the Massachusetts Institute of Technology, has a design and manufacturing facility in Sunnyvale, California, as well as offices in Japan and Taiwan. Its investors include Nissa Printing, Toray, and Samsung. Out of its 175 nanomaterial patent applications, 22 have been granted. Touch-enabled products such as smartphones, AIOs, and monitors that feature Cambrios' material technology already exist in the market.
Cambrios uses silver nanowire materials to produce ClearOhm conductive transparent inks, which have been shipped to conductive film makers such as Okura, Hitachi Chemicals, Toray, Dai Nippon Chemical ShinEtsu, LG Electronics (LGE), Shinwha, and others in China and the United States. Related sensor components have been supplied by eTurboTouch, LGE, Nissha Printing, CNi, ShinEtsu and others. ClearOhm conductive films boast higher conductivity and faster touch response speed than ITO ones, and they are suitable for large-size touch-enabled AIO devices. Its 92% transmission means superior brightness and longer battery life compared to an ITO one-glass solution (OGS). There are no specific visible patterns or moire patterns. The ClearOhm technology can create 27-inch touch sensors of thickness ranging from 0.2mm to 0.4mm. Adding a Corning Gorilla Glass cover will only increase the thickness by 0.05 mm. It is cost-effective and can support any touch application and design of any size.
So far, products that have adopted the ClearOhm technology include smartphones such as Huawei's Ascend available through Sprint in the United States, and the NEC Medias X N-07D available in Japan through NTT DoCoMo. Other products include LG's 23-inch AIO PC, GVision's 15-inch POS monitor, and Intel's 13.3-inch Ultrabook reference design. In terms of production process and material costs, ClearOhm supports roll-to-roll (R2R) manufacturing to significantly reduce coating costs. The built-in resistors, optical adhesive (OCA) and nanowires can reduce the costs for laser engraving or the Hitachi Chemical TCTF process. Assembly can be done on transparent plastic films using the GF1 and GF2 structures without OCA optical adhesive.
Touch screens using metal mesh technology will have different metal line layouts depending on the resolution of the display. However, the ClearOhm sliver nanowire solution can be applied to 1080p, 900p, or 768p displays, which reduces costs for system design, back-end panel testing and assembly, and supply chain inventory management.
New conductive coating technology to enable flexible displays
John LeMoncheck noted that the transparent conductive transfer film (TCFT) co-developed by Cambrios and Hitachi Chemical is a two-layered PET film structure formed by a layer of Hitachi's dry resist of only 5μm in thickness, and another layer of ClearOhm nano-conductive ink that is only 0.1μm thick. This TCFT adopts low-temperature bonding technology that allows a matrix of X- and Y-axis electrodes to be only 10μm in thickness. These electrodes offer excellent conductivity, and they can be patterned on any film substrates or tempered glass. It supports roll-to-roll manufacturing.
The conventional ITO process involves the deposit layer, resist formation, patterning, etching, and stripping. The Hitachi TCFT process involves the substrate, TCT film lamination, patterning, TCT film lamination, and engraving. It means part of the ITO processing can be adapted for TCFT.
LeMoncheck played a video clip showing the co-development of flexible e-paper by Cambrios and AU Optronics (AUO). An e-paper with a ClearOhm film, after being rolled up more than 50,000 times at a radius of 5mm, will see its resistance value increase to only 28.79 ohms per square foot from the original 19.25 ohms. Its transmission and conductivity remains high. In addition to touch panels, the ClearOhm technology can also offer material solutions for flexible 3D LCD displays, OLED displays, OLED light, solar PV panels (with a conversion rate of 12%), and automotive applications.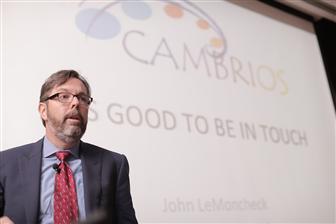 John LeMoncheck, president and CEO of Cambrios Technologies