A new generation of multi-touch technology for the mass PC market
Sponsored content
Tuesday 30 July 2013
A low-cost and high-transmittance multi-touch solution is now available for 11- to 36-inch devices, ranging from ultrabooks to all-in-one (AIO) PCs running Windows 8.
Eyeing US$600 portable multi-touch device market
According to Mark Hopgood, director of strategic marketing for Dialog Semiconductor, various research institutions have indicated that ultrabooks will start to see explosive growth in 2014. Slimmer than 21mm, ultra-slim PCs (including Ultrabooks and notebooks) will see unit sales increase from 32,000 units in 2013 to 170 million units in 2016. Shipments for AIO units will increase to 17 million units in 2013 from less than five million in 2008, a growth rate of over 300%.
Because of the high costs associated with today's multi-touch solutions, they are usually used only in high-end ultrabooks or AIO PCs priced over US$1,000. But for touch-enabled Ultrabooks and AIO PCs to enter the mass market, their prices must come down to the US$600 level. To enable lower-priced touch-enabled ultrabooks and AIO PCs, cost-effective multi-touch solutions are needed, and Dialog already has such a solution.
Pros and cons of various touch technologies
Hopgood compared the existing resistive, acoustic, imaging, infrared, and capacitive technologies as well as the Smartwave multi-touch technology introduced by Dialog. Resistive allows users to operate the touchscreen while wearing gloves. The technology can meets ruggedized and dustproof requirements and is suitable for 11-inch or larger displays. However, it does not support the multi-touch Windows 8, or bezel-free applications. Its transmittance is poor.
Acoustic touch is characterized by good transmittance and can be applied to all devices. However, it does not support multi-touch, or work while wearing gloves. Surface dirt can affect its touch sensitivity.
Imaging and infrared touch technologies use camera lenses or infrared emitters at the upper left and right corners of the screen to detect and calculate the touch coordinates as the user touches the screen and blocks the light rays passing through the surface of the screen. They allow users to work while wearing gloves, support Windows 8 multi-touch, and have high transmittance. However, they do not support bezel-free applications, and their durability and dust-proof ability are poor.
Capacitive touch is the current mainstream technology for smartphones. Not only does it support multi-touch, it is also durable, dust proof, and can achieve borderless designs. However, it does not support control while wearing gloves, and transmittance depends on the thickness of the touch panel. The major issue with this technology is when it is applied to 11-inch or larger screens, yield issues will drive up production costs sharply.
Dialog's Smartwave multi-touch IC
Dialog's DA8901 SmartWave multi-touch integrated circuit (MTIC) adopts the patented and market-proven FlatFrog Planar Scatter Detection (PSD) touch chip. It detects the subtle changes caused by users' touches to the paths of the repeatedly refracted infrared beams inside the cover lens. PSD provides natural and smooth touch responses. It can make responses corresponding to the strength and depth of a press on the screen, which lets it work as a third dimension Z-axis control to simulate real-life experiences, such as finger tapping, pressing or dragging objects.
The Smartwave touch module is designed with an ultra-narrow PCB. The size of the module is similar to that of protective glass. It is suitable for 11- to 36-inch ultra-slim devices, convertible systems, tablets, AIO PCs, and monitors. The touch module does not require an internal sponge layer; the air gap is minimized; and it enables full edge-to-edge designs.
The DA8901 MTIC is equipped with a 40MHz ARM Cortex M0 processor, ROM/RAM, four sets of linear transformer output lines (LDO), and standby/quick recovery energy-saving technologies. It features 12 infrared emitter and 12 analog front-end receivers, offering excellent ambient light noise elimination capabilities. The infrared emitters at the four borders emit beams 100 times per second. The system can chain up to 15 DA8901 (slaves) and support a maximum of 192 touch sensing channels. It has low-latency, and the touch resolution can reach up to 400 dpi.
Cost-effective solutions for medium- to large-size touch panel applications
Hopgood stressed that the DA8901 Smartwave supports Window 8's multi-touch at a low cost and can work with gloves, styluses, and other objects. It can detect touch pressure, and is more suitable for 11-inch and larger touch-screen applications compared to capacitive touch. In addition, it does not require the ITO conductive glass layer, and therefore boasts high transmittance and reduced display module thickness. It reduces production costs and raises yield rates, and can be adopted for edge-to-edge bezel-free industrial designs.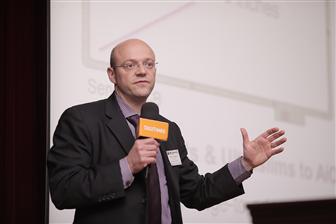 Mark Hopgood, director of strategic marketing for Dialog Semiconductor