Chilisin succeeds in expanding clientele through cooperation with IC design houses
Press release
Monday 9 September 2013
Internet traffic has been showing explosive growth and consumer behavior has been quickly changing given the availability of various networking products. Chilisin Electronics has noted significant changes in supply chain dynamics following downstream device makers' rush to launch new products. Chilisin's clients, particularly communication and networking device makers, are increasingly dependent upon IC design houses, directly adopting their reference designs in order to shorten the process of product development. This trend reflects such vendors' need to accelerate time to market for their new products.
In this market environment, component makers will gain a strong and privileged position in the supply chain if their products are featured in IC designers' reference designs. Most importantly, they will also enjoy a relatively longer shipment cycle. In light of electronic products' shortening life cycle nowadays,, suppliers who are selected only as second source for components used in revised versions of mature productswill not only face a shorter shipment cycle, but also heavy pricing pressure against original suppliers. Once caught in the vicious cycle of price competition, component makers will face long-term unfavorable impact on their businesses.
In order to better serve IC design clients in the reference design stage, Chilisin has set up field application engineer (FAE) teams in the US, Taiwan and China to maintain timely service and maximize support for clients.This progressive business model has successfully promoted the MHCD Series, an outstanding product line developed in 2013 that has seen wide adoption in power applications usage among hand-held device makers. The figure below is an efficiency comparison of Chilisin's 1uH 3.2 x 1.2 x 1mm MHCD versus competitor's 1uH 4.45 x 4.75 x 1.2mm products. Leveraging its internally-developed powder technology and manufacturing process integration capability, Chilisin has successfully reduced the size of the component while maintaining equivalent or even higher performance. Chilisin's strength in product development and its flexibility in meeting clients' varying needs have won plaudits from IC design houses.
Chilisin's product development has been closely following the needs of IC design houses. Developing ever-slimmer products has been the principal focus of all component makers, and power consumption and efficiency are crucial to the products being adopted by clients. Over the next two years, Chilisin is in line to develop wire-wound inductors with a height of only 0.6mm for enhanced power applications in hand-held devices. Inductance will reach as low as 0.16uH to support increasing switch frequencies, while direct current resistance will decrease by at least 30%. With its in-house powder formulation technology, Chilisin continues to improve its core material formulae and aims to diminish granular powder size from micron level down to nanometer.
Chilisin has succeeded in becoming a partner supplier to many internationally-renowned IC design houses. In addition to development efforts based on IC design needs, Chilisin also plans to extend its partnerships to power management chip design houses over the next few years, offering power modules to serve clients with even more diverse product lines.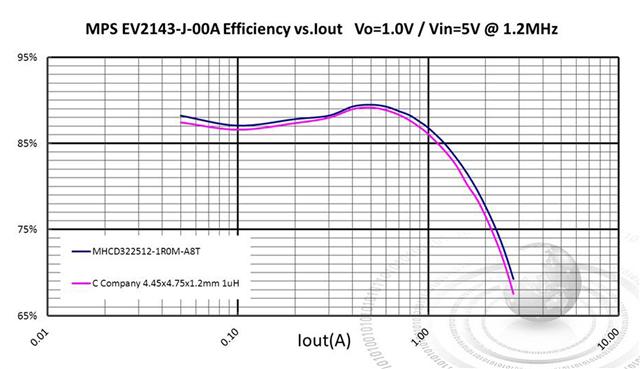 Efficiency comparison: Chilisin's MHCD322512-1R0M-A8T (1uH 3.2 x 2.5 x 1.2mm) vs. competitor's product (1uH 4.45 x 4.75 x 1.2mm)
DIGITIMES' editorial team was not involved in the creation or production of this content. Companies looking to contribute commercial news or press releases are welcome to contact us.