Brazilian media visits EverFocus production center
Press release
Monday 28 October 2013
In early October, Taiwan External Trade Development Council, TAITRA invited Brazilian mainstream TV channel "Band" and the chief editor Victor Hugo Piiroja of the largest security control magazine "Revista Digital Security" to visit EverFocus production center in Sengkeng, New Taipei City, Taiwan. In addition to magazine interview, this is the first time this year for EverFocus to have a general TV media in EverFocus production center.
Thanks to TAITRA, EverFocus's continuing efforts to promote Taiwanese products and brand to the global market have drawn the international media's attention once again. The interview gave EverFocus a great opportunity to show their products and their high quality production environment which they are very proud of to Brazil media.
The interview of the "Revista Digital Security" magazine is also a beneficial exchange of market information between Taiwan and Brazil. EverFocus once again confirmed that there is a strong demand of security monitoring products in Latin American countries. The growth rate of surveillance products' demand in Brazil is more than other Latin American regions at an annual growth rate of 10%. Two biggest upcoming sporting events 2014 World Cup and 2016 Olympic Games in Brazil will increase the demand certainly.
From 2011 to 2014, the Brazilian government will provide public safety services and security equipment investment of approximately $20 billion. Among them, video surveillance systems, radio communication equipment, access control systems, biometric devices, metal detectors, police protection equipment, fluorescent vests, fire extinguishing equipment will be the major focuses. Therefore, the exchange of the latest marketing information is very favorable.
EverFocus is fortunate enough to make it on to the Brazilian television; the report is expected to be broadcasted in November in the prime time of evening news period with an average viewer of 10 million people.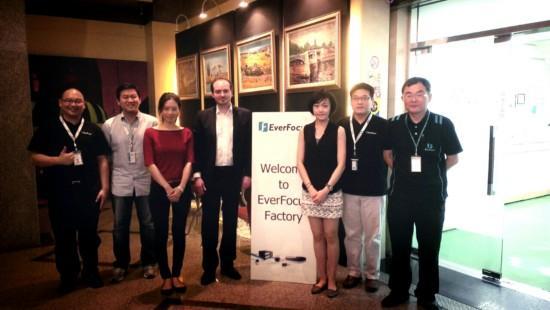 Brazilian media visits EverFocus production center
DIGITIMES' editorial team was not involved in the creation or production of this content. Companies looking to contribute commercial news or press releases are welcome to contact us.