GKB installed fire detection in Australia air hangers
Press release
Wednesday 25 December 2013
In airports, where breaches can cause shutdowns, grounded flights, and put the safety of thousands of passengers at risk, security is essential. GKB could keep pace with Airport's security requirement, significantly reduce the potential risk, and provide a solution that responds rapidly and effectively if a disastrous issue occurs.
Background
NSW Police Force is the most historical and largest police organization in Australia with ground space of 801,600 km2. NSW Police Force requires high sensitivity of fire video detection to secure air hangers from potential hazards caused by mechanic malfunction or unexpected fuel leakage. GKB VFDS is designed to protect more spacious indoor area than any other conventional fire detectors from fire with high-efficiency solution. With features of visual alarm verification and easy-maintenance, VFDS is of benefits to make clients easily adapt Video Fire Detection.
Solution
NSW Police Force had sought the fire detection solution that could "secure the large-scale aircraft hangers entirely, while still achieving fast detection". The requirement is particularly fit for GKB VFDS, known for innovative IVS technology in Fire Protection, which is able to analyze image and quickly react both flame and smoke issues at their early-stage occurrence. GKB VFDS solution contains 1 VFDS server and 8 cameras. 1 VFDS server is in charge of analyzing image captured from 8 cameras installed in excessive ceiling area of NSW Police Force. GKB, in total, offered three VFDS solutions for aircraft hangers of NSW Police Force, two dedicated to NSW Police Aviation Support Branch and one to NSW Fire Brigades.
Benefit
*High efficiency in wide-open area: VFDS Solution in excessive ceiling area is more efficient and economical than any other fire detectors!
*High accuracy of alarm information to indicate where, when and how fire occurs: GKB VFDS is accurate to detect both flame & smoke spontaneously within cameras coverage.
*Immediate feedback to multi-parties: When the alarm is triggered, not only the Fire Panel is alerted but also alarm video clips are sent by SMS module to inform where, when and how the fire happened. Besides, visual alarm notification can be shown immediately on VFDS server.
*Easy installation and maintenance: VFDS is easy to install, repair, and operate that save time and money for our system integrators and end-user.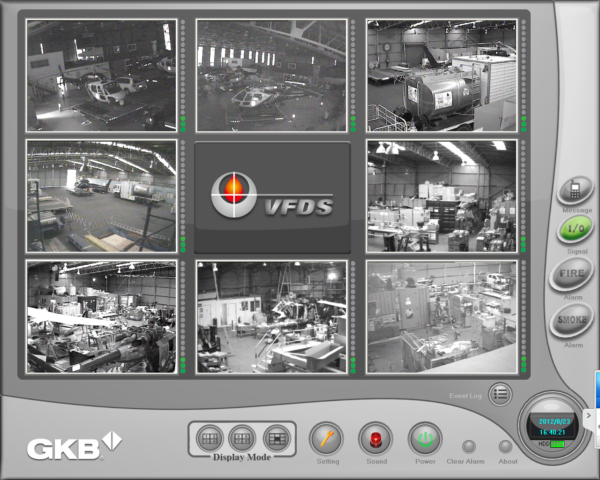 GKB VFDS Solution
DIGITIMES' editorial team was not involved in the creation or production of this content. Companies looking to contribute commercial news or press releases are welcome to contact us.