Gigastone set to make North American debut at CES 2014
Press release
Monday 6 January 2014
Gigastone Corporation, a leading Taiwan-based technology manufacturer, is set to make its North American debut at the 2014 International CES in Las Vegas. The company holds patents for a variety of mobile and networking technologies, as well as its own flash-controller technology.
"Expanding into North America with our recent majority acquisition of Dane-Elec USA was a crucial part of our plan to become a global player in the consumer electronics industry," commented Michael Wang, CEO and chairman of Gigastone Corporation. "It has given us access to major US and Canadian retailers as we begin offering and supporting new products under both the Gigastone brand and Dane-Elec name."
Gigastone Corporation will introduce the latest model to its patented Media Streamer line at the show. As with other models in the line, the new Media Streamer Plus streams content stored on either a USB drive or SD card to a tablet or smartphone without using an Internet connection. The new model steps it up with the addition of an Ethernet port as well as acting as a powerful mobile power charger with Samsung Lithium-Ion 5200mAh batteries.
"Our new Media Streamer Plus provides Apple or Android tablet or smartphone users with four solutions in one product," stated Sherry Chapman, senior director of marketing at Gigastone. "This revolutionary mobile accessory expands storage, allows content sharing, charges mobile devices, and backs up content. Additionally, it has an Ethernet port for network connectivity and a large 5200mAh Samsung Lithium-Ion battery that provides up to 16 hours of WiFi operation. All of that and it's still compact and portable enough to fit in the palm of a hand," added Chapman.
Up to six devices can connect via WiFi to the Media Streamer Plus at the same time and stream different content. For users that need a constant link to the Internet, it features an Internet Bridge that allows connection to the Internet while streaming from the device. It supports iPhone, iPad, iPod touch, Android smartphones and tablets, and Windows smartphones and tablets.
Another new product that Gigastone will introduce at CES is the On-The-Go USB/MicroUSB drive. The handy item allows up to 32GB of content to be easily stored and transferred in either direction between a computer or laptop and an Android smartphone or tablet.
"People today face a dilemma of having material stored on their PC or laptop and needing it on their smartphone or tablet," said Chapman. "Our new dual-drive, bi-directional On-The-Go USB/MicroUSB connector is the perfect way for 'on-the-go' individuals to save, backup, or transfer files. And the process is as easy as 1-2-3."
For instance, to transfer material from a PC to a tablet, the user first simply connects the USB drive to a PC and downloads the desired content. Second, using the MicroUSB port, uploads the material to the tablet; then finally, watches, reads, or shares the material.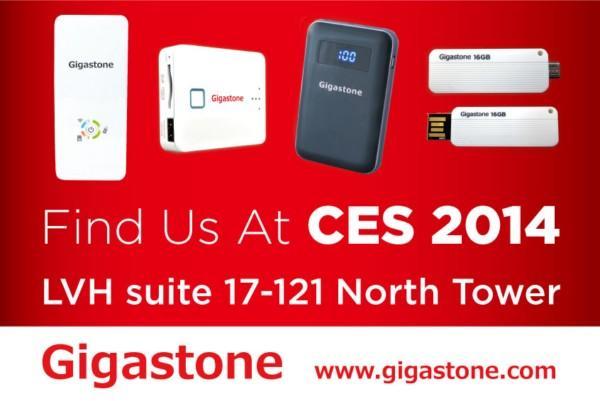 Gigastone set to make North American debut at CES 2014
DIGITIMES' editorial team was not involved in the creation or production of this content. Companies looking to contribute commercial news or press releases are welcome to contact us.