Trends of SSD applications in embedded systems
Sponsored content
Monday 24 February 2014
In the industrial PC market, there is strong demand for high-performance, highly reliable and ruggedized SSDs (solid-state drives). Apacer Technology has overcome SATA III technology barriers and developed the ultra-performance Combo SATA Drive (CSD), and Corepower technology protects data in cache from impact of power disruption. Their water- and dust-proof capabilities are improved by special coating and molding technologies. Apacer also provides industrial- and military-class protection/erase methods and cloud computing-based monitoring software to enhance data protection and remote maintenance capability.
Big changes in storage device interfaces
Robert Lee, Director of R&D Dept. at Apacer outlined the development of interface technology for storage devices, their specifications, and SSD applications in industrial PC. Serial ATA International Organization (SATA-IO) released SATA Rev 2.5 in October 2005, SATA Rev 2.6 in February 2007, SATA Rev 3.0 in June 2009, SATA Rev 3.1 in July 2011. In August 2013, the SATA-IO released SATA Rev 3.2 and several new interface specifications such as SATA Express (derived from PCI Express) and M.2 (NGFF), specified definition of microSSD and removable SSD modules (universal storage modules, USM) and optimized solid-state hybrid drives.
The specification of SATA Express, a new 2.5-inch storage device interface added to SATA Rev 3.2, keeps the original SATA Connector, with definition changed as two sets of 7-pin SATA Port connectors + 3/4-pin PCIe signal. SATA Express is compatible with existing SATA connectors, allowing use of two connection cables. If a SATA Express male connector is plugged in, the interface switches from SATA Express to PCIe. SATA Express is designed to be 2-lane (x2), two-way multiplexing of serial signals with a maximum transfer speed of 2GB/s (PCIe 3.0).
M.2 originated from Next Generation Form Factor (NGFF) unveiled by Intel at its 2012 IDF and is specifically designed for add-on cards of Ultrabook and tablet SSDs. M.2 is used in SSD cache, Type 2242 SSD Cache Slot B measuring 22mm x 42mm, and SSD add-on cards, Type 2260 SSD Slot C measuring 22mm x 60mm and Type 2280 SSD Slot C measuring 22mm x 80mm and Type 22110 SSD Slot C measuring 22mm x 110mm.
microSSD (uSSD) is SATA-IO's specification (JEDEC MO-276) specific to SATA SSD, a single chip through integrated packaging of NAND flash and the controller die. A microSSD chip measures 20mm x 16mm in FPBGA (fine pitch ball grid array) package with pitch of 0.5mm. microSSD can be directly soldered on the motherboard of a small embedded system to save space of the PCB.
Device Sleep (DEVSLP) is an advanced power management protocol for SATA, but has not been used in all industrial PC equipment or general motherboards. In the past, power management for SATA was done through software command, with operation from active state to partial state and then to slumber state. The addition of DEVSLP definition to SATA Rev 3.2 enables SATA peripheral components to go into DEVSLP state for further power saving.
PCIe to become mainstream, but application to industrial PC may see longer wait
Although a shift from SATA to PCI Express for storage devices will be an unstoppable trend, such a shift will not happen in the near future because motherboards used in industrial PC need much time to design and obtain certification, Lee said. PCI Express interface has progressed from 8b/10b coding, single-lane (x1) transfer speed of 2.5-5GT/s (250-500MB/s) and 16-lane speed of 4-8GB/s for PCIe Gen1 & Gen2 to 128b/130b coding, single-lane (x1) transfer speed of 8GT/s (1 GB/s) and 16-lane speed of 16GB/s for PCIe Gen3.
In terms of SSD device sizes, M.2 (NGFF), with 67/75 Connector and 22m x 42/60/80/110mm in dimensions, allows for SATA and PCIe interfaces. MO-300 (mSATA), whose 52-pin mSATA slot is derived from miniPCIe slot, can support SATA and PCIe. A 2.5-inch SSD measuring 100mm x70 mm can support SATA and PCIe (SATA Express/SFF-8639), while MO-297 (SATA Slim) storage modules, despite their 7+15 SATA Connector, so far support only SATA but not PCIe.
SSD solutions for embedded systems
SSDs have been widely adopted by embedded systems including POS (point of sale/service), medical devices, servers, games consoles and tablets for booting and storage purposes. For industrial PC purposes, the order of priority in selecting SSDs was previously: reliability>performance>cost. But the priorities have now changed depending on different market segments. The emphasis may be on performance: performance>reliability>cost; or, more or less similar to consumer devices, the order may become: cost> reliability>performance. All of them, Apacer will add more kinds of application for industrial PC.
For application to industrial PC, SSDs have faced serious challenges to meet requirements of very high speed, cache data protection upon power disruption and ruggedized design, such as water- and dust-proof. In addition, enhanced information security is a must. Users may also want to constantly keep track of the SSDs' conditions and service life, and they may also need smaller and lighter SSD products.
SSD for industrial PC
The Apacer-developed 2.5-inch Combo SATA Drive (CSD) is a SSD device consisting of two SSD systems with two SSD controllers on a single SSD PCB. Under RAID 0 operations, the motherboard of CSD, specifically for industrial PC, supports 2-port SATA and reaches nearly PCIe Gen2 x2 performance (1GB/s). Based on CrystalDiskMark v3 testing, the CSD has sequential read and write speeds of 1,024MB/s and 602MB/s respectively. Apacer offers CSD models of SLC SSD/MLC SSD hybrid design, with SLC for OS and MLC for data storage.
Apacer CSD uses a SFF-8482 29-pin SAS male connector which, based on notch design, can be connected with a SAS female connector at the backplane of a server or network-attached storage device, but not a SATA female connector. System products with SAS female connectors on motherboards can be connected with, in addition to SATA SSD/hard disk drives, Apacer CSDs for quicker operations and backup.
DRAM is added to most SSDs as data cache to increase read/write speeds, but this runs the risk of losing data on DRAM cache if power supply is disrupted. To solve the problem, Apace adopts CorePower technology, using special power protect circuit which, upon power disruption, supply power for controller ICs to write back data from cache to non-volatile NAND flash to prevent loss of data.
For SSD reliability protection design, Apacer adopts low-pressure molding technology to completely clothe ICs and pins on PCBs to avoid oxidation and bending, and this also increases shock-resistance as well. In addition, Apacer adopts inexpensive conformal coating as well as nano coating which can enhance resistance to oxidation, moistures and corrosion by chemicals, solvents or carbon dioxide.
In terms of data protection, Apacer adopts the following technologies: CoreSecurity by virtue of unique encryption to prevent SSDs from being shifted to other platforms for reading; CoreProtector to prevent data, hard disks and devices from being written at three protection levels; CoreEraser Technology to provide functions of quick erase, full erase and military-class erase (MIL Erase).
To keep track of SSD conditions - such as storage capacity, firmware, S.M.A.R.T values, system workload, block erase count, estimated service life, SSD health, system power hour/cycle/failure - it is usually necessary to install monitoring software in the PC equipped with the target SSD. Instead, Apacer provides SSDWidget, a cloud computing-based monitoring application available for download to handsets or tablets with iOS, for monitoring Apacer's SSDs. Apacer SSDs built-in any connected device will send encrypted information on their operations to servers of the clients' private clouds, and the information can be accessed and displayed using SSDWidget anytime. In addition, such information can be browsed using connected devices setup for the purpose.
Apacer has developed uSSD, a microSATA Disk Chip (uSDC) measuring 20mm x 16mm in FPBGA 156 and supporting SATA III. uSDC has been applied to mobile devices, storage on board, slim notebooks and Chromebooks. In addition, Apacer has developed SATA Disk Module which is directly plugged in a 7-pin SATA connector without using a power cable. Power is supplied from the male connector (Not 7-pin) with extra fixed pin of the motherboard SATA port through the female connector of the port to SATA Disk Module.
To meet demand for slim SSDs, Apacer has developed a SSD of only 5mm in thickness that features a SATA 6Gb/s interface. Compatible with a 22-pin SATA connector, it weighs only 57g. Compared to Seagate's and Western Digital's 5mm HDD models, Apacer's 5mm SSD has the advantages of 450MB/s sequential read/write speeds and compatibility with SATA connectors.
While there are many SSD models for industrial PC, Apacer provides SSD solutions with customized hardware and firmware to meet clients' needs running embedded systems, Lee pointed out.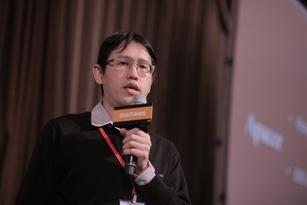 Robert Lee, Director of R&D Dept. at Apacer