Clientron utilizes thin client strengths and targets POS and medical electronics
Sponsored content
Wednesday 7 May 2014
The "information security" has faced tougher-than-ever challenges as the Internet and mobile devices have become prevalent during the modern era. "Bring your own device" is putting the operating environments of many governments and businesses at risk, said Robert Chin, Chairman, President & CEO of Clientron, in an exclusive interview.
On the other hand, thin client PCs incorporating cloud computing technologies are smaller, lighter, and energy-saving, providing enterprise and organization users with the convenience and confidentiality they need most to have better security control.
"While the shipment of the PC is declining, the sale of thin clients continues to grow annually," said Chin, noting the promising growth of thin clients in the interview. "Especially when cloud computing applications at this stage have gradually become universal, a major portion of processing and storage can now be saved on the cloud, which further boosts the demand of thin clients." Clientron has launched thin client products combined with cloud computing technologies.
The top three thin client PC manufacturer in the world
Clientron, founded in 1983, targets user-side thin clients in the B2B market. The company took the lead and developed the world's first 486 thin client in 1996. Since 2006, the accumulative shipments of thin clients have exceeded 2.6 million units, making Clientron the third biggest thin client manufacturer in the world. Its clients include internationally renowned suppliers such as Dell, HP, Lenovo, IGEL and NEC.
Explaining why Clientron has been favored by numerous clients, Chin noted that "our product lines are supported by 9 CPU platform suppliers, with Intel, TI, AMD and VIA are all partners of Clientron's embedded system solutions, which allows us to grasp product trends accurately."
Given that the appeal of thin clients is small-volume production of a wide range of different products, Clientron's R&D team leverages its combination of various embedded platforms and operating systems to design products that meet the demands of public sectors, banks, schools, military units, and many different fields. This is the one of core competences of Clientron.
More than 90% of Clientron's clients, up to 150 companies in total, are foreign companies and mainly located in Europe. Chin himself has three mobile phones and five phone numbers so as to provide timely and complete services. "My mobile phones are never switched off," said Chin. Moreover, owning two factories, situated in Taipei and Xiamen China respectively, enables Clientron to manage the allocation of production capacity as well as the design and manufacture ability more efficiently than competitors in the same industry.
The soaring sales of POS
Apart from thin clients, Clientron began to lay out plans for the POS (point of sales) market in 2011 and saw a substantial growth of 189% in revenues from the segment in 2013. The main reason behind it is that the all-in-one flat panel products introduced by Clientron had caught the eyes of clients with their beautiful designs, coupled with an excellent heat dissipation performance that effectively avoids malfunctioning and reduces the need for maintenance, which accelerated its entrance into the US and European markets.
"Clientron will continue to develop new products based on the profound and professional foundations of embedded systems accumulated over many years." Chin especially pointed out that Clientron is taking active measures planning for the medical electronics market, believing that many Medicare business opportunities will be generated from the aging societies. "Instead of life-related products, we choose to penetrate peripheral devices with ICT technologies." For instance, the Patient Infotainment Terminal, which integrates personal medical information, infotainment, calls and even shopping with credit cards, is identified by Clientron as a medical application with great market potentials.
The future lies in market business opportunities and smart applications originated from linking sensors, IoT, terminals, and cloud computing. In this industry, which is full of growth potentials, Clientron will utilize its experience and know-how in professional embedded platform design, as well as agile manufacturing abilities and quick service support to constantly expand its presence through vertical integration of different industries, and provide clients from various fields with the best solutions for smart embedded platforms.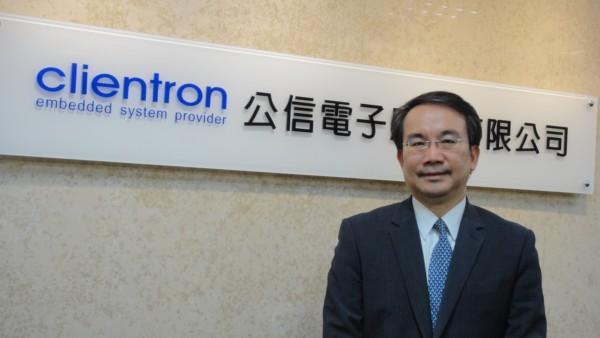 Robert Chin, Chairman & CEO of Clientron, believes the thin client market will continue to grow.
DIGITIMES' editorial team was not involved in the creation or production of this content. Companies looking to contribute commercial news or press releases are welcome to contact us.