Innovative smart traffic control solutions for building a safer, more convenient urban life
Sponsored content
Monday 19 May 2014
Continued innovations in front-end sensor technology, cloud computing, and cloud service technology within the Internet of Things (IoT) sector have contributed to an increasing amount of related applications that can be successfully adopted in transportation and city traffic control systems. According to Roger Shyu, Manager, Axiomtek Co., Ltd., humans continue to pursue technological improvements in order to make their lives more convenient, hence there will be increased emphasis on smart traffic controls.
A complex road traffic network relies on a comprehensive traffic control system. The server room in the control center is crucial, as it contains equipment that collects and monitors various data used to assist users analyze traffic conditions and optimize traffic efficiency. Shyu noted that the server room environmental monitoring system can ensure that the server room operates efficiently; for example, under irregular circumstances, the system will inform technicians via text message or using digital signage. Hence the server room environmental monitoring system has become a key component in the core competence of smart traffic control.
As for addressing other traffic-related data monitoring issues, Shyu added that Axiomtek provides various solutions that target applications such as highway electronic toll collection system, display of traffic conditions, and license plate recognition. Fanless, high-efficiency, expandability and compact are four key characteristics to the hardware and software solutions of intelligent transportation system. For example, Axiomtek's IPC932 industrial computer system is designed with two swappable hard drives and from two to six expansion slots, and as well as different selections of processors to accommodate particular needs. In addition, the size of the system is about the size of a shoebox.
Other than smart traffic control for roads, there are also many important applications for controlling traffic on railways. Functions such as digital monitoring and multimedia broadcasting allow driver to monitor conditions inside the train, display traffic information to passengers and provide engineers/conductors with information regarding the internal physical environment and traffic conditions.
Shyu cited the Axiomtek tBOX as an example of a system used to meet the needs of digitally monitoring railway traffic and ensuring safety. In an environment where track conditions can be unstable, the hard drives, as well as the I/O ports, need to be securely locked to prevent them from loosening. This also means that the system needs to be shock-proof, tolerate a wide-range of temperature fluctuations (exterior environment temperatures change significantly during rail journeys) and comprehensive interface design (the need to securely lock ports) are some major areas emphasized when developing railway digital monitoring applications. The system also needs to provide functions such as wireless transmission and obtain EN50155, EN50121 (railway vehicles) and EN45545 certifications.
For license plate monitoring system solutions, Shyu noted that the Axiomtek rBOX is compact and has been designed to tolerate a wide range of temperatures, which means the system can be installed and operated in small areas where there is no air flow. If the system is connected to the search system of a vehicle that has been stolen, the theft can be reported and the license plate number given to related authorities.
In addition, through license plate recognition, smart traffic monitoring systems can calculate travel time for individual vehicles and help drivers determine the best route by providing information regarding possible alternative routes. In addition to installing systems at highway entrances and exits, license plate recognition systems can also be installed in building parking lots to achieve smart parking management by determining which vehicle is allowed to enter.
Shyu noted that the Axiomtek rBOX smart traffic system is a solution for managing and monitoring road conditions or traffic lights. The rBOX system has a wide range of temperature tolerance, as it can operate effectively in negative 40 degrees to positive 70 degrees Celsius environments. The system is small in size and can be installed using a DIN-rail or mounted on a wall. This allows the system to be installed in small electric circuit boxes or telecommunication cabinets.
Furthermore, the Axiomtek rBOX traffic monitoring system has low power-consumption and can operate with power generated from solar panels. The Axiomtek rBOX adopts dual power inputs so if one power source acts irregularly, the system will automatically switch to power from the other power source to ensure stable operations. Using separate I/O interfaces, the system can avoid disturbances. In addition, the fanless, cableless system is designed to prevent system failure due to a fan malfunction, loosening of wires, and/or a short circuit, thus increasing the reliability and stability of the system.
In various smart applications, many solutions focus on hardware specifications such as CPUs and memory capacity, but in fact, to achieve smartness, the hardware needs help from software to further integrate and strengthen the combined hardware/software technology.
Using a remote monitoring system called AXView as an example; Shyu explained that AXview adopts the Simple Network Management Protocol (SNMP), which allows users to monitor remotely from anywhere and through any device, using the Internet. With the alert function, users can set up the system based on specific needs and the system will automatically send out alerts via e-mail or text when irregularities arise.
AXView allows users to observe the conditions of different equipment at the same time. For example, users can monitor the frequency of central processors, the speed of the fan, the temperature of the environment and the connectivity of peripherals. If the system has been disconnected, AXView allows users to send in personnel for immediate repair.
AXView can monitor more than one system by inserting the IP addresses. If the equipment is experiencing situations such as overheated in temperature, unstable in voltage level, disconnection, and immobile fans, the system will automatically send a notification to the user's device. If more than one department needs to know the condition of the equipment, AXView can connect multiple users to multiple systems, using a mailing system to inform each individual when irregularities occur.
Shyu stated that the industrial monitoring market is highly competitive and each firm needs to find its own "blue ocean" to continue reaching higher goals. Axiomtek aims to vertical market and get international certification for these products. In the future, Axiomtek will continue to introduce various smart traffic control solutions to provide cities with more convenient traffic control and monitoring applications.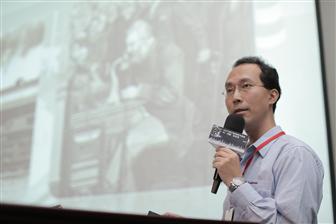 Roger Shyu, Manager, Axiomtek Co., Ltd.