ICP DAS introducing the VP-4131 all-purpose controller with a 10.4" touchscreen ViewPAC
Press release
Monday 26 May 2014
ICP DAS' touchscreen VP-25W1 controller has already reached crticial acclaim; the ViewPAC series will only see further increasas in screen size, as ICP DAS demonstrates by introducing the 10.4" touchscreen VP-4131.
On the hardware side, the ViewPAC uses the RISC architecture, featuring a PXA270 CPU (520 MHz). Besides drawing very little power, the ViewPAC requires no fan cooling and can be used in environments anywhere from -20 to 70 degrees Celsius. In addition to built-in USB support, Ethernet, RS-232/485 communication interfaces, it also has three I/O expansion slots. Ten years' development have gone into providing this device with nearly a hundred I/O modules to choose from, to supplement the DI, DO, AI, and AO basic modules. RS-232/485, CAN Bus, 2G/3G modems, and HART communication modules can all communicate with the ViewPAC. Therefore the ViewPAC is quite capable of accodomating the needs of different fields. The elasticity of the system comes from its ability to interface with HMI and PLC.
The ViewPAC's LCD screen comes in two sizes, both 5.7" and 10.4" (640x480 and 800x600 resolutions). It functions between -20 and 70 degrees Celsius, making it a pretty hardy industrial-grade LCD screen. Its front is waterproof and dustproof, earning it the IP65 rating.
It comes with a pre-installed copy of Microsoft Windows CE.NET 5.0. WinCE costs little, is stable, is reliable, and operates in real-time. In the most demanding situations, WinCE can provide up to 2 milliseconds' precision in passing an interrupt signal; using the I-8048W DI module, it can perform up to 10,000 interrupts per second.
To develop software for the ViewPAC, Visual Studio 2005/2008 creates perfectly compatible packages in VB.NET; C# is equally usable and comes in handy for extending development to embedded controllers. To simplify program development, ICP DAS provides eLogger as a simple man-machine interface. The easy drag-and-drop methodology makes programming accessible to those who may not be proficient in the arcane. HMI functionality is easily achieved with eLogger, including logic control. Shared memory usage is useful for customers who wish to develop using VB.NET and C# for data exchange and integration.
To address the growing popularity of smartphones and tablets, eLogger includes the corresponding software development kit for these devices; with a few easy steps, a mobile user can also get to developing HMI applications. Whether by local touchscreen or remote tablet / smartphone, all of the ViewPAC operations are very much accessible.
In addition to the standard VP-25W1, the VP-4131 provides VB.NET and C# development software, supplemented by ICP DAS' suite for PLC and SCADA clients.
Compared to generic IPC and PLC solutions, the ViewPAC's touchscreen display, I/O, and controller functions mark it as superior. It provides comparable features of both PLC and IPC and actually combines them all into a single package, reducing system complexity, cost, and installation space. It is in fact a more perfect solution.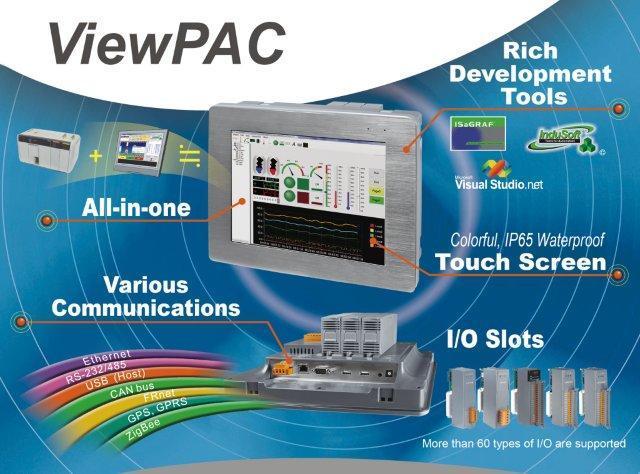 ViewPAC requires no fan cooling and can be used in environments anywhere from -20 to 70 degrees Celsius.
DIGITIMES' editorial team was not involved in the creation or production of this content. Companies looking to contribute commercial news or press releases are welcome to contact us.