IBASE launches IDOOH-210 digital out-of-home sunlight readable panel PC
Press release
Wednesday 4 June 2014
IBASE Technology (TASDAQ: 8050), a world-leading manufacturer of industrial motherboards and embedded systems, has launched the latest IDOOH-210 digital out-of-home sunlight readable panel PC. The unit is an innovative digital out-of-home (DOOH) system that is suitable for both indoor and outdoor deployment. It is manufactured to meet stringent quality standards and requirements for reliability. Not only does it support 24-hour operation in extended temperature range from -40 degrees C and up to +50 degrees C (+122 degrees F), its IP65 rated enclosure makes it dust-tight and water resistant.
The IDOOH-210 has a 21-inch sunlight readable LCD display panel that provides sufficient screen brightness for good image quality. However, during nighttime conditions, the inverter allows for a wider dimming range to dynamically adjust luminance. The touch screen offers heat insulation for effective thermal protection against aging and UV. Infrared energy is reduced by approximately 80% and UV decreased to less than 1%, but still, 70% of visible light can pass through. Outdoor touch screen kiosks are popularly used in drive-thru ordering stations and designed to withstand the rigors of heavy use but also built to work in harsh environments, resisting dust and fluid intrusion. The IBASE IDOOH-210 system is an excellent choice for this and other harsh and outdoor kiosk applications such as digital signage, ticketing and vending machines.
Thermal control
IBASE has put a lot of effort into designing the system to overcome issues pertaining to temperature. Based on IBASE owned thermal separation and isolation patent, an airflow-control device has been integrated into the system to calculate the airflow speed needed at various temperatures and the isolation air space setting. This maximizes thermal dissipation to deal with the heat source and cools down the system temperature effectively.
Low temperature control
When the system temperature is lower than the set lowest temperature, the system will auto start the temperature control mechanism until the system temperature reaches the acceptable threshold. While the system is still under monitoring, the temperature control mechanism will auto start if the temperature drops to the lowest threshold.
Lighting control
There is a light sensor installed in the system that allows it to adjust the LCD brightness automatically depending on environment conditions, to save energy and provide better visibility.
IDOOH-210 FEATURES:
- Intel Atom processor E3845 QC
- 4GB DDR3L system memory
- 21.5-inch LCD panel
- IR touch screen
- 1x USB 3.0, 1x USB 2.0, 1x RS-232/422/485 port
- Integrated DP port for second display
- 90V~240V AC power input
- IP65 rated front panel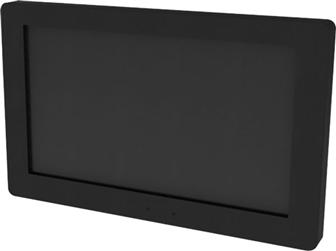 Ibase IDOOH-210 digital out-of-home sunlight readable panel PC
Photo: Company
About IBASE Technology
Founded in 2000, IBASE Technology (TASDAQ: 8050) is an ISO 9001, ISO 13485 and ISO 14001 certified company that specializes in the design and manufacturing of industrial PC products. IBASE provides OEM/ODM services tailoring products to customers' requirements. Current product offerings from IBASE include single board computers, Mini-ITX boards, Disk-Size SBC, COM Express CPU modules, embedded systems, panel computers and network appliance for various applications in the automation, digital signage, gaming, entertainment, medical, military and networking markets. IBASE is committed to delivering innovative, practical and dependable solutions for an ever-evolving industrial computing landscape. For more information, please visit http://www.ibase.com.tw/.
Contact Information
IBASE Technology Inc.
11F, No. 3-1, Yuan Qu St., Nankang, Taipei, Taiwan, R.O.C. (Nankang Software Park)
Tel: 886-2-26557588
Fax: 886-2-26557388
Email: sales@ibase.com.tw
http://www.ibase.com.tw/