New Vivitek D755WTIR interactive ultra-short throw projector
Press release
Friday 6 June 2014
The Delta Group today announced the release of the new education-focused Vivitek D755WTIR ultra-short throw interactive projector at Computex Taipei 2014. Ideal for small and space limiting environments with big presentation requirements, the compact D755WTIR can be easily installed in a space-limited classroom without compromising performance or user experience. With the optional finger touch interactive kit installed, the D755WTIR is turned into the ultimate and fun classroom study device to stimulate instruction and learning.
The Vivitek D755WTIR combines a native WXGA projection with ultra short-throw technology and interactive whiteboard (IWB) functionality. The D755WTIR allow users to project larger images from shorter distances. From a distance of about 44.5cm (17.5") from the projection surface, this ultra-short throw projector can display a large 100-inch (diagonal) picture. The D755WTIR offers full IWB functionality with standard pen support and finger touch interactivity with the optional finger touch kit installed. With the finger kit installed, this enables a user(s) to just use their finger(s) to write or interact in a natural, intuitive and fun way. This interactivity allows for two way communications for simultaneous use between a teacher and student, and collaborative learning.
The Vivitek D755WTIR features a brightness of 3300 lumens, a contrast of 5,000:1 and Texas Instrument's DLP BrilliantColor technology, ensuring stunning image quality. It can be easily integrated into a school's network, with the IT administration benefitting from the machine's system administration capability via RJ45. As is usual with Vivitek projectors, the D755WTIR feature multiple display connectivity ports, including HDMI, VGA-In, Composite, Video Out, and more.
At 5kg (11lbs), the D755WTIR is compact in size and quiet in use at about 29dB (in ECO mode). It also has a convenient top-loading, sliding cover for quick and easy lamp replacement. Designed to be filter- and dust-free, the D755WTIR enables cool and efficient operation, which eliminates the need to replace or discard filters. This fabrication keeps the projectors running at top energy efficient levels.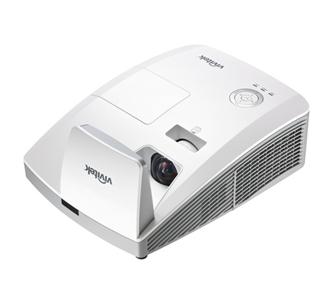 Vivitek D755WTIR
Source: Company