Touch-Controlled Living - Digital Technologies Transform the Face of Traditional Industries
Sponsored content
Monday 16 June 2014
Digital products are rapidly penetrating into the modern lifestyle, bringing various forms of convenience, but in a sense also increasing the distance between people because even when people are together, they are often respectively sliding their fingers on the mobile phones' touchscreens with their heads lowered. Behind our highly-efficient lifestyles, is there a hidden crisis of alienation between people? Elo Touch Solutions (Elo Touch Solutions Taiwan, hereinafter referred to as Elo) OEM Business Division Vice President Niklas Fallgren remarked during Computex that with touch-controlled products becoming more user-friendly, digital technologies will help tighten relationships between people and strengthen interaction between people as well. Very soon, we will see how touch-controlled products transform the face of traditional industries.
According to Fallgren, Elo has been developing touch solutions for over 40 years. Before smartphones became widespread, touch technologies were already being applied in areas such as industrial automation and transportation logistics. With the rise of touch-controlled consumer products, high-end commercial touch-screen products are accelerating their penetration into traditional service industries, and consumers are experiencing the benefits of upgraded services in the banking, medical, healthcare, hotel and retail industries.
Many people believe that the rise of the Internet will result in the decline of traditional industries. For example, online stores are backed up by rich online resources and it is extremely convenient for consumers to communicate with customer service personnel online. On the other hand, brick-and-mortar sales channels are restricted by the slow passing of information in traditional marketing models, and seem to be no match for the speed and convenience of online price comparisons. Furthermore, professional sales personnel are hard to find and even harder to keep. They require a great deal of training, which takes a long time. The quality of services is difficult to control, exposing these brick-and-mortar stores to threats from online stores. Fallgren, on the other hand, thinks that traditional industries should turn more active and use digital technologies to their advantage. Sales personnel should be given tablet computers that are connected to the Internet, giving them the ability to quickly obtain online information. That will bring the online shopping experience to brick-and-mortar channels, allowing further interaction and enhancing service quality.
Fallgren picked up a tablet computer and threw it onto the ground! He noted that this is not only at gadget for entertainment, but also a mobile POS device with a comprehensive set of features. This seemingly clunky tablet computer includes features required by the general retail industry, such as the ability to scan product barcodes as well as process credit card transactions. By upgrading the equipment in retail stores, truly smart shopping experiences can be achieved.
Fallgren stressed that touch-control is an extraordinary technology. In terms of the industrial application of touch-control products, most people may think of the built-in entertainment equipment and control systems in cars, or the various types of automation equipment at production lines. However, Elo's touch solutions also span across the banking, healthcare, hotel, and retail industries, making it even faster and even more convenient for patients to register at hospitals. X-ray images as well as image files from various other types of tests can be seamlessly transferred between different departments via touch-controlled devices and cloud databases.
In order to meet the needs of our enterprise customers, Elo's zero-bezel touch solutions include surface acoustic wave, five-wire resistive, as well as the newly introduced PCAP touch screens, supporting Apple's Mac, Google's Android, Open Linux, as well as Microsoft's Windows operating systems, which is why this solution is already being widely used in POI systems for public navigational guide equipment, bank ATMs, gaming and gambling equipment, POS management systems, voting machines, medical equipment, as well as automation equipment in various industries. Its clients include Abbot Laboratories in the medical industry, Hong Kong Harbor City in the retail industry and MGM Macau in the casino industry.
According to Fallgren, in medical devices alone, the incorporation of touch technologies is growing at an annual rate of 18%. It is anticipated that other touch-controlled equipment, such as interactive digital billboards and retail self-service machines, will also be widespreading. Touch-enabled life is not only a part of the plots in Iron Man movies; smart interactive technologies in touch-controlled systems are already surrounding us in our everyday lives.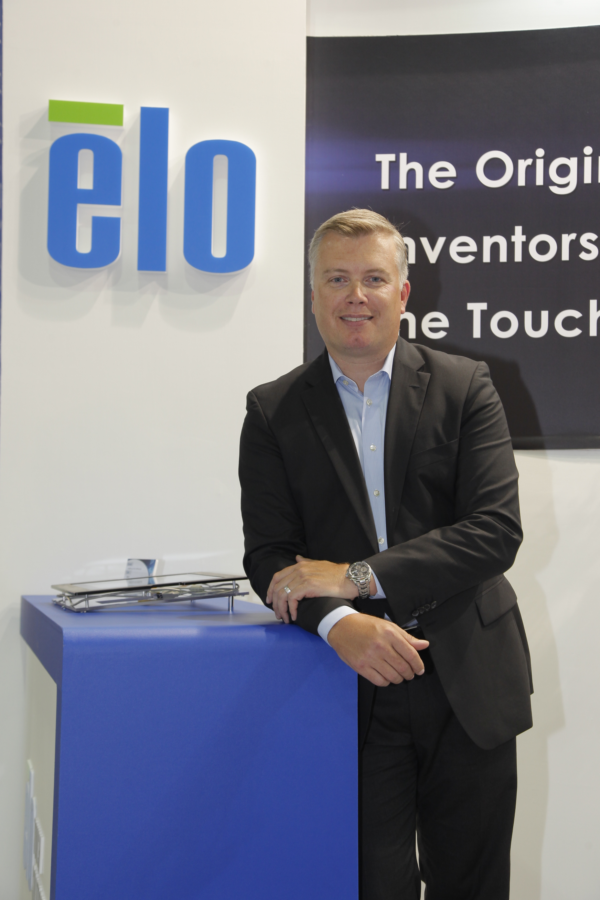 Elo Touch Solutions OEM Business Division Vice President Niklas Fallgren
DIGITIMES' editorial team was not involved in the creation or production of this content. Companies looking to contribute commercial news or press releases are welcome to contact us.