How G.SKILL memory leads DRAM overclocking and the fearless pursuit for performance: Interview with G.SKILL CEO Johnson Huang
Press release
Tuesday 1 July 2014
Walking into Computex 2014 at Nangang Exhibition Hall 1F, a constant crowd of attendees surround an eye-catching stage, featuring a massive leader board and a half dozen five-foot tall liquid nitrogen tanks. White clouds of nitrogen billow across the stage, timers count down on the overhead TV screens, and the audience buzzes in anticipation and excitement. This is G.SKILL International Enterprise Co., Ltd. hosting two spectacular and awe-inspiring global overclocking events during Computex week - the 1st Annual OC World Cup and the 3rd Annual OC World Record Stage.
G.SKILL is a high-end PC memory module expert and manufacturer, focused on the high-end extreme-performance market segment of the PC industry, and has dominated the overclocking scene in recent years. G.SKILL memory is the most used memory brand in overclocking communities and has held a long-standing world record for the highest memory frequency at 4404MHz. During Computex 2014, the OC World Cup event brought together 6 international overclockers, not only to compete for a single US$10,000 grand cash prize, but also to strengthen the international overclocking community. Meanwhile, the OC World Record Stage brought together five major motherboard manufacturers (ASUS, ASRock, EVGA, GIGABYTE, and MSI) to show off the latest technology at the extreme performance-end of the PC industry by breaking various benchmarking world records, which stands at six new world records this year.
Today, we sat down with Johnson Huang, CEO of G.SKILL, to learn more about G.SKILL products and market position, as well as valuable insights into the future of the computing industry, and most importantly, what drives them to fearlessly pursue high performance overclocking. (https://www.youtube.com/watch?v=2_E2zHLJQIM)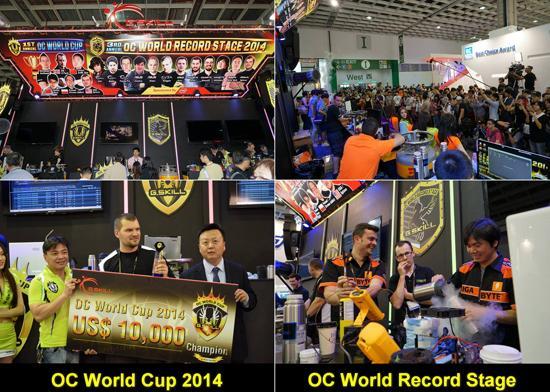 G.SKILL Computex 2014 overclocking events
Understanding the DRAM overclocking market segment
Overclocking (aka OC'ing) is the art of tweaking computer components to run at a specification higher than originally rated by the manufacturer. The DRAM module is one of the computer components that can increase computer performance when overclocked, which is highly sought after by computer enthusiasts and PC gamers, where each fraction of gained performance translates into victory and dominance over opponents.
A decade ago, overclocking involved tweaking dozens of timing values and voltages in BIOS, making it a tedious, time-consuming process with little overall success. Today, overclocking DRAM has become a much simpler process, whereas overclocking CPUs and graphics cards remain the same, mainly due to the fact that overclocked memory kits have a guaranteed overclockable frequency when it leaves the factory. All users have to do is simply enable XMP (eXtreme Memory Profile) from within the motherboard BIOS and save – everything else is automatic.
This is where G.SKILL excels – providing high performance memory kits that have high availability, high reliability, and high ease of use, while expanding the usage of XMP on the global market. Through close cooperation with major motherboard and CPU manufacturers, G.SKILL continues to raise the standard for memory compatibility on a wide variety of motherboards and processors, which result in memory kits that allows consumers to overclock up to 3000MHz (compared to the JEDEC standard of 1600MHz) by simply enabling XMP. At the time of writing, G.SKILL's own TridentX series is the only brand with 3000MHz memory kits that is XMP validated by Intel.
It is a very rewarding market segment, as it leaves very little risk to the users, as well as providing a simple upgrade solution to the PC industry.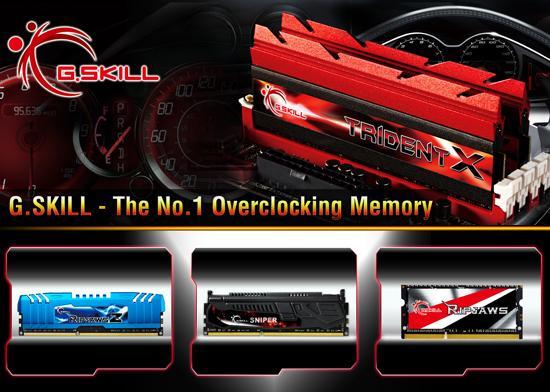 G.SKILL extreme overclocking memory
Contributions of extreme overclocking
Extreme overclocking utilizes unconventional methods, such as liquid nitrogen for extreme low-temperature cooling below -196°C, to obtain and extract the highest performance out of a piece of hardware. By doing so, G.SKILL engineers are able to come up with groundbreaking methods to integrate higher performance into new PC memory products, making high performance systems possible for PC enthusiasts and gamers. During this process, it is vital to work closely with motherboard and CPU manufacturers to ensure new products provide an optimized performance experience out-of-the-box.
In a computer system, performance comes from a combination of the processor, motherboard, and memory. When any one of these components outpaces the other two in performance, it drives the whole industry forward to innovate for improved products. G.SKILL intends to constantly integrate new innovations into new products, and consequently, to spur the PC industry to a whole new level. The result not only impacts PC enthusiasts and gamers, but also other growing sectors, such as the 2D and 3D graphic content creation industry, which require high system performance to render the ever-expanding resolution of pictures and videos with a multitude of effects.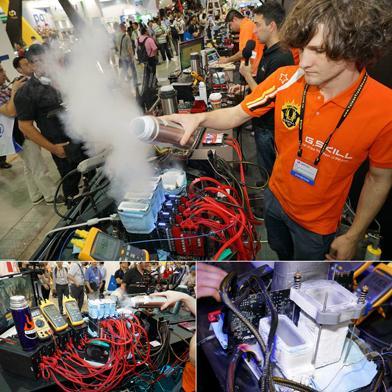 Liquid nitrogen used for extreme low-temperature cooling below -196°C
Bringing high performance to notebooks and small form factor PCs
High performance systems used to be exclusive to the desktop market segment. But as newer technology allows more efficient use of silicon real estate, high efficiency and performance CPUs and graphics cards made their way into notebooks and small form factor PCs, while the DRAM being used in these systems remain at standard speeds of 1600MHz.
Through close cooperation with notebook manufacturers, G.SKILL developed high-performance and high-capacity Ripjaws-series SO-DIMM memory kits for gaming laptops and high performance small form factor PCs at 1866MHz and 2133MHz. Thus far, G.SKILL is the only memory manufacturer to release 2133MHz memory kits at 1.35V and 32GB (8GBx4), available on July 1st. When installed in compatible gaming laptops, the memory kit automatically operates at its high frequency setting, no user adjustments necessary, providing gamers a one-stop solution to optimally tuned laptops.
Gaming product lines
G.SKILL's target market segment is and has always focused toward high end systems, PC enthusiasts and gamers. Their newest products reflect their continual dedication to bring the best and newest technology for high end performance systems – Phoenix Blade Series PCIe SSD and Carnage Series 7.1 Gaming Headsets. The Phoenix Blade Series PCIe SSD combines extreme speeds of up to 1900MB/s on PCIe 2.0 x8 lanes with a colossal capacity of 480GB and 960GB. When compared to a SATA3 SSD, this increases transfer speed by 300% and capacity by 400%. As PC games and datasets become larger, the Phoenix Blade Series aims to eliminate load time and limited capacity issues. As SSDs become the prevalent storage solution over traditional platter-based drives, G.SKILL is researching advanced methods to apply overclocking innovations to further maximize the performance of SSDs.
The Carnage Series 7.1 Gaming Headsets aim to immerse gamers in their gaming environments and allow gamers to have an edge over their competitors with 360° directional and positional audio via 10 discrete drivers or Dolby Headphone technology, as well as clear communications with teammates with patented ENC (Environmental Noise Cancellation) technology in the headset microphone. G.SKILL's non-stop innovation seeks to bring system performance to the front lines of technology, while providing gamers a wide variety of product choices for the highest quality immersive gaming experience.
Burning passion of G.SKILL
So why does G.SKILL devote so many resources into a small niche segment like extreme overclocking? This is a burning question in many people's minds.
Mr. Johnson Huang gave us an apt analogy: Formula One cars test the highest extreme limits of vehicle technology, and then the innovations are integrated into high performance cars like Ferrari and the McLaren. G.SKILL does the same, by testing the extreme limits of memory through overclocking, then integrating the innovations into high end systems and drive the high performance systems market segment to new heights.
G.SKILL, as a global brand, firmly and passionately believes that the only way to establish breakthroughs in performance standards is by fearlessly investing into extreme overclocking as part of R&D at all costs. Only then, will new technology be continually created and assimilated into the high-end PC industry as the main criteria of future computing performance. That, ladies and gentlemen, is G.SKILL's undying dedication and ambition.
DIGITIMES' editorial team was not involved in the creation or production of this content. Companies looking to contribute commercial news or press releases are welcome to contact us.