Recipe for a successful wearable device
Sponsored content
Thursday 3 July 2014
Wearable devices are a kind of natural extension of mobile devices in a world where we are connected to one another through smartphones and clouds, forming a futuristic lifestyle in which all things are connected and capable of communicating with each other. In order to meet the diverse needs of the market, wearable devices need to be custom designed, using the most suitable "recipes" to cook the most delicious "cuisine" that cater to the market's "tastes." Therefore, when searching for the right "ingredients," we must adhere to the principles of being "small yet complete" as well as "small and cost-effective" Now, the master chef of this field will unveil the recipe for successful wearable devices.
Requirements of wearable technologies from the perspective of mobile devices
Pankaj Kedia, Senior Director of New Business Development at Qualcomm Technologies Inc., in a speech "Recipe for a Successful Wearable Device," explained Qualcomm's vision and future developmental blueprints for wearable technologies. He started by noting that currently, smartphones are already the most personal and powerful devices in the array of technology products we carry around every day. In the United States, an average of 106 Android apps are launched each day; 75% of users between the age of 18-24 reach for their smartphones immediately after waking up, and approximately 94% of users use their devices to look for local information (news, weather, traffic, etc.); and finally, approximately 79% of users use them to watch videos.
In terms of the Company's vision for wearable technologies, Qualcomm believes that the smartphone is the central hub as our personal companion and information center, being able to connect to the cloud to access information and intelligence as well as being able to connect with wearable devices (such as wristbands, watches, shoes, glasses, earplugs, and clothing etc.) via Bluetooth/NFC, thereby becoming a relay station for wearable devices. On the other hand, wearable devices can also be designed to be able to connect directly to the cloud through 3G/4G/Wi-Fi. Therefore, Kedia believes that in the future, all devices will be connected and capable of communicating with one another
Wearable products are experiencing explosive growth, with designs varying based on usage requirements
Kedia pointed out that the market for wearable products is rapidly growing, with shipment volumes expected to surpass 200 million units in 2018 (data provided by IHS), of which smart watches are one of the categories with the highest growth rates (GAGR higher than 170%). The top-three application areas for wearable products are: infotainment, fitness & wellness and healthcare & medical. In response to different types of applications, the design of products will take on different styles and sizes.
He used a chart of four quadrants divided by a horizontal axis and a vertical axis to portray the industry. The horizontal axis represents connectivity capability and the vertical axis functionality. The first quadrant represents "high-end smart products," which have the highest level of connectivity as well as the most functionality. Examples for this product category would be smart watches or glasses products with built-in Wi-Fi/Bluetooth/Bluetooth LE (low energy) or even 3G/4G connectivity capabilities (categorized as Type 2). The third quadrant represents "products of basic functionality" that have relatively single connectivity capabilities; such products might only have Bluetooth/Bluetooth LE connectivity. Examples for this product category include sports watches, wristbands, and smart clothes (categorized as Type 1).
Type 1 devices, which run real-time operating systems (RTOS's) such as Embedded Linux or ThreadX, are mainly used in single-purpose applications that require long-term sensing and always-on operation. Consumers expect batteries for these types of devices to be able to last for up to seven days. Type 2 devices, which mostly run high-level operating systems (HLOS's) such as Android Wear or Tizen, emphasize high performance and rich user experiences, and users are accustomed to charging these devices daily.
In light of this, Qualcomm provides many types of "ingredients" and "condiments" for wearable devices, allowing system vendors to select suitable "recipes" based on their needs in order to demonstrate their successful cooking skills:
A. In terms of connectivity technologies, Qualcomm provides 3G, 4G LTE, 4G LTE Advanced, Bluetooth 4.0/LE, NFC, GPS (Qualcomm IZat location technologies), and Wi-Fi (Qualcomm VIVE 802.11ac technology).
B. In terms of IoT protocols, Qualcomm has the AllJoyn Framework (AllSeen Alliance).
C. In terms of interface components, Qualcomm has low power, virtually always on, color touch display (Qualcomm Mirasol display technology), and Pixtronix display technology.
D. In terms of processors, Qualcomm has low-power, high-performance custom ARM CPUs, custom low-power DSP engines, and integrated sensor engines for always-on sensor processing.
E. In terms of power components, Qualcomm provides wireless charging (Qualcomm WiPower wireless charging technology).
F. In terms of multimedia, Qualcomm has hardware image and video engines, as well as low-power audio and voice processing.
G. In terms of graphics units, Qualcomm provides its own Adreno GPUs and display processing engines.
H. In terms of wireless health, Qualcomm has a cross-platform cloud-based information management system: the 2net platform.
A wide variety of ingredients and condiments for developing the best wearable device recipe
With Qualcomm's wide variety of rich ingredients and condiments, how should one develop a successful personal wearable recipe? First, the style has to be cool and it has to be rich in functionality: (1) thinner, lighter, and sleeker; (2) ultra-long battery life; (3) always connected; (4) always on, always sensing and always listening. Therefore, by using components optimized for wearable devices in the designs, the aforementioned requirements can be met.
In terms of the first type of requirements, Qualcomm provides highly integrated SoCs (such as Type 2 performance + multimedia + connectivity, and Type 1 signal processing + connectivity), and uses innovative ePoP packaging, capable of accurately maintaining the temperature of the ICs within ranges that the human body can bear. In terms of the second type of requirements, Qualcomm uses processors and displays with low-power architectures as well as aggressive power management technologies to increase the number of days that devices stay active; along with Qualcomm's own WiPower wireless charging and Quick Charge 2.0 fast charging technologies to significantly reduce the time required in charging. In terms of the third type of requirements, Bluetooth/Bluetooth LE can be used to connect devices, while Bluetooth/Bluetooth LE and NFC can be used to connect smartphones, and Wi-Fi or 3G/4G can be used to connect to personal clouds. In terms of the fourth type, always-on and always-sensing requirements can be met by connecting with various types of environment, navigation, context input/output, as well as health and fitness sensor devices.
The wearable device market is hot and now is the time to step in. With technologies advancing rapidly, many companies have already entered this market and introduced their first generation of wearable products, stimulating much interest from consumers. Qualcomm is a leader in this industry, providing advanced design and development technologies; what's more is that Qualcomm has also collaborated with the ecosystem within the industry over the years, and is therefore capable of helping customers quickly integrate Qualcomm's solutions into their products, and working together to explore the unlimited opportunities of the wearable technologies market.
In summary, Kedia said that wearable devices will be the next big thing in the industry's development and talked about the shape and size of segment will continue to evolve. Therefore, it is imperative to use the right components on the path to developing successful products. Qualcomm provides components and advanced technologies with optimized performance, helping customers develop light, thin and sleek wearable products that have ultra-long battery life, and are always connected, always on, always sensing, and always listening.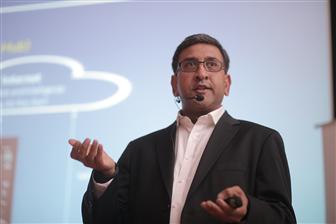 Pankaj Kedia, senior director of new business development at Qualcomm Technologies