U-Reach delivers the largest and highest scalability standalone HDD/SSD Duplicator
Press release
Tuesday 19 August 2014
The world's leading brand, leadership, and innovation in data equipment – U-Reach, has officially launched the MT-H high speed series of SATA HDD/SSD duplicator which is designed for manufacturers who needs high volume production-grade HDD/SSD duplication systems.
With its new generation high transfer speed - 18GB /min and largest targets support (25 ports), if calculated by 1TB HDD with 35GB contents, it will take 8 hours to copy 6000 pcs of hard disk per day. Comparing to the traditional duplicator, it can only reach 1344 pcs of hard disk per day. The MT-H series is 4.5 times more production efficiency.
High Speed Transmission, High Production Efficiency, High Scalable Interface
By the real test measurement, each port can reach speeds up to 18GB/min while copying 25 pcs of HDD simultaneously. With its exposed cables design, this allows a high scalable interface to support a variety of 2.5"&3.5" SATA or eSATA HDD, SATA SSD and accommodate different size of devices. In addition, it can also support IDE, mSATA, iVDR, NGFF via adapter.
Real-time Status Indicator, Automatically isolate the slowest HDD
For U-reach duplicator, each target works independently. When a target detects an error, it will indicate by the red status indicator and stops the operation. The rest of the targets will continue its task and won't affect the efficiency of duplication. Meanwhile, MT-H duplicators will display the slowest target; you can choose either automatic or manual mode to isolate the slowest HDD. These smart advanced functions can provide an efficient solution to these small issues that many users have faced. For example, when a duplicator shuts down because of one port has failed or production delays due slow hard disk.
Event Log reports, fully grasp the production line information
Furthermore, MT-H series has equipped with U-Reach's unique Event Log Report function which record details task records: serial number, model number, content capacity, copy quantity, yield analysis of both source, and target hard disks. It is not only the best management report for production yield analysis. More importantly, it can also well control the source and to ensure the operator have correctly execute the duplication by following the instruction protocols. With automatic record by duplicator, it can replace the hand-writing work from the past and avoid human errors.
U-Reach MT-H high speed series offer 1 to 7, 1 to 15 and 1 to 25 models for selection, Suitable for different capacity production line. You can also check more product information by their official website http://www.ureach-inc.com/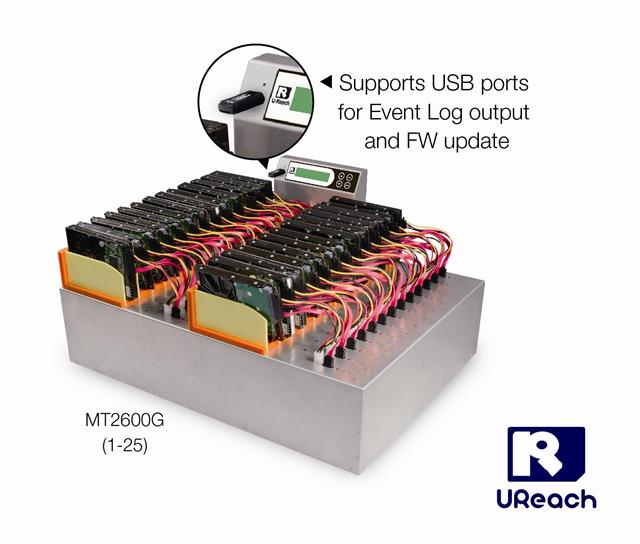 The largest and highest scalability standalone HDD/SDD Duplicator in the field.
DIGITIMES' editorial team was not involved in the creation or production of this content. Companies looking to contribute commercial news or press releases are welcome to contact us.