Samsung intros 128GB UFS storage for smartphones
Press release; Jessie Shen, DIGITIMES
Samsung Electronics has announced that it is now mass producing 128GB ultra-fast embedded memory based on the Universal Flash Storage (UFS) 2.0 standard for smartphones. The new embedded memory's UFS 2.0 interface is the most advanced JEDEC-compliant, next-generation flash memory storage specification in the world, the company claimed.
UFS memory utilizes "Command Queue," a technology that accelerates the speed of command execution in SSDs through a serial interface, significantly increasing data processing speeds compared to the 8-bit parallel-interface-based eMMC standard, Samsung indicated. Its new UFS embedded memory conducts 19,000 IOPS for random reading, which is 2.7 times faster than eMMC 5.0, the company said.
Samsung's UFS memory also delivers a sequential read and write performance boost up to SSD levels, in addition to a 50% decrease in energy consumption. In addition, the random read speed is 12 times faster than that of a typical high-speed memory card (which runs at 1,500 IOPS).
In the future, Samsung anticipates that UFS will support high-end mobile market needs, while eMMC solutions remain viable for the mid-market and value segments.
For random writing of data to storage, Samsung's UFS embedded memory operates at 14,000 IOPS and is 28 times as fast as a conventional external memory card, making it capable of supporting seamless Ultra HD video playback and smooth multitasking functions at the same time, the company said.
Samsung's new UFS embedded memory comes in 128GB, 64GB and 32GB versions, which are twice the capacity of its eMMC line-up, the company disclosed.
Samsung's UFS embedded memory package, a new ePoP (embedded package on package) solution, can be stacked directly on top of a logic chip, taking approximately 50% less space, the company noted.
"With our mass production of ultra-fast UFS memory of the industry's highest capacity, we are making a significant contribution to enable a more advanced mobile experience for consumers," said Jee-ho Baek, senior VP of Samsung's memory marketing. "In the future, we will increase the proportion of high-capacity memory solutions, in leading the continued growth of the premium memory market."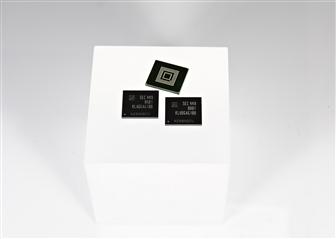 Samsung UFS embedded memory
Photo: Company