Heraeus Introduces New Series of Pastes as Solar Market Accelerates Moving to PERC Technology
Press release
Pursuing continuous efficiency improvement and cost reduction is the long-term challenge for PV industry, as well as the key factor to truly realize the goal of grid parity. As a leading supplier of metallization solutions to the PV industry, Heraeus Photovoltaics announced the introduction of a new generation of high efficiency silver front-side metallization paste at the PV Taiwan International Photovoltaic Exhibition, which will help customers quickly move to the more efficient PERC technology. Also, regarding the patent lawsuit against Giga Solar Material, Andreas Liebheit, President of Heraeus Photovoltaics, stressed that the company is confident of the final results of legal examination and is determined to defend its business interests.
New paste with higher solar cell conversion efficiency
Improving conversion efficiency by 0.1% every half year is Heraeus' continuous strategy. With this, the company introduces the new SOL9641A silver paste to meet the goal again. Additionally, it shows superior adhesion for PERC cell and is compatible for both multi and mono crystalline wafers. The excellent adhesion of SOL9641A allows customers to optimize their busbar design for better electrical performance and cost reduction, especially on black-silicon texturings.
According to Liebheit, SOL9641A has been developed based on its brand-new glass chemistry, combined with the latest breakthrough in organic vehicle system for ultra-fine-line printing. Moreover, SOL9641A has outstanding LID (Light Induced Degradation) performance and improved reliability for both cells and modules.
Its ultra-fine line screen printing capabilities make the 9641A perfectly suitable for the latest screen technology with narrower finger opening, high mesh and thinner wire as well as for knot-free screens. The SOL9641A incorporates an innovative organic system which enhances printability in high-through-put mass production with improved finger geometry. Compared with previous SOL9631, it has 2X higher of adhesion. Such benefits have been testified by customers with better efficiency and higher production yield.
An additional key feature of the 9641 is the wide processing window of 50°C. Compared with the conventional processing widow of 10~15°C, it's an obvious improvement. Also, with an optimal firing window toward lower temperature range, the product is beneficial for PERC-solar cells and can help customers further enhance yield rate and lower cost.
"In fact, the new product is used by our customers and achieved excellent results, which fully demonstrates our research efforts over the past two years. In order to enhance the overall performances of pastes, we have split our research team into two groups: efficiency improvement and printability/process window, and then obtained satisfactory enhancements in every aspect," Liebheit said.
In terms of the current development of solar market, "We see the keen demands for higher efficiency products at present. Modules with efficiency lower than 18.4% are in stock, and those with higher efficiency are in lack of supply. Therefore, makers have to speed up their paces moving to PERC process. However, due to the delay of equipment delivery, it takes about 9 months of lead time to transfer to the new process, which has impacted the transition to PERC."
"Currently, PERC accounts for around 10~15% of overall PV market. It's estimated the figure will increase to 30% next year, with mono wafer having the bigger share. Though there is still room for PERC to achieve better yield rate, around a dozen of companies have already moved to PERC and obtained satisfactory results. As the market demands more PERC cells, those makers will be able to have better business performances. Therefore, it's crucial for companies to invest in advanced technologies in early stage, so that they can maintain their competitive edges."
Looking forward the next stage, Heraeus already invests in the research of next-generation technologies, including N-type PERC and low-temperature HJT, and have products in place. But, according to Liebheit, "Take HJT as an example, it takes at two years to see the significant transfer due to its higher cost. At Heraeus, we will be well prepared and respond to the market demands rapidly."
Actively Defend IP Rights
Regarding the status of the patent lawsuit against Taiwan's Giga Solar Materials, which attracts lots of attentions in the PV industry, Liebheit said, "In August this year, Taiwan Intellectual Property Court confirmed the validity of Heraeus' Taiwan Patent No. I432539 by an interlocutory judgment and dismissed Giga Solar Materials Corporation's invalidity defense."
"By end of 2015 Heraeus Photovoltaics held more than 300 granted patents and patent applications around the world. We are very pleased that the Taiwan Intellectual Property Court concluded that our patent is valid. As the lawsuit has entered the next stage of the proceedings, Heraeus is confident that the results of this legal examination will support all allegations of the lawsuit."
"Heraeus' Taiwan Patent No. I432539 discloses a use of a conductive paste for forming a solar cell electrode, including: a conductive powder comprising silver as a main component; glass frit; and an organic vehicle, wherein the glass frit contains tellurium glass frit having 30 to 90 mol% of tellurium oxide as a network-forming component. The patented technology makes it possible to form a solar cell electrode having a low dependence on firing temperature without causing problems due to fire-through into the substrate, and to thereby obtain a solar cell having good solar cell characteristics," he explained.
"Heraeus is very determined to defend our intellectual property rights. Because of the winning of patent validity judgement, some customers are transferring orders to us again. I'm sure that we will be able to further expand our business here. In particular, Giga Solar doesn't have PERC silver pastes. With a significant advantage in this segment, I believe that we will gain 50% shares in PERC market."
Deepening Services to Expand Taiwan Market
In order to gain stronger footings in Taiwan market, Heraeus aims to provide local production and the customization services that competitors don't have to customers here, so that they can achieve prompt delivery and meet customers' requirements responsively.
Liebheit expressed his belief that Taiwan remains a critical market force for solar energy development and will play an important role when the market comes back into an upswing mode. "The PV markets across the Taiwan straits are strongly interlinked across the Asia-Pacific region. Taiwan companies have established R&D and production sites in mainland China, so it makes strong strategic sense for Heraeus to have a strong presence in both regions. It allows us to simultaneously work with cell and module manufacturers in both markets to help them deliver even higher-performing cell technologies."
Meanwhile, in order to strengthen competitiveness, Heraeus is transforming its business model to a service provider, rather than a purely material vendor. "We have customers all around the world. When helping customers with their process problems, we have accumulated in-depth and rich process experiences. With integrating all these experiences with our expertise, we will be able to become a process consultant to our customers, offering services with higher value addition."
In addition, for a much longer-term plan, Liebheit said that solar energy generation should be tightly coupled with storage to have stronger synergy between them. However, storage application is just starting, which requires huge cost reduction and efficiency improvements in the coming years. Heraeus is now present in all these markets, including Li-ion battery and fuel cell, providing key additions and membrane materials, in a bid to build a complete solutions for renewable energy.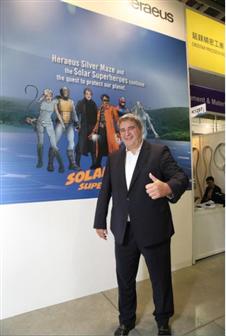 Andreas Liebheit, President of Heraeus Photovoltaics.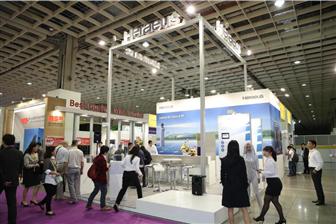 Heraeus Photovoltaics announced the introduction of a new generation of high efficiency silver front-side metallization paste at the PV Taiwan
DIGITIMES' editorial team was not involved in the creation or production of this content. Companies looking to contribute commercial news or press releases are welcome to contact us.