Abon Touchsystems partners with Palwonn to launch AbonMax large size interactive whiteboard, leading industry development
Press release
When panel suppliers around the world are worried about the consumer touch panel market showing slow growth and even starting to decline, Abon Touchsystems, has been quietly developing industrial touch screens for years and is now on the rise with its five-wire resistive touch screens and projected capacitive touch screens expanding to 32", 42", 55", 65" and 75" and large-size interactive whiteboards designed with ITO technology, thus implementing its own blue ocean strategy.
The availability of the iPhone has undoubtedly spurred hot demand for consumer touch panels. Now, almost all touch panel suppliers are scrambling for a share of the consumer touch panel market. However, Abon Touchsystems, founded in 2005, did not rush into the market and instead chose to proceed step-by-step with industrial five-wire touch screens in small-volume, large-variety production. Abon Touchsystems offers ITO projected capacitive touch screens ranging from 7" to 42", five-wire resistive touch screens ranging from 6.5" to 22" and five-wire resistive zero-bezel touch screens ranging from 7" to 21.5" and has further expanded its offerings to include 55", 65" and 75" projected interactive whiteboards this year.
"New emerging technologies bring changes to how consumers behave and how businesses operate. Abon Touchsystems has detected rising demand for touch screens used in interactive whiteboards and video conference systems. However, previous large-size whiteboard systems that adopt low-cost IR touch control technology have certain limitations. So, Abon Touchsystems initiated the development of ITO based GFF 70" large size projected capacitive touch screens three years ago, tand this has led to the launch of the first GFF 65" ITO projected capacitive touch screen this year available in mass production quantities. Sizes of 75" and 85" whiteboard systems will follow now to meet market demand," commented by T.K. Chang, vice president, Abon Touchsystems as he explained why the company decided to cut into the large -size projected interactive whiteboard market.
Next generation human machine interface spurs demand for industrial touch screens
With innovative HMI technologies continuing to emerge, consumers now interact with IT devices and applications in a variety of ways - progressing from traditional mouse clicks to touch, gesture, body control and voice control. Among these, touch control was adopted the earliest, attracting IC designers and panel makers to aggressively penetrate into this market.
Despite being the first to be adopted, touch control technologies evolve quickly and vendors continue to encounter operation difficulties if their implementation and strategy is just slightly off target. In light of this, Abon Touchsystems has analyzed the market and seen strong potential in the industrial space, as most other makers simply focus on consumer applications such as smartphones, tablets and notebook PCs. Abon Touchsystems hopes to develop touch screen products suited for retail, healthcare, education and gaming sectors by leveraging its deep-rooted and extensive R&D experience to distinguish itself from its peers.
Chang pointed out that industrial touch screens are different from consumer touch screens in two aspects - small-volume, large-variety production and long product certification time. Therefore, whether touch screen makers can maintain agility and flexibility and continue delivering high quality products and professional services plays a critical role in their ability to succeed. In fact, this is also the reason why makers of consumer touch screens have difficulty penetrating the industrial touch screen market. "Abon Touchsystems has a moderate production scale and advanced process technologies so it is capable of producing touch screens to meet a wide range of customer needs," said Chang.
To enable itself to have a competitive edge, Abon Touchsystems began to research on how to innovate from the perspectives of technology and applications in 2012. Realizing that the multi-touch sensitivity of IR touch screens and optical touch screens is easily influenced by environmental conditions and they require sufficient physical space for sensor placement, Abon Touchsystems decided to introduce large size projected capacitive touch screens based on technologies that effectively save physical space and enable optimum cost-effectiveness.
"After mapping out a clear R&D direction, Abon Touchsystems started to think about applications for its products. We incidentally discovered that meeting room projectors may have short product lives due to extended use of the device's light bulb and overheating, while the quality and cleanliness of the device may result in poor meeting quality. Therefore, Abon Touchsystems decided to expand the applications of touch screens to interactive whiteboards and conferencing systems," stated Chang. Abon Touchsystems successfully began mass production of 65" projected capacitive touch screens at the end of 2016 thanks to its R&D team's meticulous planning and continuous testing. Then, Abon Touchsystems engaged in a partnership with Palwonn to introduce the AbonMax total solution, which provided 65" projected capacitive touch screens with computer systems, interactive whiteboards and conferencing systems to the global market through Palwonn's sales channels.
Abon Touchsystems collaborates with partners to launch total solutions for interactive whiteboards and conferencing systems
Abon Touchsystems is not the only vendor eying the interactive whiteboard and conferencing system market. Microsoft, Google, INFOCUS and Foxconn have all introduced related solutions.
For example, Microsoft launched Surface Hub–55" and 84" total enterprise meeting room solution integrating a custom edition of Windows 10. To respond to Microsoft, Google has announced the availability of Jamboard – a 55" 4K cloud-enabled interactive whiteboard running Android 6.0. INFOCUS, a leading American video solution provider, introduced a solution integrating a projector with an interactive whiteboard based on Windows 7 to meet market demand. Foxconn, on the other hand, attempted to expand into this new venture through the acquisition of interactive whiteboard vendor SMART Technologies.
Abon Touchsystems is glad to see tier-1 global players enter the market for large-size industrial touch screens for interactive whiteboards and conferencing systems and welcomes the competition with domestic and international vendors, which will perk up the market and bring tremendous opportunities.
"In comparison to products and services offered by other vendors, what we deliver is a total solution — AbonMax, which integrates computer systems, interactive whiteboards and conferencing systems and combines premium quality and competitive pricing. The 65" whiteboard video system is priced as low as US$6,500, enabling a TCO far below what international leaders can offer in terms of purchase price and maintenance costs," commented Chang. The AbonMax specs far surpass that of the competition, with the device featuring the latest Intel 6th generation core and the support for Mac OS and Windows 10. Government agencies, educational institutions and business organizations can enjoy the freedom to choose the Windows APP, interactive whiteboards or video conference systems they prefer.
"Abon Touchsystems has been working on joint development with Palwonn for penetration into the education and commerce markets. Our solutions have been introduced to high schools and colleges. Education has therefore been revolutionized with interactive learning and learning quality and efficiency is enhanced by the limitless possibilities enabled through the industry-academic collaboration," indicated Chang. AbonMax will be used in more diverse application scenarios as Abon Touchsystems strives to introduce AbonMax to the world through participations in international trade exhibitions and embraces any potential partnership opportunities to jointly develop application services for healthcare, retail and media industries.
In summary, Abon Touchsystems will continue to refine its projected capacitive touch control R&D and process technologies to open its own blue ocean market and stay ahead of the competition. It will also team up with the industry chain through strategic partnerships to provide worldwide customers touch screen solutions with optimum availability, high reliability and compelling CP (cost performance) ratio.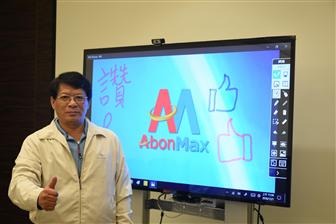 AbonMax will be the highlight of Abon Touchsystems' product promotion in the coming years and will be showcased at international trade exhibition.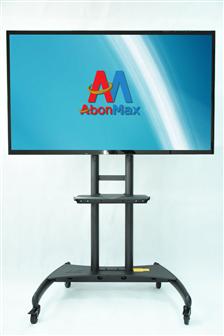 Abon Touchsystems and Palwonn surprised the market with the launch of a 65" touch control interactive whiteboard.
DIGITIMES' editorial team was not involved in the creation or production of this content. Companies looking to contribute commercial news or press releases are welcome to contact us.