CHD Tech refines maintenance service for photolithography equipment to help semiconductor foundries raise process yield and equipment availability
Press release
Wednesday 13 September 2017
Photolithography process, including the steps of photoresist coating, exposure and development, plays a critical role in the manufacturing of semiconductor devices. Accordingly, how to properly control and monitor environmental quality during photolithography process through technologies such as high-precision process environment control and aerosol micro-pollutant removal is instrumental to raising process yield and equipment availability.
In light of this, CHD Tech, founded on the core technologies of state-of-the-art air quality control, crafted high-precision micro-control equipment for fabrication environment including thermal control units (TCU) and thermal AMC units (TAU) by refining the high-precision temperature and humidity control technologies as well as particle and airborne molecular contamination (AMC) removal technologies used in clean rooms. It also leverages its core technologies to provide customers with solutions to improve and service old systems for the purpose of ensuring equipment availability and process yield.
The needs to maintain and improve existing equipment at 8-inch wafer fab plants in Greater China and the large investments into building new semiconductor foundries in China have spurred considerable demand for clean photolithography process environment. In response to such demand for refinement and improvement in clean fabrication environment technologies, CHD Tech will bring customers more efficient solutions with shorter time-to-market, commented Chih-Wen Cheng, general manager, CHD Tech.
There are already quite a few vendors based in Japan and Korea specializing in micro-control technologies for semiconductor manufacturing process environment. Some of them have even become partners with well-known providers of exposure machines or development/coating equipment because of their strong capabilities in temperature and humidity control. Rather than competing head-on with these worthy opponents, CHD Tech decided to gear its development toward a niche market - total solution for mini-environment. In addition to temperature and humidity control, CHD Tech also broadens its product roadmap to include particle/AMC cleaning coupled with automated detection and online analytical systems for organic gases, thereby making itself a total solution provider of micro-control technologies for semiconductor process environment.
It should be noted that for the purpose of satisfying a range of environmental control requirements imposed by the photolithography process and helping production equipment engineers effectively troubleshoot, CHD Tech began to offer services including system diagnostics, technology refinement and maintenance improvement in 2012, highlighting the early system diagnostics, quick error detection and response, preventive maintenance and service work can help customers avoid unexpected production shutdown and minimize loss.
CHD Tech's experienced service teams help customers perfect their fabrication process
When commenting on CHD Tech's advantages, Cheng said with operation bases and service teams stationed throughout Taiwan and China, CHD Tech is able to offer prompt technical support to help customers resolve issues within eight hours on average so that customers are assured of the reliability of their photolithography process environment. Furthermore, the CHD Tech service teams comprise professionals with extensive experiences in photolithography process or exposure machine, development and coating equipment. Not only can they help raise maintenance efficiency but they can also provide professional advice on how to improve customers' fabrication environment and enhance operation performance of various process equipment.
To enable high-efficiency customer service, CHD Tech maintains a complete inventory of spare parts including leading brand fans, evaporators, expansion valves, gate valves, refrigerant and compressors. In the case that any module of customers' equipment encounters a problem, CHD Tech can quickly replace the failed module with a working spare unit without having to conduct time-consuming on-site repair. This unique service model allows a wide range of issues to be resolved in no time, thereby shortening production downtime and minimizing losses.
By providing services on a regular basis, CHD Tech is able to stay aware of any additional needs customers may have, maintain long-term relationships to increase customer retention and build tight collaboration with production equipment engineers, which fosters tremendous values for the future. Therefore, CHD Tech will continue to devote efforts to such overhaul service even though it may take some time to have real contribution to revenues, emphasized Cheng.
In summary, CHD Tech takes pride in being a total solution provider of micro-control and micro-measurement technologies for semiconductor fabrication process. It is able to achieve a temperature control precision of ±0.01 degree and a humidity control precision of ±0.5%, likely the only vendor in Greater China capable of doing so. More importantly, CHD Tech is actively targeting tool vendors based in Germany, Japan and the US starting with capturing opportunities in the business of process equipment modification. CHD Tech endeavors to demonstrate its value during the collaboration with these tool vendors and subsequently make its way to becoming a qualified supplier for them. The strategy combining both aggressive and steady approaches is generating results. CHD Tech has made itself a supplier of standard thermal control units to a leading German semiconductor coating and exposure machine manufacturer. It is also being advised and validated by a major American semiconductor process equipment maker to become an official supply partner.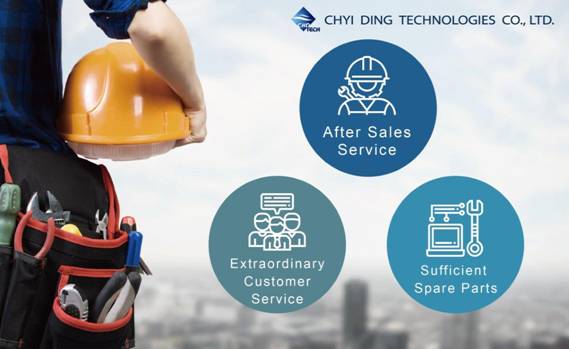 CHD Tech's maintenance service for photolithography equipment
DIGITIMES' editorial team was not involved in the creation or production of this content. Companies looking to contribute commercial news or press releases are welcome to contact us.