Putting a decade of efforts in refining software IC, Joyplux captures opportunities in smart applications
Press release
Most of today's vertical application markets have been trending toward smartization, artificial intelligence (AI) and unmanned operation, pushing the development of many devices and applications to move in a new direction. The most prominent example is digital signage transitioning from a simple display for content playback in the past to a medium for self-service at present. Digital signage can now deliver customized content based on time of day or target audience to enable innovative interactive viewer experience and serve as a platform aggregating Big Data.
This has resulted in the necessity to make appropriate adjustments to digital signage in terms of features, user interface or data collection techniques in order to meet different market demands or business models. However, it is difficult for systems developed based on traditional software project architecture to support flexible changes. This is where software IC comes into play. Modular architecture built on top of software IC will be able to satisfy requirements by wide-ranging smart applications with optimal adaptability. Celebrating its 10th anniversary this year, Joyplux is one of the world's few and Taiwan's only company capable of developing software IC.
Joyplux gears software IC development toward applications centered on smart home
Steven Lin, chairman and general manager, Joyplux, stated that founded in August 2007, Joyplux started its business by providing hardware products including public displays as well as control systems and later began to engage in software R&D for the purpose of adding multi-touch features to its products. Having successfully completed a variety of system development tasks to full satisfaction, the Joyplux R&D team has demonstrated strong capabilities. This prompted the company to step up efforts in expanding its software operation and establish a software business unit in 2009 targeting applications centered on the smart home theme.
Diverse software applications fall under the scope of smart home, such as those used in digital signage and access control systems. Most of their developments are project-based with predetermined features and interface design, allowing minimum customizability and flexibility. Even attempting to make the smallest change afterwards could result in an overhaul to the entire system structure. Nevertheless, to most software developers, the project-based approach is an easier way to operate their business as it has low barrier, short development cycle and quick return on investment. Joyplux, however, is determined to take a different path – software IC.
"We think a perfect smart home application can be implemented through the concept of do-it-yourself – adding functions and changing interface as you wish at any time," indicated Lin. Software IC can bring such concept to reality. Working like a CPU, software IC comprises a native architecture and standard features to provide a core foundation supporting the development of multiple reusable modules which are then included in Joyplux's software IC lineup. System integrators can choose suitable modules from the lineup to meet their use scenarios and then combine the modules into a software package for front-end applications. When needs for changes arise in the future, it won't be necessary to re-develop the software from scratch and only simple modifications will be enough to accommodate evolving requirements. This perfectly addresses R&D agility needs in the smart IoT era.
Joyplux aspires to become a solid professional software IC provider in five years
Lin admitted the development of software IC standards and architectures holds a high technological barrier. Being a pioneer clearing the path by itself, Joyplux has come a long way building its software IC business from the ground up. There have been multiple changes to the entire architecture and the development platform. Having endured through a long period of slow return on investment, Joyplux's efforts are generating results. It has created an interactive multimedia software IC-XPLAYER and a communication software IC-XCOMMER. With built-in features including touch control, interaction, multimedia, Big Data and integrated electromechanical control, IC-XPLAYER can be used in any display application such as digital signage, vending machines, food ordering kiosks and queue management systems at hospitals and banks. IC-XCOMMER supports remote communication, ensuring uninterrupted bi-directional communication between the cloud and the end device. As such, front-end self-service systems can instantly receive Big Data analytics results from the back-end platform to thereby provide tailored services to consumers and also send front-end customer information to the back-end platform for analysis as basis for business decision making.
For the purpose of demonstrating market-proven usability and quality of the two software IC products, Joyplux has built a series of software applications including a multi-touch digital signage editing platform JoyAD and a multi-touch e-book editing platform JoyeBook. These are increasingly being used in a wide range of sectors such as healthcare, retail channels, finance and hospitality with markets expanding overseas from Taiwan to China and Japan.
In celebration of the company's 10th anniversary, Lin looks forward to the next decade with two five-year plans. In the first five years, Joyplux will stay committed to promoting the Joy series software applications, aiming to create more revenues and higher profits while also developing additional software IC with a focus on smart applications such as IoT.
Going into the second five-year period, Lin expects Joyplux to become a full-fledged professional software IC provider. Instead of just relying on its own Joy series, Joyplux will win support from numerous software developers who will build modules and software applications on the basis of XPLAYER, XCOMMER as well as other future Joyplux software IC.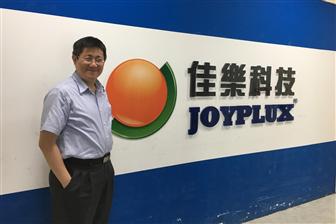 Steven Lin, chairman and general manager of Joyplux
DIGITIMES' editorial team was not involved in the creation or production of this content. Companies looking to contribute commercial news or press releases are welcome to contact us.