Heraeus reinforces competitive edge as innovation of PV technology accelerates
Sponsored content
2017 is definitely a highly volatile year for PV industry in terms of technology advancement, market demand, and international trade barrier. At 2017 PV Taiwan held recently, Andreas Liebheit, the President of Heraeus Photovoltaics, broadly talked about the issues of technology trend, market competition, as well as how Heraeus maintains its leading edge at the rapidly evolving PV market, in an interview with Digitimes.
"First, from supply side, we've seen very strong business growth this year," Liebheit said. "Take China's golden week holiday in early October as an example, we received rush orders and decided to cancel vacations to meet customers' demands. In September alone, our paste shipment has increased 50% compared to that of last month, and we have 50% YoY sales growth rate as of today. Rush orders and the last minute change reflect the dynamics of the market. For us, we need to be very flexible to satisfy customers' requirements quickly."
Battle between mono and poly continues, but mono will surpass poly next year
At the technology side, Liebheit called it "almost crazy" to describe the rapid emergence of diamond-wire-cut (DWC) multicrystaline solar cells this year. The trend also tests Heraeus' capability of delivering new products in large volumes in a short time.
Heraeus announced the introduction of a new paste specifically designed for DWC multicrystaline solar cells at PV Taiwan. The SOL9651D series front-side silver paste can help solar cell companies improve cell efficiency, address costs and stay ahead of rapid technology developments. "For the various DWC multi cell processes, including additive/MCCE/RIE-texturing, our new product can all support. Due to different ingredients, a DWC paste product actually means three products. Meeting the diverse requirements is a proof of our development capability," he said.
From the perspective of technology competition, it is expected that the battle between poly and mono cell technologies will continue and change rapidly. Just two months ago, mono seems to be prevailing; however, with the quick rise of DWC technology, poly makes a strong comeback again.
According to Liebheit, mono technology is mainly used in the high efficiency markets such as Japan and Europe, and strong in the rooftop market in China, while the US market has both of them. But at present, Europe market is weak. For example, Germany is waiting for the finalizing of energy policy for next year. At the same time, the maturity of DWC technology has brought new opportunity for multicrystaline cells to further improve efficiency. As a result, the market changes very quickly in a short time. As the paste required for these two technologies are different, this makes Heraeus very busy to keep up with the trend.
He pointed out that now companies have stronger incentives to invest in technology development because large-scale companies have more resources than before and it is clear that high-efficiency product can have much better price in the market. As a result, PV technology is advancing at an even quicker pace than before.
In a long term, cell efficiency will keep improving. It's now the stage of PERC 1.0 and the industry is heading towards PERC 2.0, as we've seen there is still lots of room to improve in terms of material and process for PERC. Also, we've seen the new comeback of MWT technology. Mono cell efficiency could further be increased by combing MWT with PERC.
At present, several companies are developing PERC 2.0 technology. It's expected that PERC mono products with efficiency over 22% will be launched next year, and 23% products are to be seen two years later. Meanwhile, N-Type technology keeps progressing. The industry is vibrant with research and development energy.
Though DWC is coming on strong, Liebheit believed that mono can secure its advantage in high-efficiency market and expands around 10% of market share every year. Mono accounts for 45% share this year, and it is expected that it will surpass poly and increase to 55% next year and 65% the following year. But poly products won't be disappeared from the market, which will still have advantage in low-cost applications. In a long term, share ratio of mono and poly may maintain at 7:3.
Advanced technologies always drive the development of PV industry
The merger of three major Taiwan PV cell makers, Gintech, Solartech, and Neo Solar Power attracted lots of attention at PV Taiwan.
The positive effect of this merger is that the newly merged company should invest more in new technology development after they gain government fund. In the past, Taiwan makers had technology advantages over those in China. However, the advantages are disappearing, and there are no obvious differences between them.
As PV industry accelerates the pace of developing new technology, Taiwan makers should embrace for new opportunities and dare to invest in important new technologies such as N-type and HJT. In particular, Taiwan is a powerhouse in worldwide semiconductor industry. Companies should leverage related technologies to move into HJT market to gain footholds in the specific market.
On the other hand, the merger also shows that Taiwan companies are willing to talk to each other, working out solutions together. As the domestic market is growing, it is expected to bring new opportunities for Taiwan makers. Of course, there are still challenges ahead, but it's a definitely positive development for Taiwan's PV industry.
Keep the leading edge with technology innovation
Liebheit doesn't think that pursing economic scale is the best policy for the industry, so he is not interested in acquiring competitors in the paste market, given the fact that one plus one may not be bigger than two.
When talking about market competition, he said, "Though we are the market leader, we never ignore our competitors. What makes us stand out in the market is that we are the only paste company that develops and produces glass, the key ingredient in paste, on our own. Other companies buy glass from third-party vendors, so that they can't differentiate their products."
"We have seen many Chinese paste makers rise and decline quickly. Some companies that prospered once are now in financial difficulties. This is because that they gained shares quickly after its single product was adopted, but was eliminated in half year for losing shares again. At Heraeus, we not only improve our product efficiency every half year, but also keep abreast of the diverse and rapid-evolving technology requirements. This is a high barrier for other companies to overcome."
"Today's market is very different from that of three years ago. It's getting more difficult to keep technology innovation. Moreover, every customer may have different process requirements. We need to have even stronger resources to meet customers' custom demands, and we are far leading to our competitors in terms of the scale of our sales and technical support team."
Achieve 100 ton locally produced silver paste shipment in Taiwan
Another important news that Heraeus announced at PV Taiwan is that, after establishing operations in Taiwan in Nov, 2015, the company recently achieved a milestone by shipping its one-hundredth ton of locally produced silver paste in the Taiwan this year.
Liebheit believes the company's growth and success in Taiwan is directly related to strategic investments made in Taiwan during the past few years. He points to the Applications Engineering Center and R&D facility as two critical collaboration platforms to deliver high-performance silver paste faster to its Taiwan customers.
Providing customized paste services for customers for many years. Heraeus has accumulated rich and in-depth process experiences. After one-year of preparation, it officially established consulting business in April this year to help customers further improve cell efficiency.
"By providing free analysis for customers first, we found that almost 70% of them still have room to improve their product efficiency, and will then commit to customers how we can help them. We have done ten consulting cases in China and Taiwan this year with excellent results. So we will try to expand the business and reach more customers."
Liebheit stressed that Heraeus setup a dedicated team to provide consulting service and is the only company in the paste market to do this. Even if competitors would like to follow suit, Heraeus still leads them by one year. This fully reflects Heraeus'long-term policy, "always one year ahead", to maintain its leading position in the market.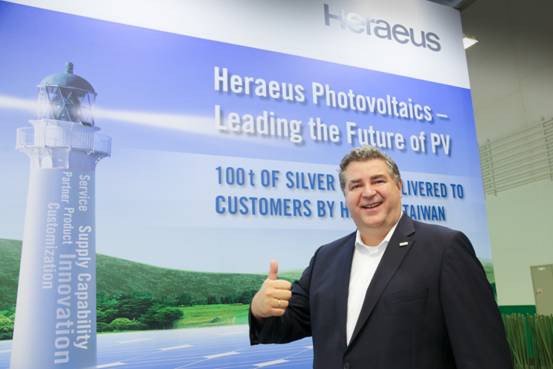 Heraeus recently achieved a milestone by shipping its one-hundredth ton of locally produced silver paste in Taiwan this year.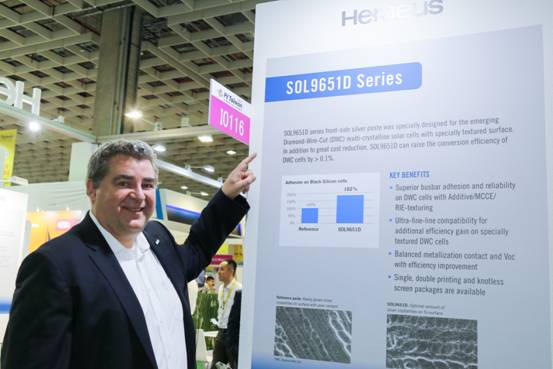 Heraeus announced the introduction of a new paste specifically designed for DWC multicrystaline solar cells at PV Taiwan. The SOL9651D series front-side silver paste can help solar cell companies improve cell efficiency, address costs and stay ahead of rapid technology developments.