Taiwan NARLabs inks LOI with Microsoft on AI collaborations
Bryan Chuang, Taipei; Willis Ke, DIGITIMES [Thursday 7 December 2017]
The National Applied Research Laboratories (NARLabs) under Taiwan's Ministry of Science and Technology (MOST) signed on December 6 a letter of intent (LOI) with Microsoft Taiwan to build strategic partnership in three areas of AI (artificial intelligence) development: big data technology, AI platform development and talent pool cultivation, according to NARLabs.
NARLabs said that Microsoft is among the world's major suppliers of big data services, with its powerful algorithm academic research engine and algorithm mechanism able to read 10 trillion papers per week and quickly offer summaries, evaluations and recommendations to provide optimal reference value for researchers. And the cooperation will allow NARLabs researchers to use the US partner's smart data search tools to pin down AI data needed for quick analysis.
Besides big data services, Microsoft will also provide AI platforms, development tools and application solutions to help inject AI innovation momentum into Taiwan's IT hardware manufacturing industry.
In nurturing AI talent, Microsoft will offer opportunities for Taiwan post-doctoral students to pursue advanced studies at its research labs in the US, and will hold workshops and competitions on AI in collaboration with MOST. Its Microsoft Professional Program will also be available for Taiwan engineers to gain technical skills and get real-world experience through a series of online courses, according to NARLabs.
Witnessing the signing ceremony, Taiwan's science minister Chen Liang-gee said that the cooperation between NARLabs and Microsoft will help Taiwan sharpen its AI software and hardware development ability and upgrade Taiwan's AI R&D environments. Chen also said that his ministry will find more international partners like Microsoft to bolster Taiwan's development of AI technologies and applications.
Also present at the event as a witness, Kuansan Wang, managing director of Microsoft Research Outreach, said that Microsoft has abundant industrial-use data available for Taiwan use, and will help boost Taiwan's AI research momentum to international levels through integration of software and hardware resources. Ken Sun, general manager of Microsoft Taiwan, also said that through AI development, Taiwan's industry is expected to become more competitive in the global market.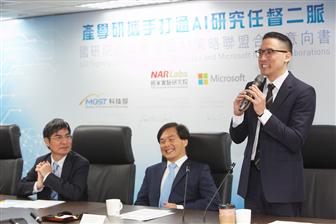 NARLabs, Microsoft ink AI cooperation pact.
Photo: Michael Lee, Digitimes, December 2017