EtherCAT-based precision synchronous control accelerates automation for warehouse logistics
Sponsored content
E-commerce markets in Asia continue to flourish in recent years with China particularly enjoying significant growth year after year, thanks in part to Singles' Day and 618 shopping festivals spurring online sales. The spike in e-commerce demand, however, presents enormous challenges to logistics, such as delivery delayed by unexpected volume.
Such problems have prompted many e-commerce operators to aggressively adopt logistics automation and smart warehousing. One leading e-commerce operator in China, for example, launched the world's first unmanned logistics center in 2017, taking logistics technology to a whole new level. With new warehouses being added and old ones being rebuilt, the supply chain of logistics automation equipment is also facing major changes. Belt conveyor systems and sorting machines, for example, are required to enhance motion control performance and maximized precision.
When its CANopen solution encountered a performance bottleneck, a leading system integrator (SI) supplying belt conveyor systems to a world-leading e-commerce operator, after careful evaluation, chose to deploy ADLINK's Talos-2000 EtherCAT-based automation control solution.
Optimizing flexibility and performance to accommodate belt conveyor systems with diverse travel distances
Belt conveyors are not standardized systems, embodying an almost limitless array of configurations to accommodate different environmental layouts. Not only are different lengths and paths required, but also a wide-range of peripheral device types and quantities. While some operations may employ photo interrupters or electronic scales to measure package sizes, others can utilize cameras to scan barcodes and verify product traceability. Moreover, the increasing number of axes and I/O demanding precise synchronization are unsupported by existing CANopen solutions.
According to Chia-Wei Yang, ADLINK's Market Development Manager for Automation, the SI chose to upgrade to EtherCAT because it, alone among all industrial automation standards, enables the highest flexibility in adopting or withdrawing functional modules, supporting wide-ranging synchronization control distances, and accommodating a wide variety of layouts. Furthermore, the environment comprises numerous axes and control points requiring synchronization across vast distances. Aside from the need to control multiple I/O, motors and robots, visual inspection capability is also required, presenting a standard smart logistics application scenario. The SI, recognizing that PC-based EtherCAT solutions with high performance, open system and a broad spectrum of applications were more suited to their needs than PLC-based EtherCAT solutions, opted for ADLINK's Talos-2000 control system.
Deploying smart logistics by shortening development cycle and maximizing high system reliability
The Talos-2000 compact all-in-one control system with built-in CPU and EtherCAT master and GigE vision systems, delivers motion control of up to 64 axes and 10,000 I/O points, 4CH PoE camera connectivity, and support for a wide range of third-party EtherCAT slaves, including the SI's existing OMRON and Bosch servo motors. While multi-axis, multi-point, precision synchronous control is provided with both EtherCAT-based motion control cards and the integrated Talos-2000 solution, an open model combining industrial PC (IPC) and motion control cards can create compatibility issues between the IPC and motion control cards, with costs to build up the entire system running 25% higher. Accordingly, the Talos-2000 was a clear choice over EtherCAT-based motion control cards.
As well, the Talos-2000 fully supports ADLINK's APS Function Library, which contains a complete portfolio of APIs to significantly shorten development cycles for belt conveyor systems.
According to Yang, in most cases, the belt conveyor traverses a long distance with a controller often situated at the midpoint. This creates difficulty in calibration of the entire line, resulting in poor synchronization or control mismatch. ADLINK's APS Function Library allows slave devices that do not need calibration to be bypassed, providing separate calibration and troubleshooting for front, middle and back portions of the line and subsequent calibration of the entire line. The result is effective reduction of the time for system calibration and significant enhancement of system reliability, clearly demonstrating the value ADLINK's APS Function Library delivers.
In a belt conveyor use case, EtherCAT-based multi-axis control enables simultaneous pick and place on a moving conveyor belt during sorting or collating, boosting productivity by 20%, an advantage unavailable in a CANopen control setup. In addition, ADLINK's EtherCAT master supports a wide range of third-party slave modules, allowing users to enjoy the freedom of different motors and I/O based on cost-performance considerations, thereby building a more efficient operating environment with lower procurement costs.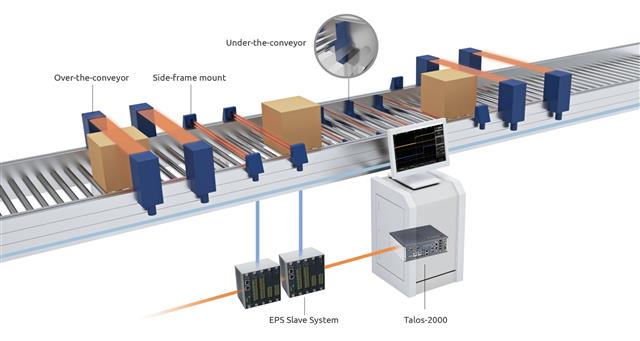 The Talos-2000 compact all-in-one control system with built-in CPU and EtherCAT master and GigE vision systems.
DIGITIMES' editorial team was not involved in the creation or production of this content. Companies looking to contribute commercial news or press releases are welcome to contact us.