Google Chromebook Pixel notebook
Photo: Company [Feb 26, 2013]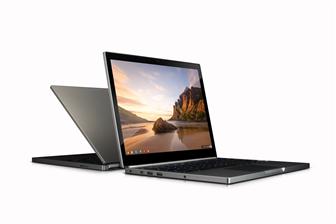 Google has announced its latest notebook product - the Chromebook Pixel, featuring a 12.85-inch display with a density of 239 pixels per inch and touchscreen function, and an anodized aluminum alloy chassis.
The Chromebook Pixel is powered by an Intel Core i5 processor, with a solid state drive (SSD), as well as Wi-Fi and LTE capabilities.
The Chromebook Pixel also natively supports Google Drive cloud storage, helping users to save their made contents onto Google's storage space from anywhere.
The Chromebook Pixel is already available for purchase on Google Play in the US and the UK. The Wi-Fi version with prices at US$1,299 and GBP1,049 (US$1,664) will start shipping next week and the LTE version (US$1,449) will ship in the US in April.
2H 2012 global TFT panel market forecast

Digitimes Research predicts there will be a total of 389 million large-sized TFT LCD panels shipped in 2H12, with 195 million in the third quarter and 194 million in the fourth quarter - with the total representing a 7.6% increase over the first half of this year.

Trends and shipment forecast for 2H 2012 smartphone market

Smartphone shipments in 2010 and 2011 both enjoyed growth of more than 60%. Growth will decelerate in 2012 due to the high base, as well as a slowdown in consumer spending in Western Europe.

Trends in Asia LED chip manufacturing industry

Asia is playing an ever more important role in upstream LED chip manufacturing. The region accounted for 80% of MOCVD demand in 2011 and will account for 90% in 2012, largely because Taiwan, Japan, South Korea and China are the major global centers for LED chip production.