Zhejiang Provincial First Hospital Hands Off Data to MICA-101
Press release [Friday 4 January 2013]
The First Affiliated Hospital of the Medical School of Zhejiang University in China (Zhejiang Provincial First Hospital) was established in 1947 and ranks among the nation's top 100 hospitals. It sits on an area of 9.9 hectares with a total floor space of 215,000 square meters and employs more than 3,000 people. It has 2,200 beds, 41 clinical departments, and 23 technical departments. Annually, it takes care of approximately two million outpatients, treats 45,000 inpatients, and performs 22,000 operations.
It serves as the center for medical care, teaching, research and health consultation and guidance in Zhejiang Province. For the past several decades, it has received many honors as a model provincial and municipal hospital. The hospital recently moved to a new Hospital Information System (HIS), with the hope of enhancing safety and the quality of healthcare throughout the facility. This system provided more functionality and was designed to deliver critical, real-time data to hospital staff. But the hospital's existing remote devices were PDAs, and had neither the screen size nor the expansion capability to handle the workload. The hospital was looking for a solution to replace their existing PDAs with a more powerful, lightweight system that had large enough displays to handle the new functionality. They wanted a touchscreen with stylus input option, and a system that was medically-certified. Lastly, they wanted a Windows XP-based platform, which would standardize platform development across all their systems.
Advantech worked with local partner Ewell, an e-Healthcare service provider who had helped Zhejiang Provincial with the implementation of their new hospital information system. The new system provided specialized applications to deliver real-time data to physicians and nurses while they were out on rounds. Advantech's MICA-101 mobile clinical assistant was chosen for use with the new system. The MICA-101 has a 10.4" screen with dual touchscreen and stylus input. It is powered by an Intel Atom processor and based on the Intel MCA architecture, and it runs Windows XP Professional. The new system is medically-certified, weighs only 1.5 kg and assists physicians and nurses by giving them timely access to critical care information.
With a 10.4" screen, Advantech's MICA-101 is ideal for the hospital. It outpaces the PDA in every way: it displays more data; it supports images and charts; and it can present all the information in a single screen view. MICA-101 provides the mobile link to Ewell's HIS implementation, augmenting medical staff and helpingreach the hospital's goal of developing a truly "patient-centric" healthcare environment. Equipped with MICA-101 Zhejiang Provincial First Hospital improves the standard of medical care and patient safety. MICA-101 can access medical data via a WLAN connection. WiFi access allows retrieval of records from the nursing information system, as well as positive patient identification and medication tracking. Onboard the unit, a camera and I/O port linked barcode scanner send images and scanned data captured in real-time back to the HIS database. The hospital is happy with its choice saying, "the system significantly improved our quality of nursing management and made it easy to get administrative work done more efficiently."
MICA-101 has opened the door to mobile access of the hospital's newest software systems and provided a convenient device for staff. They now have critical data at hand to assist in making the most informed decisions possible. As a result, patient service and safety levels have increased in the hospital. Zhejiang Provincial First Hospital cited the following benefits from the MICA-101 Mobile Clinical Assistant:
- Meets strict regulations of medical, clinical and healthcare environments (UL60601-1, IEC/EN60601-1, CB60601-1, TUV, and IP54 ratings)
- Portable and lightweight system with a 10.4" touchscreen interface, easy to use
- Built-in camera, and other peripherals extend capabilities
- Supports Windows XP Professional creating a uniform development platform
- Trusted support form Advantech's sales and technology team with product stability and reliability is assured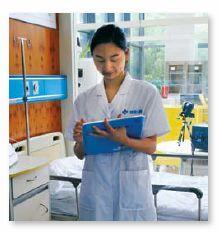 With a 10.4" screen, Advantech's MICA-101 is ideal for the hospital