Elpida Memory announced today that it has developed a power-efficient DDR3 SDRAM in 1Gb densities, which is capable of operating at a speed of 2Gbps.
Elpida's new DDR3 SDRAM is based on a 65nm process technology. Sample shipments will start in September 2008 with mass production expected to begin in October.
Currently, the industry's fastest standard DDR3-1600 supports a data transfer rate of up to 1600Mbps while operating at 1.5V. The new DDR3 SDRAM developed by Elpida uses 35% less operating current compared with the company's existing products and can support an operating speed of 2Gbps, which is considerably faster than the industry standard of 1600Mbps at 1.5V. Also, in response to demand for next-generation low-power products Elpida's new device can operate at 1600Mbps using 1.35V.
Elpida: New DDR3

Items

Details

Part number

EDJ1104BBSE, EDJ1108BBSE, EDJ1116BBSE

Data transfer rates

DDR3-2000 (11-11-11), DDR3-1867 (11-11-11), DDR3-1600 (9-9-9)

Design process

65nm

Supply voltage

1.5V+/-0.075V

Packages

78-ball FBGA (x4/x8), 96-ball FBGA (x16)
(8.00mm x 13.50mm)
Source: Company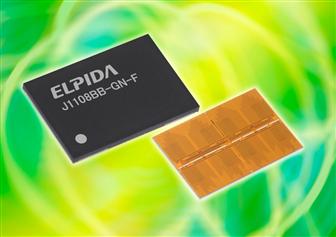 DDR3-1867 from Elpida
Photo: Company