Internet Explorer 9.0, the best browser in a smart cloud environment
Press release
According to the findings from a survey cited at Microsoft's smart cloud platform and application development symposium, nearly 80% of computer users spend 50% of their time on web browsing when using computers, and 20% of the 50% spend more than 80% of their time on web browsing. It is obvious that browsers have become an overwhelmingly important application that is heavily relied on, especially when various mobile computing devices and smart cloud services are increasingly prevalent.
According to Sam Chang, program manager, Windows Planning and PC Ecosystem, Microsoft Taiwan, such a trend has prompted Microsoft's launch of Internet Explorer 9.0 (IE 9.0), which is redesigned to cater to various user behaviors resulting from the use of existing and future cloud services and mobile devices to provide the best web-browsing experience. "IE 9.0 has a more streamlined interface to do without too many dialog boxes," said Chang. "As a result, it can rapidly access the desirable web pages and is an ideal platform for mobile devices."
Microsoft used to add many new functions when designing browsers, but this makes the command bar too large and web contents are therefore reduced although the design was intended to facilitate rapid operation. "The new IE 9.0 is now content-oriented to readjust what is presented by the browser, which shows web contents just in one glance," said Chang. "Browsing can easily focus on web contents to save the time required for repeated drag and scroll in the past."
Moreover, in order to accelerate web browsing, IE 9.0 provides some new functions such as pinned sites, new tab page, and address bar search. "Frequently used web addresses saved in My Favorite are inconvenient for mobile device users because they have to scroll down the tree-type directory in order to access a website after locating the site address," said Chang. With the feature of pinned sites of IE 9.0, any webpage of a website can be directly dragged to the taskbar of Windows 7 and pinned there to be shown as a thumbnail by default or separately designed. Clicking on the thumbnail when revisiting the website will directly access the pinned webpage to provide a web-browsing experience more similar to accessing a general application.
The redesigned new tab page is in the browser main page to present the thumbnails of most frequently browsed sites, whose major colors and frequencies of being browsed are also indicated to facilitate rapid identification and access. "These sites can be concealed or removed when desired," said Chang. Moreover, the address bar search function will be activated when a set of keywords or even an incomplete web address is inputted, and the search engine designated by IE 9.0 will easily locate the desired URL to accelerate operation.
IE 9.0 has also factored in the small form factor, light weight, and power efficiency that are considered important for nowadays handheld devices. "The component specs of handheld devices tend to be lower than PCs because of the limited space of such devices and cost considerations," said Chang. "As a result, the performance of handhelds is lower than PCs." To address this issue, IE 9.0 not only supports multi-core processing but also provides GPU functionality to the jobs requiring a great deal of graphic computing, such as online gaming and audio-video processing. Moreover, its JavaScript engine enables the best DOM/JavaScript integration for overall computing speed enhancement and a web experience that is faster and more realistic.
"IE 9.0 supports the W3C's latest international standard for web pages, HTML 5," said Chang. Based on the standard, the browser is capable of playing multimedia and video, and only a few program codes to be developed will be able to create multimedia-playing web pages to do without third-party media players. This effectively addresses many web development issues, such as whether QuickTime is installed and no iPad support for Flash. "IE 9.0 makes web development much easier than the past," he stressed.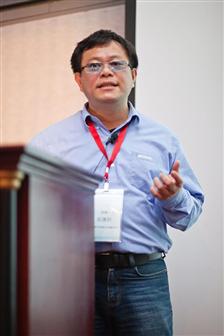 Sam Chang, program manager, Windows Planning and PC Ecosystem, Microsoft Taiwan
Photo: Digitimes
DIGITIMES' editorial team was not involved in the creation or production of this content. Companies looking to contribute commercial news or press releases are welcome to contact us.